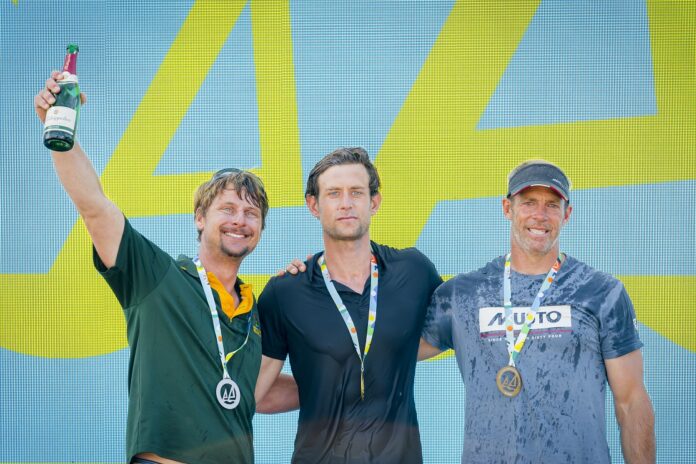 Several South African sailors produced impressive performances at the recent Kiel Week in Germany where 5000 competitors converged on the German city for the nine-day event.
Kiel Week includes numerous different classes, one of which was the Musto Skiff World Championships where South African Andy Tarboton finished in second place overall.
The Musto Skiff is a single-handed trapeze dinghy, considered to be one of the fastest and most exciting single-handed boats.
Tarboton reached the podium in six of his 10 races, managing top spot in race four to finish second behind Britain's Rick Peacock.
"Going into the event, I would have been happy with a top-five finish, but I also had a feeling that I am in good form at the moment," said Tarboton. "My training partner, Peter Greenhalgh who finished third overall, and I have been very focused with our sessions this year. We are perfect training partners being the same height and weight so we each know that it comes down to technique to give us an edge over the other.
"Although it was a great feeling to share the podium with two very good sailors, I did have a little frustration at not claiming the top step. There were two key races in the regatta that could have seen me win the title overall. However, Rick Peacock sailed superbly all week long and is a worthy winner. The level of the fleet is pretty high at the moment making it satisfying to finish anywhere near the top, let alone the podium," he added.
Another South African, Euan Hurter, finished 10th overall in the same event with Brennan Robinson securing 21st spot.
Elsewhere, the young Cape Town-based crew of Sean Kavanagh and Thomas Slater saw off 100 other boats to finish 27th overall in the 29er Euro Cup. South Africa have a proud tradition in the 29er class with Alex Burger and Benji Daniel having won the world title in 2017. The pair then went on to represent South Africa in the 49er class at last year's Olympic Games in Tokyo.
Kavanagh and Slater have been training under Burger's guidance and, considering they have only been sailing together for six months, the pair did exceptionally well to make the gold fleet. Their best result at Kiel Week was a third place in race four and two fourth places.
"What a regatta! This was our first ever overseas regatta and our goal was to get a picture of where we are in the international fleet after only sailing this boat for six months. All in all, we made 27th position in gold fleet which was insane," said Slater – a grade 10 learner at SACS High School in Cape Town where Kavanagh is in grade eight.
"Keep in mind that some of these guys that we were competing against have been sailing this boat for two or three years and are nearly 18 years or above. So that was an amazing achievement. We've got a long way to go still," he added.
The other South African pair of Patrick Kessel and Max Celliers finished 83rd overall while Theodor and Victor Scheder-Bieschin finished 117th.
Source: TeamSA