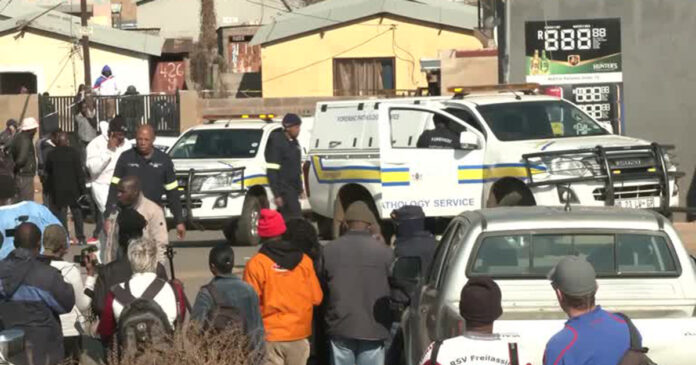 Two weeks after the tragic tavern incident in East London, where 21 teenagers died in mysterious circumstances, South Africa has been rocked by another case of mass deaths at an entertainment venue. Last night at least 15 people were shot dead in a local bar in Orlando East, Soweto. Witnesses say the gunmen – armed with rifles and pistols – arrived in a taxi before opening fire on the people in the bar. Police say the gunmen fired 137 rounds.
The South African Police Service (SAPS) said in a statement:
"Police are on the look-out for unknown suspects following an apparent random shooting incident at a local tavern in Nomzamo Informal Settlement, Orlando East.
It is reported that on 10 July 2022 at about 00:30, a group of men armed with rifles and 9mm pistols entered the tavern and started shooting randomly at the patrons who were sitting inside. 23 people were shot, 12 of whom were declared dead on the scene, while 11 were rushed to a nearby hospital. Two more were later declared dead at the hospital. (A third has since been confirmed dead as well.)"
SAPS has opened 14 cases of murder and nine of attempted murder, SAPS said this morning. (As mentioned above, a 15th victim has since been declared dead).
Police confirmed earlier in the evening – at around 8.30pm Saturday night, four people were killed and eight wounded in a tavern in Pietermaritzburg, KwaZulu-Natal. Police do not suspect the two incidents are related.
In both cases, the unknown gunmen fled the scene and are now on the run, police said, adding that it was not clear how many were involved in the attacks or what their motives were.
South Africa is unfortunately one of the world's most violent countries with 20,000 people murdered every year, one of the highest per-capita murder rates globally.
Gauteng police commissioner Elias Mawela told Reuters by phone that there had been a third shooting during a suspected robbery in a tavern in Katlehong, also outside Johannesburg, on Thursday night (7 July), which killed two people and wounded two others.
DON'T MISS CARTE BLANCHE TONIGHT as the current affairs show investigates the Tavern of Terror in East London. You can watch the show on Sunday 10 July in South Africa on DStv Now or stream it overseas in most countries from 12 July if you're abroad.
Anyone who may have witnessed the incident or have information that could lead to the apprehension of the suspects, is urged to report on the crime stop hotline at 08600 10111 or by giving a tip-off on the MySAPS app. All information received will be treated as strictly confidential.
14 people have been shot dead in Soweto – Orlando . Their ages are estimated to be between 19 and 35 #SABCNews pic.twitter.com/0hPEfeidB2

— Sicelo Hlanula Mkhize (@Sicelo_MkhizeSA) July 10, 2022
21 dead at Enyobeni
4 dead in Maritzburg
15 dead in Soweto
2 dead in Katlehong
All in Tarvern in a space of 2 weeks

South Africa is under attack this is not a coincidence never I refuse to believe that

— Siya (@juca_siyabulela) July 10, 2022
Minister Cele, 14 more people dead on your watch, this time Soweto. You need to step down! 67 people are murdered in this country everyday while you play politics. #CeleMustGo

— Ian Cameron (@IanCameron23) July 10, 2022