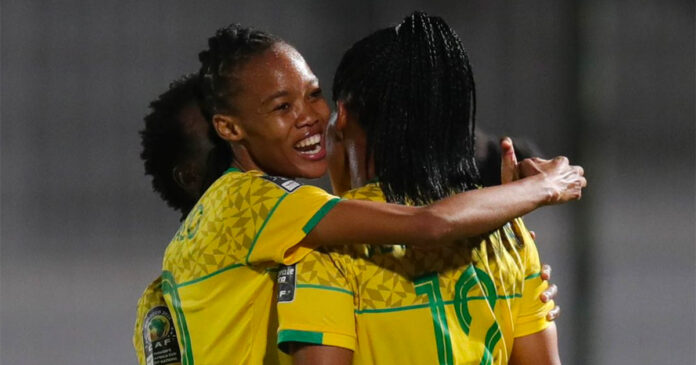 South Africa's women's football team, Banyana Banyana, tonight successfully achieved their main objective at WAFCON – to qualify for the World Cup in Australia and New Zealand next year!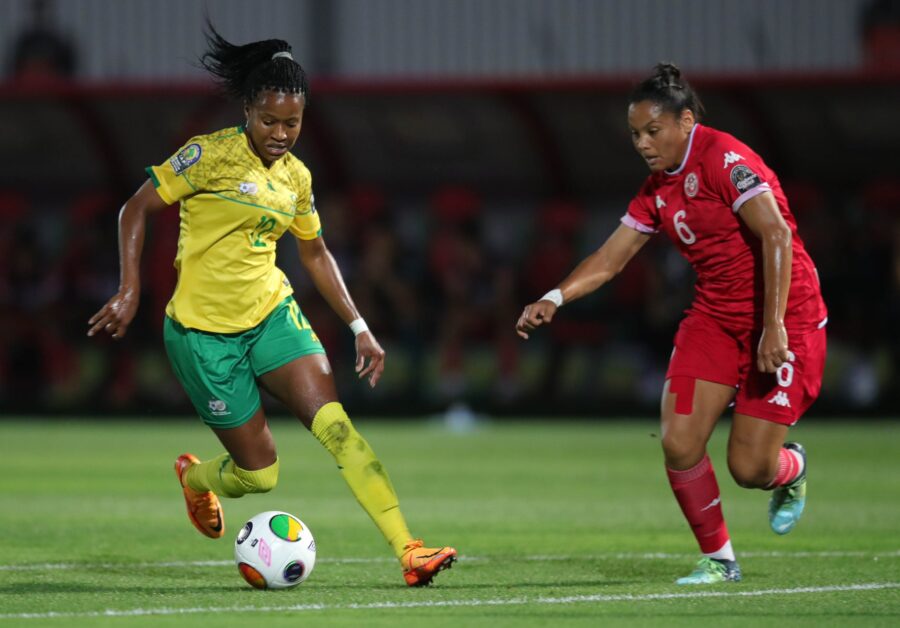 By beating Tunisia 1-0 in the quarter finals of the Women's Africa Cup of Nations (WAFCON) in Morocco this evening (14 July), Banyana Banyana automatically qualify for the 2023 World Cup.
Thanks to Jermaine Seoposenwe's goal, Banyana were in a 1-0 lead by half-time. (This is the third WAFCON tournaments – 2016, 2018 and 2022 – that she has scored at. Only Veronica Phewa has scored in more, scoring four times.)
But it was stressful, with Tunisia piling on the pressure to equalise, and Bafana Bafana missing at least five opportunities to score easy goals. However they are clearly becoming South Africa's favourite national football team, and tonight they gathered thousands more fans who've promised to support them more next time they play at home in South Africa. The match had South Africans on the edge of their seats.
In a week affected by a spate of injuries and Covid-19 cases, the SA women's team – who are sponsored by Sasol – remained focused on securing a World Cup qualification berth and passage to the semifinals of WAFCON.
A thrilled Bafana Bafana tweeted after the match: "We are into the #TotalEnergiesWAFCON2022 semi-finals and WE HAVE QUALIFIED FOR THE 2023 FIFA WOMEN'S WORLD CUP!"
Banyana Banyana midfielder Thalea Smidt said the well-documented challenges they faced this week did not shake their resolve.
Speaking before the match, Smidt said: "We sympathize with Thembi [Kgatlana, who was ruled out of the WAFCON on Monday after sustaining a ruptured Achilles tendon in Banyana Banyana's Group C match against Botswana on Sunday] and we know she is a strong-minded individual who will rise above the injury. But the mood in camp has not changed because as players we know our objective, we know why we are here, and so this is a chance for all the players to raise their hands."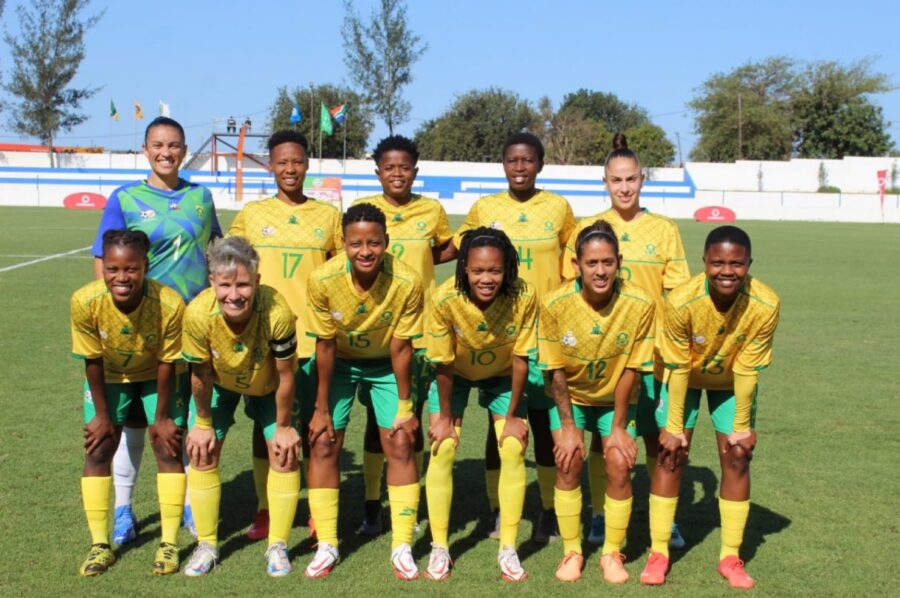 Sixth-ranked Tunisia finished as third-placed runners up in Group B, while third-ranked Banyana finished top of Group C with a 100 percent record.
Coach Desiree shared her thoughts as she prepared for the next challenge in Morocco.
"When we selected the squad [before the tournament], we selected a squad for every eventuality in the competition and that eventuality is now," Ellis said.
"There are obviously games in between games, so we have to make sure we maintain [our physical fitness]. We must keep working on planning and preparing for the next game."
Full-time!

??1️⃣➖0️⃣??

⚽️ Jermaine Seoposenwe (13')

We are into the #TotalEnergiesWAFCON2022 semi-finals and WE HAVE QUALIFIED FOR THE 2023 FIFA WOMEN'S WORLD CUP!

????#LiveTheImpossible pic.twitter.com/kEWNbKEmoT

— Banyana_Banyana (@Banyana_Banyana) July 14, 2022
? ICYMI ?

Jermaine Seoposenwe's goal that gave @Banyana_Banyana the lead going into half-time.#TeamSouthAfrica 1️⃣➖0️⃣ #TeamTunisia#SABCSportFootball #WAFCON2022 pic.twitter.com/o96HZ8Icn4

— SABC Sport (@SABC_Sport) July 14, 2022
?? Woman of the Match: Jermaine Seoposenwe (Banyana Banyana)

? @Banyana_Banyana pic.twitter.com/LzgNGJCS15

— iDiski Times (@iDiskiTimes) July 14, 2022
Congratulations to @Banyana_Banyana the whole of South Africa is proud#lennakemoroka #barokafire pic.twitter.com/9qnm8tTe0X

— Baroka Football Club (@Baroka_FC) July 14, 2022
The match was tense, with Tunisia piling on the pressure trying to score an equaliser:
RT if this is you watching Banyana right now! pic.twitter.com/XaNwN4YrGM

— iDiski Times (@iDiskiTimes) July 14, 2022
If we win tonight, we automatically qualify for FIFA World Cup 2023. Hang in there Banyana Banyana only 15 minutes remaining??❤️?. pic.twitter.com/8xZraj8U80

— Mlungisi (@Mlungisi__N22) July 14, 2022