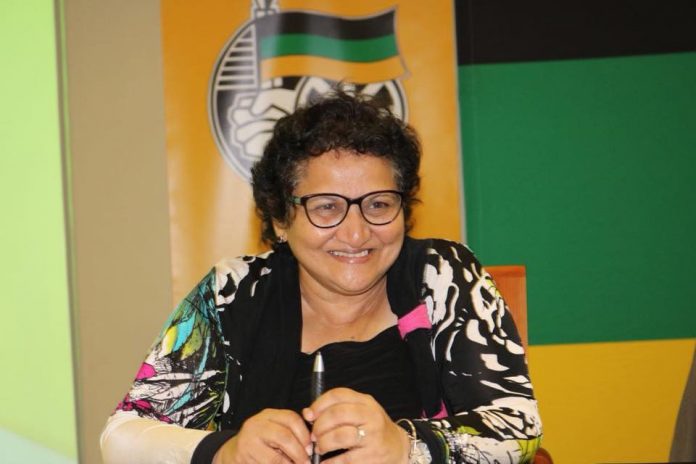 The ANC Parliamentary Caucus says it has learnt with a "sense of deep shock and sadness" of the death of its Deputy Secretary-General (DSG), Jessie Duarte, early this morning, Sunday 17 July 2022, following an 8-month illness. Duarte had been diagnosed with cancer in November last year (2021). According to the ANC, she was hospitalised with gastrointestinal complications.
"On behalf of Caucus, we extend our heartfelt condolences to both the Dangor, Duarte and Whitley extended families. May the knowledge that you are in our hearts and Prayers strengthen you. May Allah grant her everlasting peace!" the ANC said in a statement, issued by Chief Whip, Hon. Pemmy Majodina.
AN INTERNATIONALIST OF THE 'HIGHEST PEDIGREE'
The ANC described the mother of two as an "internationalist of the highest pedigree who placed a premium on the validity of the fundamental right of all peoples – to self determination and decolonisation" who championed the interests of the people of Palestine and Western Sahara.
As a former High Commissioner in Mozambique, she strengthened the bonds of friendship with the neighbouring country, and it was "through her sterling leadership in the SGO that over time contingents of ANC cadres embarked on international missions of solidarity with the peace loving people of the two sister countries".
CHAMPION OF NON-SEXISM, WOMEN'S EMANCIPATION AND GENDER EQUALITY
The ANC Parliamentary Caucus also paid tribute to "her heroic role as a gender activist, feminist who fought vociferously for women's emancipation and gender equality throughout the full course of her life.
"Cde Jessie Duarte believed in the idea of a non-sexist and democratic society and was vocal about the need for women to occupy the highest echelons of our leadership structures. Through her activism, she led a Parliamentary Caucus that now has the highest numbers of women Parliamentarians in the National Assembly including the National Council of Provinces combined."
An Organiser, a Mobiliser
The Caucus said Duarte presided over the "organisational machinery of our Movement and interacted with the alliance members on its behalf, our Caucus has lost a credible force who ensured that party discipline was applied at all times without fear or favour.
"In carrying forward her baton, Caucus steadfastly commits to pursue in a vigorous manner the organisational renewal of our Movement. Similarly our efforts at rebuilding and unifying the organisation in her absence require our foremost diligence ahead of our National Policy as well as Elective Conferences."
A JAZZ LOVER AND CULTURAL WORKER
Throughout her life, Jessie Duarte enjoyed passions that were close to her heart, including music.
It was not unheard of for her to play a piece of music whilst waiting for meetings to begin as a meditative way of dealing with the many challenges the organisation faced. "Death has robbed our Movement of a well rounded cadre-a matriarch to her family and a Rakgadi to many," said the ANC.
"As we lay her to rest on the eve of Mandela Day, Caucus recalls the role our DSG played as Madiba's Personal Assistant in the 90s and it is quite fitting that even in death, these leaders are united.
"As the progressive international movement, the African National Congress as well as our Alliance has lost a fierce fighter for justice, a leader who detested bigotry, racism and tribalism with all her heart."
DA extends condolences to family and friends of Jessie Duarte
Helen Zille, DA Federal Council Chairperson, said: "The Democratic Alliance (DA) extends its sincere condolences to the family and friends of ANC stalwart Jessie Duarte who passed away earlier today following a short illness. Duarte was a dedicated member of the African National Congress and held a number of positions in the South African party-political landscape over many years.
"Duarte was well known for being a fiery character who had worked closely with Walter Sisulu and Nelson Mandela and who held various posts in the party and government before standing in as Secretary General for the suspended Ace Magashule. May her soul rest in peace."