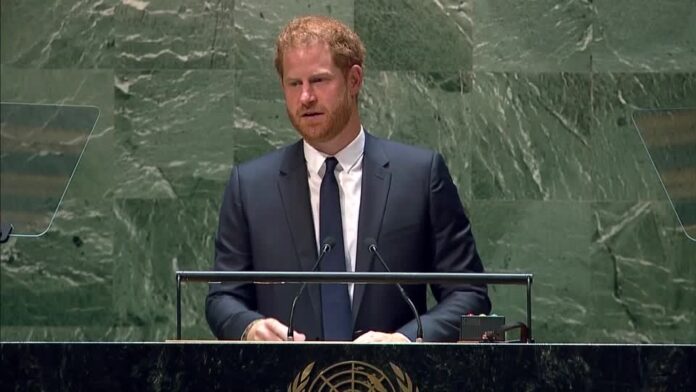 Britain's Prince Harry (who now lives in California with his wife Meghan Markle and their two children) delivered a keynote speech on Monday (July 18) at the United Nations about seeking insight from the words of South Africa's Nelson Mandela during a time of "global uncertainty and division". He also revealed his deep love for Africa and how he treasures a special photo of his mom and Mandela, which hangs in his room.
Marking Nelson Mandela International Day, the Duke of Sussex said:
"Those of us not fortunate enough to know Mandela well have come to understand the man through his legacy. The letters he wrote alone in his prison cell, the speeches he delivered to his people, and those incredible shirts that he sported. We've also come to know him through the photographs of a person who, even when confronting unimaginable cruelty and injustice, almost always had a smile on his face.
"For me, there's one photo in particular that stands out. On my wall and in my heart every day is an image of my mother (Diana, Princess of Wales) and Mandela meeting in Cape Town in 1997."
"…what jumped out was the joy on my mother's face"
He revealed: "When I first looked at the photo, straight away, what jumped out was the joy on my mother's face. The playfulness, cheekiness even, pure delight to be in communion with another soul, so committed to serving humanity."
Harry described Africa as a "lifeline," saying:
"Since I first visited Africa at 13 years old, I've always found hope on the continent. In fact, for most of my life, it has been my lifeline, a place where I found peace and healing time and time again. It's where I felt closest to my mother and sought solace after she died and where I knew I had found a soulmate in my wife. And it's where so much of my work, where my work is based there. Because despite continued hardship, there are people across Africa who embody Mandela's spirit and ideals."
Accompanied by his wife yesterday, the couple held hands as they walked into U.N. headquarters in New York to mark Nelson Mandela International Day, held annually on the former South African president's birthday.
In the U.N. General Assembly hall, Harry said:
"This has been a painful year in a painful decade. We're living through a pandemic that continues to ravage communities in every corner of the globe. Climate change is wreaking havoc on our planet with the most vulnerable suffering most of all. The few weaponizing lies and disinformation at the expense of the many. And from the horrific war in Ukraine to the rolling back of constitutional rights here in the United States, we are witnessing a global assault on democracy and freedom, the cause of Mandela's life."
Mandela became South Africa's first black president after spending 27 years in prison during apartheid. Mandela died in 2013 aged 95, but remains a global icon for his struggle against apartheid and message of reconciliation.
Harry warned about the impact of climate change on Africa and the world, and urged countries to take action to combat climate change. He said:
"As we sit here today, our world is on fire, again. And these historic weather events are no longer historic. More and more, they are part of our daily lives. And this crisis will only grow worse unless our leaders lead. Unless the countries represented by the seats in this hallowed hall make the decisions, the daring, transformative decisions that our world needs to save humanity. These decisions may not fit with the agendas of every political party. They may invite resistance from powerful interests. But the right thing to do is not up for debate. And neither is the science. The only question is whether we will be brave enough and wise enough to do what is necessary."
Harry said "we can do what Mandela did every single day inside that 7 by 9-foot prison cell on Robben Island, and every day outside of it too. We can find meaning and purpose in the struggle. We can wear our principles as armor, heed the advice Mandela gave his son, to never give up the battle even in the darkest hour. And find hope where we have the courage to seek it."
WATCH Prince Harry Says Africa is His 'Lifeline' and Treasures Cape Town Photo of Mom and Nelson Mandela
(Production: Hussein Waaile, Christine Kiernan)