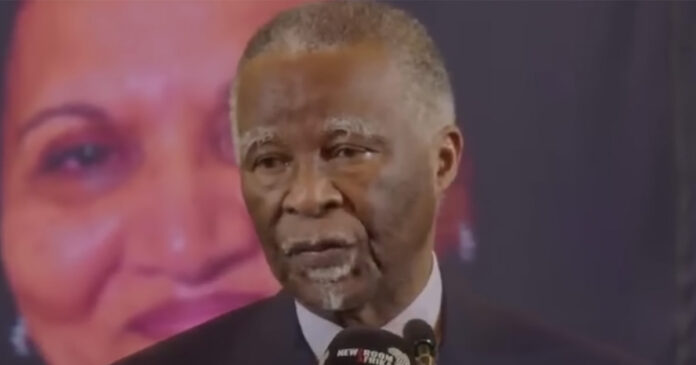 Thabo Mbeki has criticised President Cyril Ramaphosa for failing to deliver on his promises to South Africa, and says the ANC (African National Congress) has no plan. The former President of SA did not hold back whilst speaking last night at the Memorial Service of ANC Deputy Secretary General Jessie Duarte who passed away earlier this week from cancer. Mbeki went further to warn that broken promises could lead to a mass uprising in South Africa, similar to the Arab Spring.
"There is no national plan to address these challenges of poverty, unemployment, inequality. Doesn't exist," he said. "I'm saying to serve the people it requires that we address this. The Comrade President Cyril Ramaphosa, when he delivered the State of the Nation Address in February, that's why he said in 100 days there must be agreed the comprehensive social compact to address these matters. Nothing has happened. Nothing."
Mbeki predicted that Ramaphosa's broken promises to address corruption and socio-economic conditions could lead to civil unret and "spark (South Africa's) own version of the Arab Spring."
He explained that in Tunisia "a street hawker was abused by the police, and that enraged the country… the problems were brewing beneath the surface and it needed a little spark. One of these days it's going to happen to us, you can't have so many people unemployed (34.5% national rate) and poor; one day it is going to trigger an uprising."
Opinions were split on whether Mbeki, as a former President, should have publicly criticised the ANC and its current leadership. Some said he should rather take the matter up behind closed doors with leadership, while others said that with people starving because of the greed and corruption of government ministers, and no plan to lift SA out of an economic crisis, Mbeki did the right thing to speak out, in the hope that the top leadership will "wake up".
South Africans around the country are struggling with broken municipalities where some leaders are accused of being more interested in filling their own pockets than taking care of their residents. No electricity. No water. No refuse removal. Just yesterday, SAPeople reported on the shocking condition of a home for children with cerebral palsy in Fort Beaufort where gaping holes in the walls and ceiling have enabled rats to enter and multiply – children were found with their finger tips and parts of their feet eaten by rats.
"People should not have to live in rubbish dumps, helpless children should not fall prey to rats. This horror is replaying itself in so many areas in this tragic province, as well as in other provinces," says Marilyn Bassin, founder of Boikanyo the Dion Herson Foundation
"Municipalities have side-stepped their role of ensuring that people live in dignity, funds which are made available for clean-ups, as well as basic services, are going astray.
"Misappropriation is rife. In the Eastern Cape alone, 17 municipalities are being investigated for corruption by The Hawks."
After Mbeki's stern words for the leading party, opposition party – the DA – jumped in to point out that "as Thabo Mbeki exposes the ANC and President Ramaphosa's inability to address the challenges faced by South Africans, DA mayors are getting things done."
DA activist Neo Mkwane said: "Thabo Mbeki's remarks at Jessie Duarte's memorial were a chilling reminder that the ANC govt has no economic plan to save our country. Everything from rising inflation due to fuel hikes and Eskom's blackouts, the ANC has 0 plans. Absolutely nothing! We're a country on autopilot."
Mbeki advised today that: "Renewal is going to mean, among other things, ridding ourselves of these people who joined the movement to enrich themselves."
WATCH Thabo Mbeki criticises ANC and President Ramaphosa
Former President Thabo Mbeki says that we are now at risk of an Arab Spring uprising, and that there is no plan to get us out of our economic crisis. Do you agree? How do we avoid more upheaval? #SAfmSunrise @SAfmRadio

— Stephen Grootes (@StephenGrootes) July 22, 2022
Thabo Mbeki calling out the failures of the Ramaphosa administration is one thing – but seeing them applaud him for doing so shows how dumb they are. 🇿🇦

— Simon Grindrod (@SimonPGrindrod) July 22, 2022
🗞️As Thabo Mbeki exposes the ANC and President Ramaphosa's inability to address the challenges faced by South Africans, DA mayors are getting things done.

Many DA municipalities are paying residents out for feeding renewable energy back into the grid.

🔽 See DA trending news.🔽 pic.twitter.com/wL3A8IozGC

— Democratic Alliance (@Our_DA) July 22, 2022
This is LEADERSHIP our country needs.
Honesty,integrity,caring.
NOT GREEDY POLITICIANS

Wish one morning we could wake and hear that @GiftoftheGivers and other agencies have taken over full management of our country

Zuma#PhalaPhalaFarmGate
Thabo Mbeki pic.twitter.com/GPKDgHyNX9

— DashcamGP-ZA (@Dashcampros) July 22, 2022