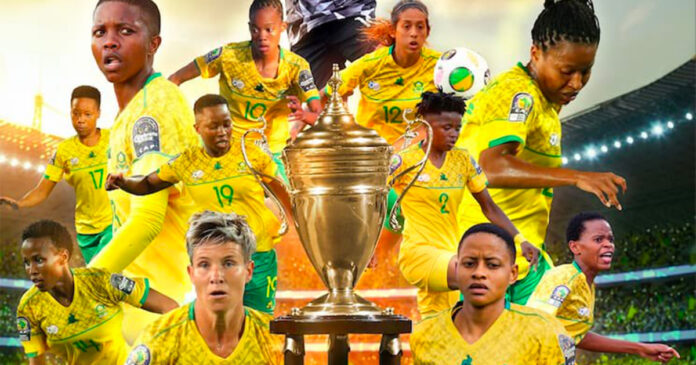 South Africa's women's national football team – Banyana Banyana – have WON the Women's Africa Cup of Nations (WAFCON 2022) for the first time ever! Banyana beat hosts Morocco 2-1 in front of a packed Rabat stadium in the historical final, with SA striker Hildah Magala scoring twice in eight minutes.
Under the guidance of award-winning coach Desiree Ellis, the Sasol-sponsored team have fought against the odds – including injury and Covid – to take the trophy and make their nation proud.
The South African Government has already congratulated the team, posting a tweet just after midnight saying: "Congratulations to @Banyana_Banyana for winning their first-ever #WAFCON2022 title. We are proud of you!! Halala!! #LiveTheImpossible"
One fan tweeted: "In a Country where everything is (a) mess, Banyana Banyana gave us something beautiful to be happy about as South Africans, Congratulations ladies❤️, Bafana Bafana will never that's why we need to cut their salaries and give you more money you deserve it ✊?✊?✊?✊?#WAFCON2022"
UNICEF South Africa tweeted: "Congratulations to @Banyana_Banyana. ? #ForEveryChild, an inspiration. #WAFCON2022 #BanyanaBanyana #wafconfinal"
South Africa have been runners-up in the competition five times, including the last tournament in 2018, making tonight's victory so much sweeter. For Morocco, it was their first final ever.
A last minute goal (in the 80th minute) from Morocco added tension to the finale, and nine minutes of added time. But fortunately SA emerged triumphant, winning the continent's biggest women's football tournament!
Both teams have qualified for the 2023 Women's World Cup in Australia and New Zealand. Semi-finalists Nigeria and Zambia have also qualified.
The Excitement..from the coach ?? pic.twitter.com/ioHSbExJ34

— Mangethe, Malume….. (@JTjikeu) July 23, 2022
#WAFCON2022 #BanyanaBanyana Bafana Bafana hope you were taking notes ?.

We are so proud of you ? ? #BanyanaBanyana pic.twitter.com/fUGRB6FQM5

— Thankyou (@Kari09448880) July 23, 2022
HISTORY Has Been Made!!!

We WON.

Congratulations to our ladies @Banyana_Banyana

????

#TotalEnergiesWAFCON  #WAFCON  #WAFCON2022  Banyana Banyana #Banyana pic.twitter.com/UrDbgrp1Cf

— WendyM (@Wendy_Mothata) July 23, 2022
Guys, let's also take a moment to appreciate this lady here, one of the legends of the game. Noko Matlou has been part of the Banyana Banyana setup for as long as I can remember, great servant of the game ❤️ #BanyanaBanyana #Banyana #WAFCON2022 pic.twitter.com/j8q60bMRSl

— Monghadi (@Moagi_S) July 23, 2022
?? ??????? ??????? ??? ????????? ?? ?????? ??? ??? ???? ????? ???? ?#WAFCON2022 pic.twitter.com/BWAVg7TZPd

— SuperSport ? (@SuperSportTV) July 23, 2022
Give Desiree Ellis her flowers ?

I met her for the first time at the Women's Afcon in 2016.

What a remarkable job she's done with #TeamSouthAfrica since then. Building a wonderful team ?? #WAFCON2022 pic.twitter.com/ObIsMwLUXm

— Mimi Fawaz (@MimosaFawaz) July 23, 2022
We will have a national 9 day celebration to honour that additional fathom 9mins!! ????

— robertmarawa (@robertmarawa) July 23, 2022
Shapa Banyana Banyana shapaaaaaaaaaaaa!!! ??? African champions! ?? Immortality achieved!I hope they get the reward they deserve. Bunch of winners ?#WAFCON2022 #Banyana #Wafcon pic.twitter.com/TBqmUIDxwN

— AB Dacosta (@AB_Broadcaster) July 23, 2022
Appreciation Tweet for Desiree Elis, you made as very proud coach ❤️✊??#WAFCON2022 #banyana pic.twitter.com/31AQSygNUG

— Truthteller (@Truthte83602973) July 23, 2022
I'm soo happy to see ??Bayana Bayana crowned #WAFCON2022 Champions

We have been witnesses to the hard work put in over the years to build this formidable side.

Congrats, you truly deserve this ?#BayanaBayana #WAFCON2022 pic.twitter.com/ZFZS9Zg1yF

— George Addo Jnr (@addojunr) July 23, 2022