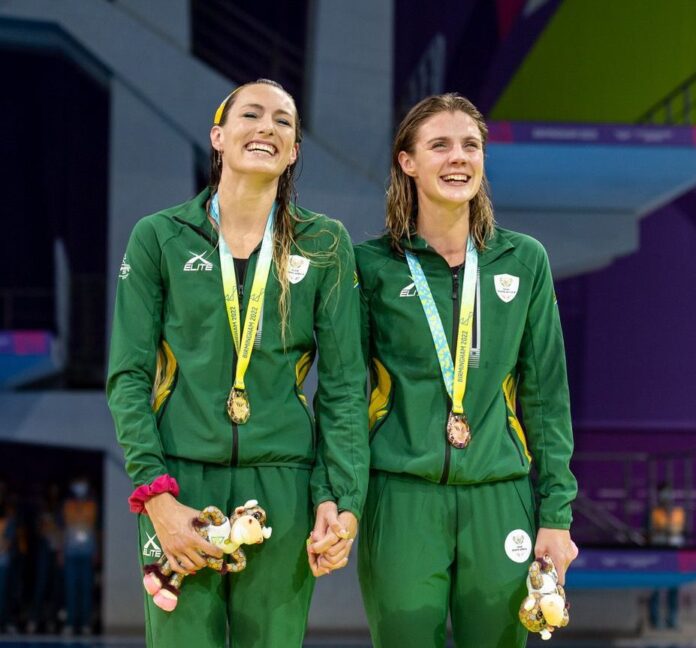 South Africa's swimmers again rose to the occasion at a major championships when it counted most with a gold, silver and bronze to add to Saturday night's two golds in the pool at the Commonwealth Games. By GARY LEMKE in Birmingham. South Africa is now in FOURTH place on the leaderboard (behind Australia, England and New Zealand).
The gold went to the fastest women's 200m breaststroker the world has ever seen. There was to be no Games or world record for Tatjana Schoenmaker, but she didn't need one, as she led from start to finish to win in 2:21.92 at the Sandwell Aquatics Centre in Birmingham.
The silver went to Chad le Clos, one of South Africa's greatest sports stars, who had won the last three editions of the 200m butterfly at the Commonwealth Games. In between that he'd dethroned Michael Phelps at the 2012 London Olympics, exactly 10 years ago to the night.
IF YOU'RE IN SOUTH AFRICA – Watch Team SA in action at the Commonwealth Games on Showmax Pro! 
But, there was a silver lining to Le Clos' second-place finish. Although, despite being out-touched, he created history by taking his Commonwealth Games career medals tally to 18. One more – and it should come in Tuesday's 100m butterfly – and he is the most garlanded Games athlete of all time.
Silver medal!!!

What a great ambassador for the country.#TeamSA pic.twitter.com/B3iydCytrZ

— Team South Africa (@TeamSA2024) July 31, 2022
The bronze went the way of Kaylene Corbett, who is starting to emerge from Schoenmaker's slipstream. That's not to say that Corbett is ready to dethrone the Olympic and Commonwealth champion just yet, but she was only 1.75 seconds behind her training.partner as she produced the fastest last 50m of the race to surge into bronze medal position. She missed out on silver by 0.02 seconds. It's not fantasy to suggest these two South Africans could go 1-2 at the 2024 Paris Olympics in this event.
Afterwards the tears flowed, mainly from Corbett, but shared with Schoenmaker, as the paid were inseparable on the podium (holding hands) listening to the national anthem. This was truly a proud night to be a South African.
WATCH Tatjana
Schoenmaker takes 200m breaststroke gold, bronze for Corbett | Commonwealth Games
(Sorry – this video is no longer available)
Schoenmaker had started the race in lane four, with Australia's Jenna Strauch the meat in the Team SA sandwich in lane five and Corbett in lane six.
Schoenmaker, her green cap bobbing up and down with her distinctive style, led by 0.62sec after the first 50, and then only 0.45 at halfway. But she pulled a body length clear on the third lap, while Corbett turned at the 150m in fifth and 2.46sec behind. She powered up the final lap and it was impossible to separate her and Strauch at the wall with the naked eye. The electronic timer ruled in the Aussie's favour though.
For 198 metres Le Clos had a record fourth successive Commonwealth Games 200m butterfly title at the end of his fingertips. Then, in an eerie parallel to that famous night in London exactly 10 years ago, the final stroke of the race was the telling one.
On 31 July 2012 it was Le Clos who came through with a last-gasp touch to dethrone the great Michael Phelps. On 31 July 2022 it was Lewis Clareburt who did the same, touching the wall at the end of a memorable 200m butterfly final.
It will have been a truly bittersweet moment for Le Clos. Bidding for that fourth successive gold, after wins in Delhi, Glasgow and Gold Coast, he looked a winner everywhere except where it mattered most.
From lane five Le Clos went out to set a fast pace, leading by 0.40sec at 50m, by 0.33 at 100m and 0.17 at 150m. But just as he seemed to have shaken off James Guy, the Englishman swimming his heart out in lane one, it was Clareburt, in lane four, who came through strongly.
And that is the nature of sport. It's not over until it's over, and this time the South African was on the wrong side of history. That has been a priority of his leading up to this Games, having had to battle off bouts of depression and chest infections over the past year to be back on centre stage.
Le Clos loves nothing more than getting into a dog-fight in the water and it was the mongrel in him which all but secured another gold medal.
He has swum faster than the 1:55.89 he posted on Sunday night, with Clareburt timed at 1:55.60. His golds at Glasgow 2014 and Gold Coast were quicker than he produced in Birmingham, but he used his experience and his determination to grit it out.
#TeamSA 1 and 3.#TeamSA#B2022 pic.twitter.com/xFwH09CbpV

— Team South Africa (@TeamSA2024) July 31, 2022
IF YOU'RE IN SOUTH AFRICA – Watch Team SA in action at the Commonwealth Games on Showmax Pro! 
P.S. The Blitzboks have also scooped GOLD at the Commonwealth Games, beating Fiji 31-7!
Source: TeamSA