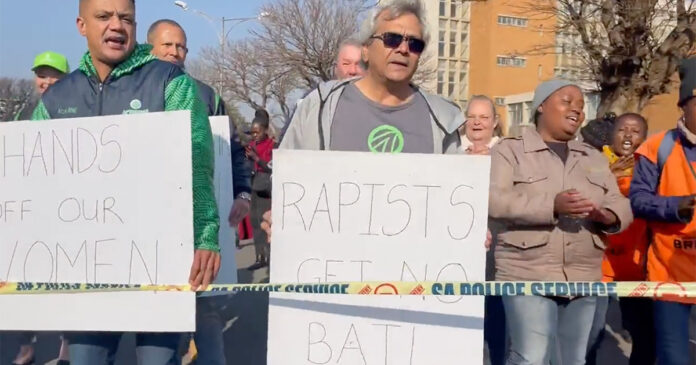 With over 80 suspects in the horrific Krugersdorp Gang Rape case expected to appear in court this morning, Monday 1 August, more police have been deployed to maintain the peace as various groups of protestors have gathered outside the Krugersdorp Magistrate's Court.
The suspects – many of them illegal immigrants – face charges of contravention of the Immigration Act and possession of suspected stolen goods. It is reported that many of these stolen goods belong to the film crew that was attacked on Thursday evening 28 July in West Village, Krugersdorp.
The attack on those involved in a video production shocked the country as it was revealed that eight South African women were brutally gang raped. One of the woman, only 19-years-old, was raped by ten men. The armed suspects – wearing blankets and balaclavas – had arrived at around 5pm and shot at the women and video crew as they tried to run away, forcing them to the ground. After the rapes, which took place in nearby bushes, the victims (including a total of 10 men, nine of whom were reportedly Nigerian, and 12 women) were robbed, many left naked or with just their underwear on.
The attack has upset South Africans who are frequently accused of xenophobia. On Friday three suspects were arrested, all foreign nationals. On Saturday another 67 were arrested, also mainly foreign nationals; and on Sunday a further 17. Two were killed whilst resisting arrest and another was hospitalised. Addressing the media at the ANC policy conference Home Affairs Minister Aaron Motsoaledi says it is not only Lesotho Nationals who are implicated in the gang rape of eight young women at Krugersdorp.
South Africa's Police Minister, General Bheki Cele, met six of the eight Krugersdorp rape survivors, along with their families on Sunday at the Alexandra police station. He assured them that the SAPS are "leaving no stone unturned" in the quest to find their attackers.
Investigations are still underway and multi-disciplinary teams – including K-9 units, Flying Squad, Home Affairs and more – have launched operations in the West Village area to not only find and arrest the suspects, but also crack down on illegal activities in the area which is notorious for violent Zama Zama gangs who work in illegal mines.
The deployment of drone technology to assist officers on the ground to track suspects in the mining area has resulted in the arrest of at least 84 people. Two suspects died during a shoot-out with police and while another wounded suspect is recovering in hospital.
Minister Cele welcomed the mass arrests. "Police are in the air and on the ground, squeezing out criminals regardless of whichever hole they are hiding in. We know this community has been vocal about criminals making their lives a hell there and we are turning the tide. I am also satisfied with the briefing by the detective teams about the progress to fast-track biological evidence processing to link some of the arrested suspects to the rape of the young women," Cele concluded.
The Police Ministry said it remains encouraged by the tireless efforts from the SAPS detectives to ensure a breakthrough in this case. However, the Ministry remains concerned the gang rape survivors are allegedly harassed by some media houses demanding interviews. The Ministry discourages these actions which families deem intrusive and insensitive during a traumatic ordeal.
The Ministry says it will engage the South African National Editors Forum (SANEF) on this matter.
Meanwhile more horrific stories from West Village have emerged from families and victims who have felt terrorised for a few years now, as many told Carte Blanche last year during an in-depth investigation. Today South Africans are asking why it has taken the police so long to address the crisis in West Village.
One Krugersdorp family told a local news station that two weeks ago there was an invasion at their home by unknown men – clad in blankets and balaclavas, like the rapists on Thursday evening. The family say their 21-year-old daughter was shot and is still in the ICU in hospital.
Another woman told the Police Minister that Thursday rapes were not even the worst. She mentioned some women having been raped by 20 men.
Ian Cameron, Director of Community Safety at Action SA tweeted today: "How many more in South Africa need to be killed/raped before Bheki Cele is sacked & SAPS restructured/rebuilt? Attending funerals don't bring justice. Krugersdorp will see little/no convictions cos of general incompetence. Statistically, tomorrow 67 people will be murdered in SA."
Tourism Minister Lindiwe Sisulu, who is Chair of the ANC's subcommittee on social transformation, has repeated a call for Chemical Castration of rape offenders. Many South Africans agree, whilst others warn this could lead to innocent people being wrongly accused and castrated.
The bottom line is, as Carte Blanche said today: "We reported on the out-of-control violence in West Village, Krugersdorp just over a year ago. The question remains: why did it take the gang rape of 8 women for police to act?" You can watch the full #CarteBlanche story below. (And stay more up-to-date than the police (!) by streaming Carte Blanche weekly if you live abroad | Watch in SA on DStv Now.)
Nicolene is so brave. When she said "we feel like foreigners in our own country". I felt that. Our country is going through the most yho ????. I'm heartbroken ?. Those monsters must rot in jail for what they did to those ladies. Cry my beloved country?. #Krugersdorp pic.twitter.com/dixOczNut4

— Diamond? (@raminth) July 29, 2022
[WATCH] Police Minister Bheki Cele says there are stories around the production house that was shooting a music video in #Krugersdorp when eight women were raped.#Newzroom405 pic.twitter.com/1wvGJA1oID

— Newzroom Afrika (@Newzroom405) July 31, 2022
More police officers have been deployed outside the #Krugersdorp magistrate's court this morning. Various groups are set to protest as over 80 people will appear in court. @malungelob has the latest.

Watch: https://t.co/jbdmkpsObf#Newzroom405 pic.twitter.com/BTzrRmFC7x

— Newzroom Afrika (@Newzroom405) August 1, 2022
I see there's some curiosity about whether the rape victims and survivors in the Krugersdorp gang rape horror were filming a music video or an adult movie.

IT IS IRRELEVANT.

Bodies are not more or less deserving of rape. Rape is wrong regardless the survivor's job or identity.

— Eusebius McKaiser (@Eusebius) July 31, 2022
Police Minister #BhekiCele has met with the survivors of the #Krugersdorp gang rape incident along with their families. He told the families that the police were hard at work trying to identify the perpetrators. Cele elaborates.

Watch: https://t.co/20aR5Zbp63#Newzroom405 pic.twitter.com/MkwUQ6ondg

— Newzroom Afrika (@Newzroom405) August 1, 2022
At the Krugersdorp Magistrates Court, where the suspects that were arrested for the rape of a number of young woman, will appear before court. @ActionSA_JHB @HermanMashaba @john_moodey @BonganiBaloyiBB pic.twitter.com/q8njjyuL80

— JustCarin (@CarinvdS) August 1, 2022
LISTEN Emotional Home Affairs Minister recalls memory of rape victim from 20 years ago
WATCH Zama Zama gangs in West Village, Krugersdorp – featured on Carte Blanche over a year ago!
If you live abroad – you can stream Carte Blanche weekly on Showmax International | Watch in SA on DStv Now.
WATCH Devilsdorp – A Showmax Original True Crime Documentary series that uncovers disturbing new facts about the brutal Krugersdorp killings.