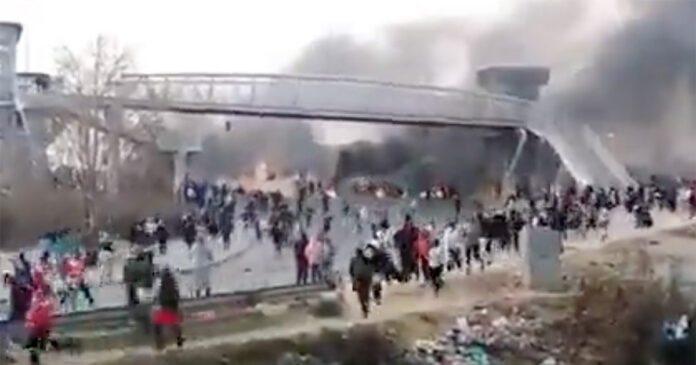 Two people have been shot and killed during protests in the township of Tembisa on Gauteng's East Rand in South Africa. It is alleged that it was authorities who shot the two people, after protestors threw petrol bombs.
According to Ekurhuleni Mayor, Tania Campbell (from the DA), the South African Police Service (SAPS) is trying to calm the situation. She confirmed at least one of the deceased had been shot by Metro Police but said she is still waiting for feedback from the Chief of Police on details. Campbell said she was informed that petrol bombs had been thrown from within the crowds.
The protest, which started peacefully, is apparently centred around service delivery grievances and Campbell's decision not to attend a community meeting on Friday.
From around 4am this morning, roads into Tembisa were blocked off with burning tyres and rocks as residents planned a shutdown in the township. Municipal offices have apparently been set alight, including a police station.
Ekurhuleni Metro Police Department's Kelebogile Thepa says: "The situation is quite volatile. We are trying to keep whatever remains in Ekurhuleni safe. It's really a situation where we met with great, great resistance by the protestors."
What is the Tembisa protest about?
Residents are believed to be angry over 'exorbitant' rising rates which they cannot afford, taxi fares and electricity being cut off. They are also said to be upset that Mayor Campbell failed to attend a community meeting on Friday.
Campbell explained the SABC that mayors cannot attend every single community meeting, and that MECs had attended and represented her.
Of the rates that used to be subsidised, Campbell said the removal of the 100 was to keep in line with National Treasury policy. She said those who cannot afford to pay are still helped, while it is only those who can pay themselves who no longer receive the subsidy.
Some locals said they've been trying to engage the City of Ekurhuleni for months with no "sensible" response.
Mayor Tania Campbell denies Tembisa Protest is about her, says the blame is on criminality and political interference
Campbell explained the mayor's office had been given a memorandum of grievances by the Tembisa Community Forum the week before last week. They agreed to a follow-up meeting which was on Friday, where her MECs gave feedback to the community.
She said the problem today is twofold – political interference and criminality. She said just like 2021's July Unrest in KZN and Gauteng, there are outside people taking over in community's that have grievances and escalating these to start riots and violent protests. She said it is a "huge concern", that they're trying to make the community ungovernable and that it is indeed difficult to deliver services under these circumstances.
According to other residents interviewed by the SABC, there are residents who are not part of the community forum who are frustrated and upset that the mayor has not been to see them in person to address their concerns. Campbell suggested the problem is also councillors who have a lack of communication with their areas, or communicate inaccurate information.
She said she is not shirking her responsibility and that the problem lies largely with criminality.
Of the two people who have been killed, Campbell said it is "absolutely shocking news to get". She said things have got out of control "where criminality takes control of a situation".
#Tembisa Customer Care Center is On Fire
Vehicles are burning inside the Thembisa Civic center and some vehicle burning outside on the street.#saps trying to contain the situation…#Tembisashutdown pic.twitter.com/V83EuQ7Ktr

— Vehicle Trackers (@VehicleTrackerz) August 1, 2022
WATCH Mayor Tania Campbell on the Tembisa Protests
A protestor has been shot dead in Tembisa. The EMPD has confirmed that he was shot dead by one of their officers. #TembisaUnrest pic.twitter.com/gex4vkY2PE

— Arezwothe Protection Services -APS (@ArezwothePS) August 1, 2022
#Tembisa I paid R300 only get 48 units for electricity in Tembisa which lasts only for 3days siyanyelwa straight. pic.twitter.com/eOgPO5GB9n

— Somncane???? (@MakhumaloShado) August 1, 2022
I was in Hospital view this morning.
The protest was relatively peaceful. pic.twitter.com/y0DylUnVc3

— Kgomzzz ? (@motso_modise) August 1, 2022
The poor people in #Tembisa are once again alone on the ground fighting for better service delivery, while the professionals and the so-called middle-class are tweeting about how "these people are reckless".

— @KEKANAEZEKIEL (@KEKANAEZEKIEL) August 1, 2022