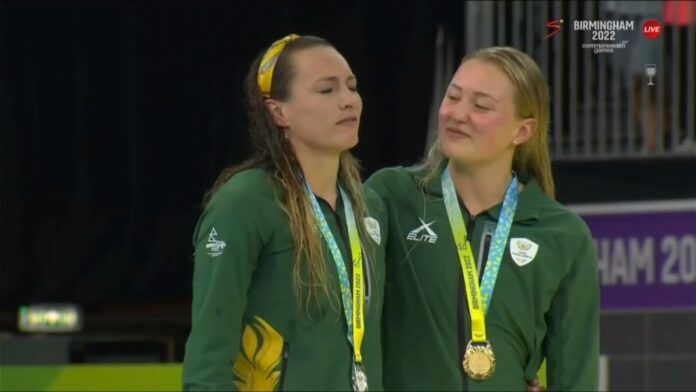 South African swimmer Lara van Niekerk won her second gold medal of the Games when she held off teammate Tatjana Schoenmaker (who won Silver!) in the women's 100m breaststroke… as Team SA continued to rake in the medals at the Commonwealth Games in Birmingham on Tuesday. Compiled by GARY LEMKE.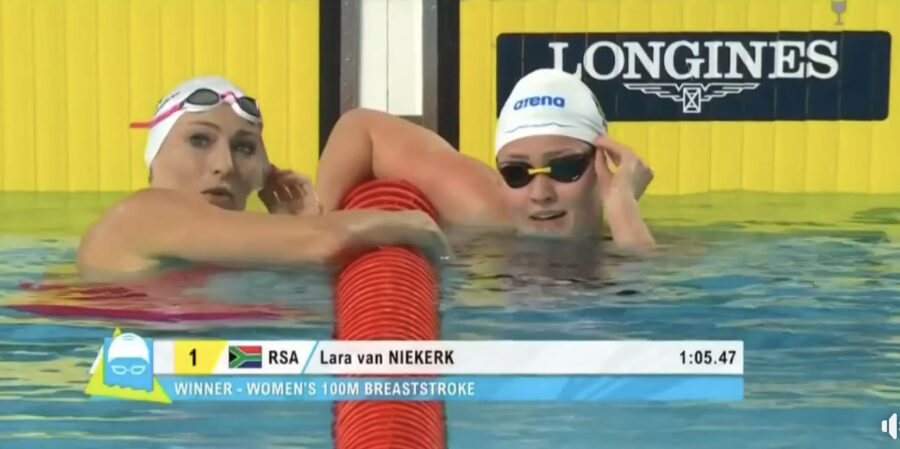 Try watch this without shedding a tear!
—- 💝💝 💝💝—–
—💝💋💋💋💋💋💝—-
-💝SO MUCH LOVE💝–
–💝💋💋💋💋💋💝–
—- 💝💋💋💋💝—-
——💝🍡💝——-
———-💝————-

🇿🇦🇿🇦🇿🇦🇿🇦#B2022
🇿🇦🇿🇦🇿🇦🇿🇦#TeamSA pic.twitter.com/AiiTLI714o

— Team South Africa (@TeamSA2024) August 2, 2022
IF YOU'RE IN SOUTH AFRICA – Watch Team SA in action at the Commonwealth Games on Showmax Pro! 
Teenager Pieter Coetze won his third medal of the Games with bronze in the men's 200m backstroke.
And out of the pool, the Women's Fours bowls team secured the silver medal when they lost the final 17-10 to India.
Other South Africans at the Commonwealth Games today:
ATHLETICS
Men's 100m, heats: Defending champion Akani Simbine won his heat in 10.10sec to qualify for the semi-finals
Men's long jump, qualifying, Group A: Jovan van Vuuren opened with a 7.87m jump, which placed him third in his group and qualified him for the final in third place.
Women's T37/38, 100m, heats: Sheryl James produced a Games and African record 13.53 to finish fourth in her heat and qualify for the final. Liezel Gouws finished sixth in her heat in 14.57 and misses out on the final
Women's 800m, heats: Prudence Sekgodiso finished third in her heat in 2:00.17, missing out narrowly on a place in the final
T20 CRICKET
Women's Group B: South Africa 141-4 lost to England 167-5 by 26 runs
England were sent in to bat first and made 167-5 in their 20 overs. Shabnim Ismail took 2-27. South Africa replied with 140-4 (Laura Wolvaardt 41*, Anneke Bosch 32). South Africa have lost both their matches and need Sri Lanka to beat New Zealand to stand a chance of reaching the semi-finals
GYMNASTICS
Women's Balance beam, final: Shante Koti finished eighth with a score of 10.366 (4.600 for difficulty, 5.766 for execution)
Women's Floor, final: Naveen Daries finished seventh with a score of 12.200 (4.700 difficulty and 7.800 execution)
HOCKEY
Women's Pool B: South Africa 15 Kenya 0
Goals for South Africa were scored by Jean-Leigh du Toit (5), Lilian du Plessis (4), Tarryn Lombard (3), Kristen Paton, Erin Christie and Bernadette Coston. The end of quarter scores were: 4-0, 6-0, 9-0 and 15-0. South Africa are fourth in the group on three points with one match remaining
LAWN BOWLS
Women's Pairs, Section B, Round 1: Colleen Piketh and Bridget Calitz bt Niue 28-9
Women's Fours, final: SILVER! Johanna Snyman, Esme Kruger, Bridgit Calitz and Thabelo Muvhango lost 17-10 to India
Women's Triples, Section A, Round 2: Johanna Snyman, Esme Kruger and Thabelo Muvhangolost 15-14 to Northern Ireland
Men's Singles, Section A, Round 1: Jason Evans beat Cephas Kimani (Kenya) 21-10
Para Mixed Pairs B2/B3, Section A, Round 4: Hermanus Scholtz and Tracy Smith beat New Zealand 22-8
SWIMMING
Men's 200m backstroke, heats: Pieter Coetze finished second in his heat in 1:58.08 and qualified fourth fastest for the final, while Guy Brooks finished fourth in his heat and missed out on a place in the final
Final: BRONZE! Pieter Coetze claimed the bronze medal with a brilliant last 50m which carried him into 3rd in 1:56.77. Brodie Wiliams (Eng) won gold in 1:56.40. It was Coetze's 3rd medal of the Games
Men's 50m freestyle, heats: Clayton Jimmie finished fourth in his heat in 22.98 and qualified 14th fastest into the semi-finals
Women's 200m butterfly, heats: Dune Coetzee finished fifth in 2:12.40 and Trinity Hearne sixth in 2:14.82 in the same heat. Coetzee is a reserve for the final
Women's 50m backstroke, heats: Olivia Nel finished third in her heat in 28.79 and Rebecca Meder finished fifth in her heat in 29.55. They both qualified for the semi-finals, in eighth and 13th positions, respectively
Mixed 4x100m Medley Relay, heats: Rebecca Meder, Brenden Crawford, Matt Sates and Emma Chelius finished second behind England in their heat in 3:51.56 and qualified fourth fastest for the final
Women's 100m breaststroke, final: Lara van Niekerk claimed GOLD and Tatjana Schoenmaker SILVER in the  while Kaylene Corbett finished seventh. Van Niekerk led from start to finish to win in 1:05.47. Schoenmaker clocked 1:06.88 and Corbett 1:07.62
WEIGHTLIFTING
2pm Men's 96kg, final: Ruben Burger finished sixth with a combined total of 303kg (138kg snatch, 165kg jerk). Gold went to Samoa's Don Opeloge with a Games record 381kg)
WHEELCHAIR BASKETBALL
Men's 5th/6th place: South Africa 7 Northern Ireland 10
(Allen Mtatase, Cecil Dumond, Ayabonga Jim, Simanga Mbhele)
Women's 5th/6th: South Africa 6 Kenya 5
(Aviwe Ngoni, Samkelisiwe Mbatha, Michelle Moganedi, Kelebogile Moeng)
STILL TO COME
ATHLETICS
7:55pm Women's T37/38, 100m, final: Sheryl James
8:22pm: Women's discus, final: Yolandi Stander
8:35pm: Men's 10000m, final: Adrian Wildschutt
SWIMMING
7:43pm Women's 100m freestyle, final: Aimee Canny
7:49pm Men's 100m butterfly, final: Chad Le Clos
8:11pm Men's 50m freestyle, semi-final: Clayton Jimmie
8:21pm Men's 50m breaststroke, final: Michael Houlie
9:15pm: Women's 800m freestyle, final: Michaela Pulford
9:36pm Mixed 4x100m Medley Relay, heat 2: Team SA
Source: Team SA
IF YOU'RE IN SOUTH AFRICA – Watch Team SA in action at the Commonwealth Games on Showmax Pro!