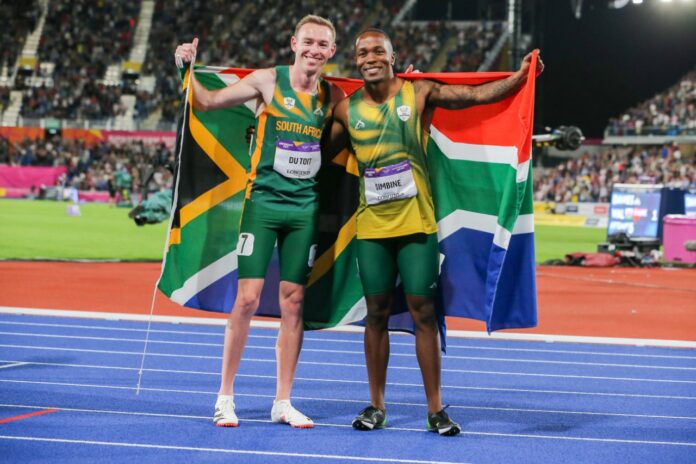 This time there was no gold, but Akani Simbine reminded the world that he remains one of the premier sprinters on the planet when he collected the silver medal in the men's 100m final in Birmingham's Alexander Stadium on Wednesday night. By GARY LEMKE in Birmingham.
Simbine was looking to become only the third male athlete in Commonwealth Games history to secure back-to-back 100m titles, and therefore join Don Quarrie of Jamaica (1970 and 1974) and Linford Christie of England (1990 and 1994) on that illustrious list.
IF YOU'RE IN SOUTH AFRICA – Watch Team SA in action at the Commonwealth Games on Showmax Pro! 
He came up against the formidable Kenyan, Ferdinand Omanyala, who had a season's best 9.85sec heading into these Games, which placed him third in the world this year. Both men had competed in last week's World Championships in Oregon, USA, and Simbine had finished fifth while Omanyala had missed out on the final.
Admittedly, he was hampered by nightmarish travelling logistics which would have sapped his strength, but these are the margins at the highest level of men's sprinting that everything is determined by split seconds. This time there were no problems as Omanyala scorched to gold in 10.02, with Simbine credited with silver in 10.13,
Simbine had won his semi-final in 10.07, coming through comfortably after being third quickest out the blocks from lane four. He was soon into full stride and stuck his head in front at halfway to stretch away from Australia's Rohan Browning.
From there it was back to the warm-up track before returning for the final two hours later.
Omanyana had also won his semi-final untroubled, in 10.02. Into a headwind, he looked the one that they all had to beat to take gold and Simbine would have known the man standing on his inside in lane three in the final would be a hard nut to crack.
Simbine had spoken earlier in the week about needing to have everything go right inside the first 60m to execute the perfect race. However, in the final he was soon on the back foot as the powerful Kenyan burst out from the blocks.
No reaction time was given by the official timing – odds at such a major competition, and in the 100m final no less – but to the naked eye it looked as though Simbine had got out around fourth fastest.
In other words, he had a lot of catching up to do. The bird had flown by the time they got to halfway and Simbine was now in a fight to finish second. Even with 20 metres remaining there was work required, but he finished strongly to snare the silver on the line, by a hundredth of a second ahead of Sri Lanka's Yupun Abeykoon.
Omanyala clocked 10.02 into a 0.9 headwind, which would have converted to a sub-10 with no wind. Simbine's would have converted to just outside of 10 seconds, but he needed to dip under that barrier to have a chance of joining the exclusive club of those who had won two Commonwealth Games 100m title in succession.
Minutes earlier Charl du Toit, running in what is likely his last international competition, turned back the clock with a season's best, and Games T37 record, when he charged through to take silver in the men's T37/38 100m. The South African had won gold in the event at the 2016 Rio Olympics and 2017 World Championships, but things had not worked out well for him at the Tokyo Olympics.
Here he was back to his best and the sheer delight on his face when he saw that he'd won the silver was a moment to be captured on camera. He was the only T37 athlete in the final, surrounded by the higher-classified T38s, so his was a performance full of merit.
After Du Toit's heroics, the stadium hushed as it waited for the fastest men in the Commonwealth to make their way onto the track.
Source: TeamSA
IF YOU'RE IN SOUTH AFRICA – Watch Team SA in action at the Commonwealth Games on Showmax Pro!