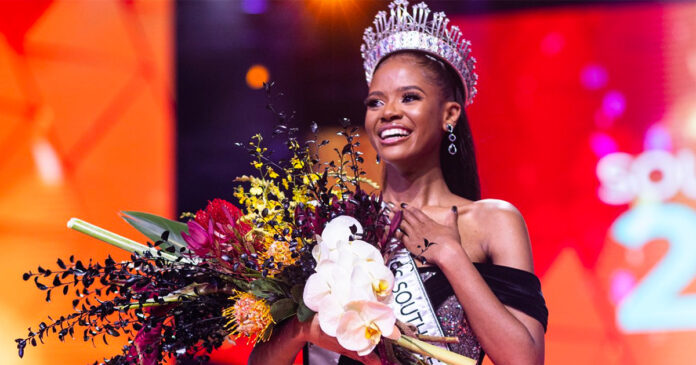 Ndavi Nokeri, from Limpopo province, has been crowned Miss South Africa 2022 in a glitzy ceremony at Time Square in Pretoria on Saturday night which featured the Top 10 Miss SA finalists.
One of the first to congratulate the 23-year-old model was President Cyril Ramaphosa. He said: "Congratulations to our newly crowned #MissSA2022 Ms @Ndavi_Nokeri. I was most inspired by your reflection on our shared responsibility as a nation in ensuring a sustainable, innovative and inclusive South Africa that unlocks opportunities for all."
Ndavi, who hails from Tzaneen, was a firm favourite – she had already been voted the People's Choice, which qualified her automatically for the Top 5. When she was selected for the Top 10, Ndavi thanked her province for its support and said: "I am proof that even someone from a small village and humble beginnings can achieve their ambitions and show that their dreams are valid."
Ndavi has a Bcom degree, from Pretoria University, in investment management.
Her prizes include R1-million cash, as well as a serviced apartment and Mercedes-Benz C-Class Sedan for the duration of her reign. Last week, Ndavi actually did a video reveal of the luxury apartment – Ellipse Waterfall:
Miss SA 2022 Apartment Reveal!

I can't think of a more suitable palace for a Queen than this luxurious @ellipsewaterfall Tricolt group @attacqlimited penthouse apartment. This is one of the most amazing developments I've set eyes on. #apartmentreveal #misssa2022 pic.twitter.com/T74VnjHQzr

— Ndavi Nokeri (@Ndavi_Nokeri) August 5, 2022
Miss SA runner-up was named as Ayanda Thabethe. She receives a prize of R150,000 cash.
YOUR MISS SOUTH AFRICA 2022 ?✨ pic.twitter.com/O1CresYyN6

— Miss South Africa (@Official_MissSA) August 13, 2022
Our beautiful TOP 5 ?

Show them some love in the comments ?#MissSA2022 pic.twitter.com/Y2ab3U2yaR

— Miss South Africa (@Official_MissSA) August 13, 2022
Your Top 3 ??#MissSA2022 pic.twitter.com/FN49vpLPh0

— Miss South Africa (@Official_MissSA) August 13, 2022