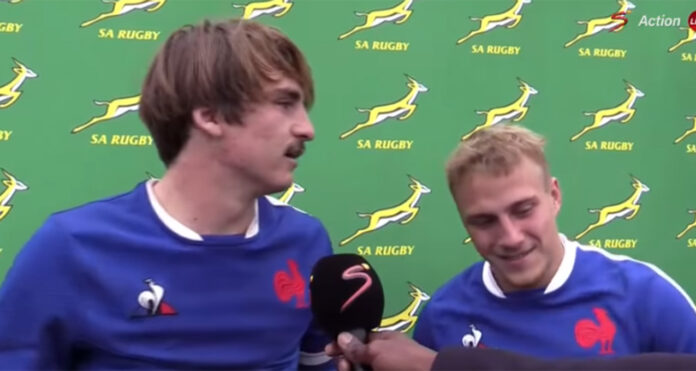 A young French rugby player surprised viewers on Friday when he translated a post-match interview, switching fluently between French and Afrikaans. The video, featuring French U18 player Johan Wasserman, has gone viral – watch below.
It turns out that the young French player actually has a South African dad – Johan Wasserman (same name), from Ermelo Mpumalanga. Johan Senior settled in France after playing for French team, USON Nevers. He had previously played for years for Montpellier in France, and the Bulls in South Africa.
Johan Jr, who was born in Pretoria, was just three when his family settled in France. He now plays fullback for the French team that beat the SA U18 A side in the U18 International Series on Friday in Paarl.
In an interview before heading out to SA, Johan said: "I have dual nationality and I have always lived between these two cultures. At home, we speak Afrikaans. In high school, as in rugby, I speak French."
Like many South Africans living abroad, he said: "I have always made the effort to keep these South African roots while living in France."
As someone pointed out: "He has lived in France since he was 3 yrs old. So full marks for his Afrikaans. Very cute!!"
Another commenter said: "Bilingual Afrikaans guy, playing for France. Interview in both languages to make it understandable for both teams and viewers. Respect!" (He's actually fluent in three languages as he speaks English too.)
WATCH French U18 rugby player does post-match interview in Afrikaans