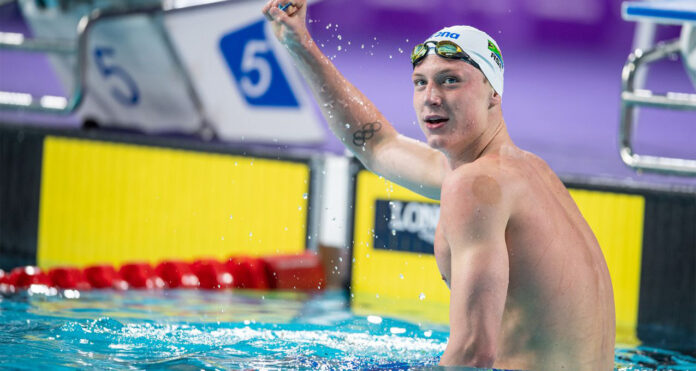 Pieter Coetze picked up at the Fina World Junior Swimming Championships in Lima, Peru where he had left off at the Commonwealth Games in Birmingham.
The 18-year-old South African stormed to a new Championship record in the first heat of the men's 100m backstroke, a race that coupled as a semi-final.
The teenager dipped under the 53-second barrier with a 52.95, taking down the mark of 53.37 previously held by Thomas Ceccon. That was a new South African and African record, with Coetze breaking the mark of 53.12 previously held by his countryman Christopher Reid.
At the recent Commonwealth Games, Coetze had won the gold medal in the 100m backstroke with a last lunge to the wall, winning in 53.78.
There, he had come into the race as the favourite and was given the treasured lane number four. Coetze had a fight on his hands with English home favourite Brodie Williams turning strongly and powering down the final lap in lane five. The pair had a titanic struggle over the last 30 metres, but it was Coetze, having turned first in 25.75, who came again with a strong late lunge to hit the wall first.
In Peru, he immediately went 0.83 quicker than the time he had set in winning gold in Birmingham.
At the age of 18, Coetze is still learning how to race. But here he won gold, silver and bronze. Once he gains more experience he's going to be more than the equal of the best in the world. Paris 2024 could well be his crowning glory.
Source: TeamSA