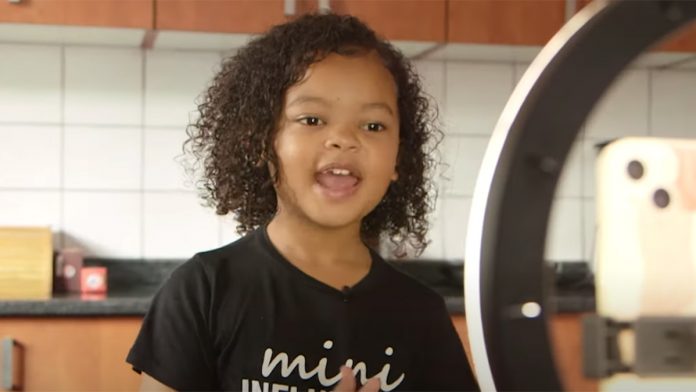 They're the latest internet sensation – called 'kidfleuncers', these young children have mass appeal online and they're raking in the big bucks.
Taylor Morrison is just one of the growing 'mini influencers' in South Africa who's being courted by the big corporates to promote their brands. Taylor's mom admits "Taylor makes more money than I did."
Some say it's exploitation. Others that with the rising cost of toys, kindergarten fees and games, "it's sad that these kids are working from such a young age, but if you want to have fun you need money."
With kidfluencers on the rise, tonight on Carte Blanche (and streaming from Tuesday if you're abroad), the Carte Blanche team meets some of SA's most influential youngsters and asks: is it a simple additional income stream, or a modern form of child labour?
According to social media law expert, Emma Sadleir, kidfluencers are not protected under existing labour laws. Should the SA government consider updating legislation to better protect these young online stars? "At the moment everything is so unregulated that there's no guarantee that that child will benefit in any way from that commercial transaction… because, as I say, the parents are the ones contracting," says Sadleir.
You can watch the show on Sunday 11 September in South Africa on DStv Now or stream it overseas in most countries from 13 September if you're abroad.
Also on Carte Blanche this Sunday  11 September
Watch the show overseas | Watch in SA on DStv Now
An act of revenge or an attempt to silence? High-profile criminal lawyers in the Western Cape have become targets and, in some cases, it ends in murder.
Carte Blanche finds out what happens when those who are meant to uphold the law become victims themselves? "We investigate why attacks on members of the legal fraternity have become more frequent in the Western Cape," says Carte Blanche.
Watch the show overseas | Watch in SA on DStv Now
Watch the show overseas | Watch in SA on DStv Now
HEAR it ALL
Your favourite episodes are now available on Carte Blanche: The Podcast
If you're overseas – you can watch #CarteBlanche from Tuesdays, and thousands of other popular local South African shows & movies by subscribing to Showmax International now. You can try it FREE for 14 days. 
Carte Blanche is on M-Net & M-Net HD [101], 11 September at 19:00 & again on M-Net Plus 1 [901] at 20:00
***
Please note: Carte Blanche is only available to international Showmax subscribers in Andorra, Australia, Austria, Belgium, Denmark, Finland, France, Germany, Greece, Iceland, Indonesia, Ireland, Italy, Liechtenstein, Luxembourg, Malta, Monaco, Netherlands, New Zealand, Norway, Portugal, San Marino, Spain, Sweden, Switzerland, United Kingdom. Not all titles are available in all territories. Showmax brings you the best South African series and movies, from the classics to the latest releases, from complete box sets to kids' favourites.