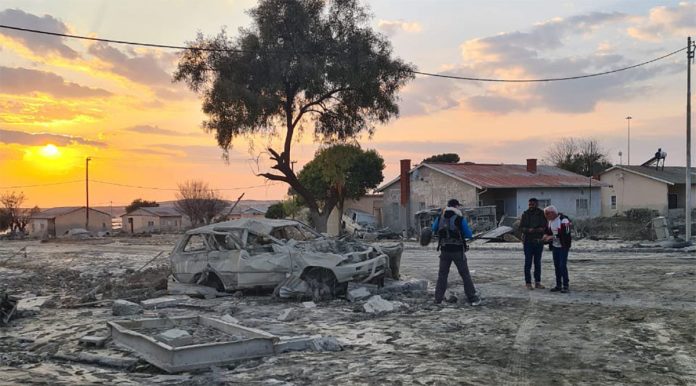 Another mine dam wall was reported to have collapsed at the disaster-stricken diamond mine in Jagersfontein, just weeks after a similar incident at the same site left at least one person dead and 70 injured; as well as damaging 60 homes and 2,615 hectares of grazing land.
Free State Premier, Sefora Ntombela, issued a statement on Tuesday night saying she had been informed by the Kopanong Local Municipality of a second dam wall collapse, and called on the community not to panic as the provincial team has been activated to the affected area.
However, although the statement still appears on the province's Facebook page, Reuters reported at midday that officials now say they were mistaken in saying a second wall had collapsed. It was seepage. They explained that after heavy rain, water had flowed out of a separate freshwater dam on the site, which made it look like a second collapse.
Free State's Head of Environmental Affairs, Mbulelo Nokwequ told Reuters: "There is no imminent danger to life or property, that seepage has been contained."
Nokwequ said videos on social media of overflowing water were causing panic.
Jagersfontein Developments, which owns the dam, confirmed on Wednesday that there was "no further breach of any kind".
Ntombela said in her earlier statement that water was running through the neighbourhood of Charlesville and the nearby Dennis Louw farm.
« The R706 is closed to traffic. Motorists are advised to use an alternative gravel road to Fauresmith to access Jagersfontein, » she said.
Police  and Emergency Services are on the scene.
Jagersfontein is home to the oldest open-pit diamond mine in South Africa, once owned by De Beers. The dam which first collapsed and triggered the heavy flooding on 11 September, was being used to store liquid mine waste from the dormant diamond mine. It burst open and released a flood of mine slurry that swept away houses and cars.
President Cyril Ramaphosa visited the area and pledged the government's support to those affected.
Jagersfontein residents told Carte Blanche that the mine owners were warned on numerous occasions about the danger posed by this tailings dam. (You can watch the show on Showmax International overseas in most countries if you live abroad.)