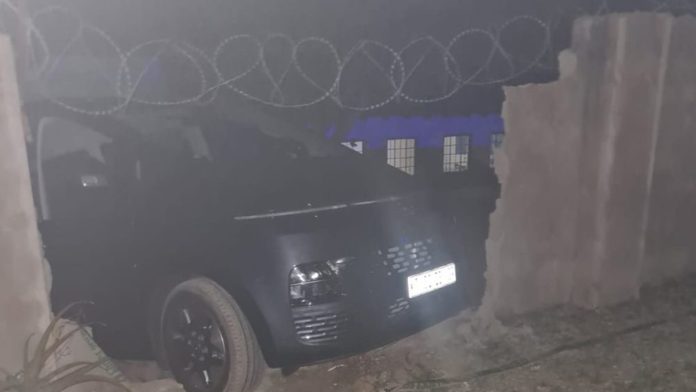 Police in Mpumalanga have taken three people in for questioning in relation to the gruesome murder of a German tourist in White River on Monday afternoon, Police Minister Bheki Cele revealed during a visit to the scene of the crime on Wednesday. They are co-operating.
Cele was accompanied by Police National Commissioner, General Fannie Masemola, and his management. But as the SA police service (SAPS) guaranteed quick arrests and promised that "processes are in place" to determine what resources are needed to increase security in the area and prevent similar crimes… it may just be too little too late.
Already, the shooting of the German tourist – who was driving from the Drakensberg to what should have been a dream safari in the Kruger National Park – has made headlines around the world, including in the US, Australia, UK and the man's homeland, Germany… all regions with tourists that South Africa's economy desperately needs.
Today the Democratic Alliance (DA) accused SAPS of ignoring what they have long warned – "that the SAPS must prioritise the safety and security of tourists, as a single criminal incident can have devastating repercussions on international tourism. DA Shadow Minister of Tourism, Manny de Freitas, said:
"I call on the ministers of Police and Tourism to announce their plans to police and protect tourist areas in the country. These ministers must ensure South Africans that they are doing everything in their power to prevent a repeat of this tragic incident and that the criminals will be caught and apprehended as soon as possible.
"The death of the German tourist has made front-page news in Germany and will no doubt cause a dip in tourism from Germany, which is one of our major tourism markets."
The tourist was gunned down during an attempted hijacking and robbery on Numbi Road in White River. According to police reports, he was one of four German tourists who were traveling in the car, en route to Numbi Gate, to stay at Mdluli Safari lodge.
The tourists were accosted by three armed suspects, who instructed them to open the doors of their vehicle. The driver reportedly locked all the doors, and began reversing. The suspects allegedly shot him in the upper body through the window. The driver died on the scene before the suspects sped off in their vehicle, SAPS said today.
Cele said that in the wake of the incident, the SA government and other role players will implement interventions.
"As we stand here, we have three people of interest on this one. They are not arrested, they are people of interest, although… they are in the hands of the police."
He added:
"We believe that we'll be able to crack the case very soon. Police have done their job and they believe that they're not very far from cracking this case."
Cele said the government is in the process of determining how much and which crime-fighting interventions and resources are required for this area. He emphasised the importance of getting the community involved to "understand that it is to their benefit that tourists keep coming here", and noted that proper patrolling is needed.
Cele admitted: "The tourism sector is highly contested and is the bread and butter of millions of households in this province and other parts of the country, this is why it must be guarded jealously by all of us including communities and we simply cannot let such callous acts go unpunished. This is why it is highly encouraging to see police in this province move with agility to find those responsible for this crime."
The Police Minister added that a long term solution is needed to safeguard communities and tourists alike, and said he has committed to engaging his cabinet colleagues responsible for tourism and transport to put in place a joint coordinated response against tourists.
The response should be both reactive and proactive and bring together national and local government and both public and private tourism role players to urgently combine resources and efforts to deal with causative factors of some of these crimes taking place in and around the Masoyi policing area.
This province recorded eleven common robbery incidents involving tourists, from April to June 2022. Police have arrested two people for their alleged involvement in some of the crimes and the suspects are currently going through court processes, said SAPS.
"Police have a duty towards all inhabitants of this country and must make arrests, as part of crime prevention, the tourism sector also has a responsibility to empower their clients with information and knowledge about their surroundings, so they are not easily targeted for their valuables. We have no doubt if this approach is widely adopted, it will go a long way in ensuring the space for these criminals targeting visitors to our shores is squeezed and ultimately shut."
Shockingly it appears that despite it being a notorious crime spot, there was a lack of security and police presence in the area, according to the DA. As De Freitas points out, it's particularly concerning "when one takes into account that there has been unrest, barricading of Kruger National Park (KNP) gates and protest action in the area and throughout the park in the last four weeks."
De Freitas said he's received information "that there has been no, or very little, police presence during the protests and unrest action.
"There is no doubt that the SAPS are aware that this is a high crime area, considering that this incident is the latest of many similar incidents on this particular road; the road leading to Numbi Gate. A previous incident occurred in January when a family from Pretoria was involved in an attempted hijacking incident.
"In addition, it is traditionally peak period for international tourists to visit Mpumalanga and the Kruger National Park from now until November every year. The fact that the Kruger Lowveld Chamber of Business and Tourism (KLCBT) has had to step in to assist in the protection of tourists and the combatting of crime is an inditement on the police and their inability to fulfil their basic mandate in the area."
If you are travelling to the Kruger, SANParks advises: "Tourists are advised to plan their trips carefully, only make stops at designated areas such as garages and service stations, try to travel in convoys, and where possible use alternative gates. Paul Kruger and Phabeni Gates are fully operational and signposted and can be used as a gateway to other lodges around the KNP."