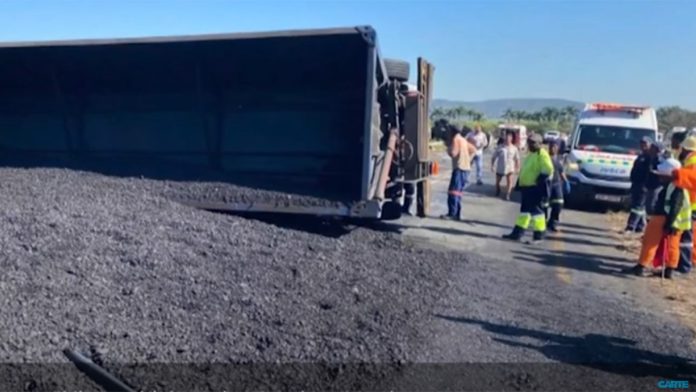 Here's what's coming up on Carte Blanche this weekend. You can watch the show on Sunday 9 October in South Africa on DStv Now or stream it overseas in most countries from 11 October if you're abroad.
Carnage and death stalk the coal road as drivers put profits before lives. War in Ukraine has caused a global energy crisis that has sent the coal price soaring and, with money to be made on coal transport contracts, mines and truckers are hurtling down the N2 between Pongola and Piet Retief. The Transnet rail system, long lost to sabotage and looting, puts pressure on truckers to make it to Richards Bay in record times. The crashes they cause are horrific, impacting the lives of communities along the way. Carte Blanche investigates the deadly toll amid a lack of visible policing. (Producer: Joy Summers | Presenter: Masa Kekana)
Watch the show overseas | Watch in SA on DStv Now
Also on Carte Blanche this Sunday 9 October
Caravanning enthusiasts are loyal and fierce. Caravans form part of a great South African outdoors tradition in which annual holidays and open-road retirements are planned. But camping gadgets and mobile dreams don't come cheap, so finding a reliable dealer is critical. Which is why the implosion of one of Cape Town's most trusted one-stop caravan shops over the last year has left an avid caravanning community in disbelief. The cracks started showing when clients' pricey vans were sold but the money never materialised. Carte Blanche speaks to an insider-turned-whistleblower who witnessed the suspicious money flows and outright tampering with vehicle identification numbers.(Producer: Liz Fish | Derek Watts)
Watch the show overseas | Watch in SA on DStv Now
Sewage running down the streets, eventually ending up in the ocean. People are getting sick. Tourism is suffering. Carte Blanche goes undercover to expose the source of escalating contamination that's causing fish kills and threatening Durban's recovery from the crippling April floods and mudslides that killed 459 people. Excessively high E. coli counts have rendered many beaches off-limits, potentially crippling the region's economy. In a tale of ageing infrastructure, limited resources, and lacklustre management, we expose the staggering lack of planning and foresight in this coastal city teetering on the edge.(Producer: Nicky Troll | Presenter: Macfarlane Moleli)
Watch the show overseas | Watch in SA on DStv Now
What makes a nugget a nugget, and do veggie patties still make a burger? Are consumers really confused about the names given to plant-based meat alternatives? Just as the South African market is starting to embrace the idea of eating less meat – whether to spare the environment, their bodies, or pockets – meat analogues that take the shape and flavour of meat but are made from plant-based proteins have attracted the attention of the Department of Agriculture. Its plan? To outlaw the labelling of items as sausages or patties if they don't contain any meat. Carte Blanche investigates the devastating downstream consequences of this move on the meat analogue industry.(Producer: Stenette Grosskopf | Presenter: Derek Watts)
Watch the show overseas | Watch in SA on DStv Now
If you're in SA – you can watch Carte Blanche on DStv Now.
HEAR it ALL
Your favourite episodes are now available on Carte Blanche: The Podcast
EXTRA! Formula 1 Dreams with Sasha Martinengo
South Africa has a rich motorsport history… East London hosted the SA Grand Prix from the 1930s to 1960s, then was moved to the Kyalami Circuit in Joburg. Now, decades later, could Formula 1 cars be zipping across local tracks again?
Deadly Coal Run with Masa Kekana
Fully laden coal trucks overtaking on double lines, non-stop carnage on the N2… We investigate the roots of a deadly coal rush that is costing lives. Where's law enforcement that communities have long been pleading for?
Pick of the Week
Macfarlane Moleli reminds Madzivhandila College of Agriculture principal, Khathu Madau, that students' futures are on the line.
If you're overseas – you can watch #CarteBlanche from Tuesdays, and thousands of other popular local South African shows & movies by subscribing to Showmax International now. You can try it FREE for 14 days. 
Carte Blanche is on M-Net & M-Net HD [101], 9 October at 19:00 & again on M-Net Plus 1 [901] at 20:00
***
Please note: Carte Blanche is only available to international Showmax subscribers in Andorra, Australia, Austria, Belgium, Denmark, Finland, France, Germany, Greece, Iceland, Indonesia, Ireland, Italy, Liechtenstein, Luxembourg, Malta, Monaco, Netherlands, New Zealand, Norway, Portugal, San Marino, Spain, Sweden, Switzerland, United Kingdom. Not all titles are available in all territories. Showmax brings you the best South African series and movies, from the classics to the latest releases, from complete box sets to kids' favourites.