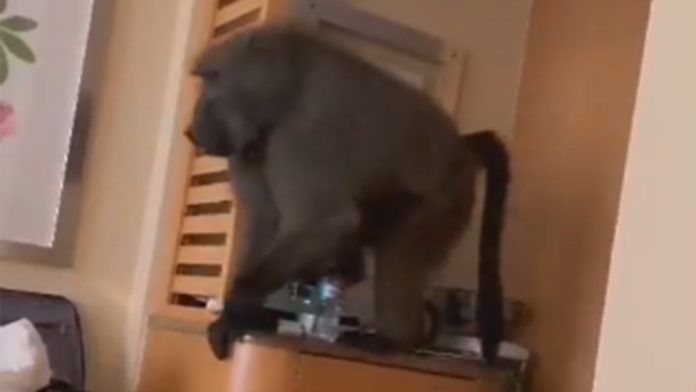 A video has captured the moment an amazingly obedient – and rather large! – baboon does as requested in a hotel room in South Africa!
The incident reportedly took place at Sun City. A woman can be heard politely begging: "Please go…" and then adding incredulously "udl'ushukela" (you eat sugar?)… to which the sugar-loving baboon immediately gets up and leaves the kitchen, walks through her room, and makes himself comfortable outside on the balcony.
The woman's friend Gala Dali posted the video on Twitter yesterday, saying: "My friend woke up to a baboon in her room and she still politely asking it to go… I would have fainted!"
The hotel guest has been commended for remaining so calm!
WATCH Polite encounter between a baboon and a hotel guest in South Africa
My friend woke up to a baboon in her room and she still politely asking it to go… I would have fainted ????? pic.twitter.com/fYl2xZUHyd

— Gala Dali ❤️ (@Queen_Viv_) October 11, 2022
Meanwhile, this monkey in the Kruger also has South Africa in stitches:
Haha, must watch! ? We all know this feeling!! Thanks to Manavhela Fulufhelo for the video and Lauren B for the heads up: "This monkey in the Kruger is too funny!Ag shame man ? " pic.twitter.com/WlxBzkTWky

— South Africa People – SAPeople.com (@sapeople) October 11, 2022