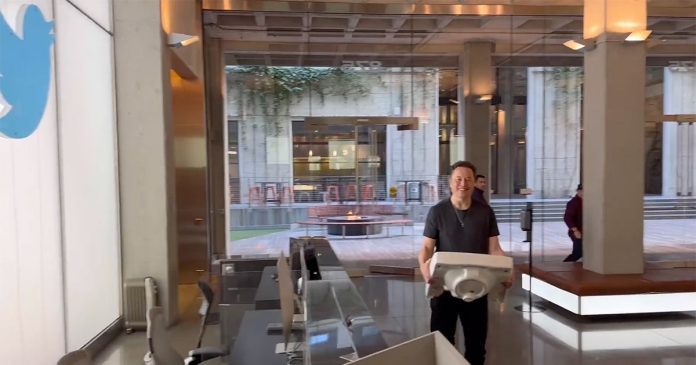 The richest man in the world, who was born and raised in South Africa, Elon Musk, has entered the Twitter HQ building. "Let that sink in," he quipped on Twitter yesterday, along with a video showing the historic moment that he took over the social media platform. Today – with good old-fashioned SA humour – he changed his Twitter name to 'Chief Twit'.
Following a lot of to-ing and fro-ing, largely arguing over the number of bots that Twitter has, Musk now seems to be 100% committed to his $44-billion acquisition… and making the world a better place.
After "meeting a lot of cool people at Twitter" yesterday, Musk today posted a message for Twitter advertisers and just about everyone else on the planet (including his 110-million followers), that seems to confirm he has purchased Twitter. Here's a full transcript…
Elon Musk's introductory message to Twitter advertisers:
"I wanted to reach out personally to share my motivation in acquiring Twitter. There has been much speculation about why I bought Twitter and what I think about advertising. Most of it has been wrong.
"The reason I acquired Twitter is because it is important to the future of civilization to have a common digital town square, where a wide range of beliefs can be debated in a healthy manner, without resorting to violence. There is currently great danger that social media will splinter into far right wing and far left wing echo chambers that generate more hate and divide our society.
"In the relentless pursuit of clicks, much of traditional media has fueld and catered to those polarized extremes, as they believe that is what brings in the money, but, in doing so, the opportunity for dialogue is lost.
"That is why I bought Twitter.
"I didn't do it because it would be easy. I didn't do it to make more money. I did it to try to help humanity, whom I love. And I do so with humility, recognizing that failure in pursuing this goal, despite our best efforts, is a very real possibility.
"That said, Twitter obviously cannot become a free-for-all hellscape, where anything can be said with no consequences! In addition to adhering to the laws of the land, our platform must be warm and welcoming to all, where you can choose your desired experience according to your preferences, just as you can choose, for example, to see movies or play video games ranging from all ages to mature."
In response to someone who suggested Twitter should find a way to compensate its top Tweeters who create the high engagement content which keeps the site active, Musk said "absolutely".
In a video he also suggested that Twitter needs to copy and be more like China's WeChat where you can do absolutely everything in one place.
Yesterday he remarked that "a beautiful thing about Twitter is how it empowers citizen journalism – people are able to disseminate news without an establishment bias".
High profile users have mainly responded positively and with relief to Musk's take-over. One observed: "Elon SHOULD be the CEO. We need someone who uses the platform on a regular basis instead of an inactive and a corporate-only based account."
Economist and New York Times best-selling author Peter Schiff tweeted: "As an avid #Twitter user I'm very glad you bought the company. I think you overpaid, but as you wrote there is much more at stake here than money. But to the extent that you raised the money by selling over-priced $TSLA shares, it really doesn't matter. Godspeed on this journey."
One of the first changes may be an Edit button, and after that – people are pleading for Musk to remove all the bots. "The most important problem to solve on Twitter is the depersonalisation we currently feel when communicating here. It's too easy to forget you're talking to fellow humans, especially when you're often not talking to fellow humans!" said one followers. Another said simply: "Elon, next step is the bots. Please. We are begging you."
WATCH Elon Musk entering Twitter HQ
Entering Twitter HQ – let that sink in! pic.twitter.com/D68z4K2wq7

— Elon Musk (@elonmusk) October 26, 2022
This clipped sentiment is why – even though I may disagree with @elonmusk at times – I am constantly cheering him on.

Humbly striving to love and better humanity should be the goal for all of us. pic.twitter.com/0fh9zlcOzh

— Rev. Dr. Doge Christopher Benek (@benekcj) October 27, 2022
Twitter staff welcome Elon Musk to the company:
Great to see Twitter staff welcoming SA expat Elon Musk! https://t.co/nRPkKX0ON2 https://t.co/szuvWjPK4r

— South Africa People – SAPeople.com (@sapeople) October 27, 2022