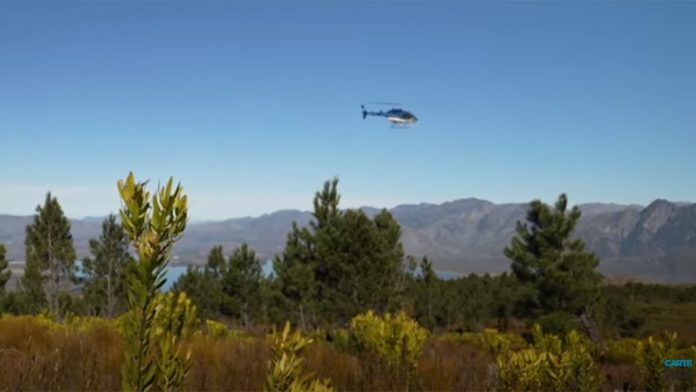 Here's what's coming up on Carte Blanche this weekend. You can watch the show on Sunday 30 October in South Africa on DStv Now or stream it overseas in most countries on Showmax from Tuesday 01 November if you're abroad.
There's a war brewing in the Western Cape, where tensions have been on a knife's edge for decades. As climate change ravages the world, South Africa suffers too – and one of our most critical problems is the decreasing availability of water. Many experts say large plantations of trees not indigenous to the country are one of the major culprits in our shrinking water table; and that the survival of people, crops, and the unique fynbos biome is threatened by these alien species. On the other hand, some arborists believe that all trees are essential to maintain a proper ecological balance in the area. Carte Blanche takes to the skies for a bird's-eye view. (Producer: Hamilton Wende | Presenter: Macfarlane Moleli)
Watch the show overseas | Watch in SA on DStv Now
"Many years ago, I worked on a story about a plan to remove pine trees from parts of the Table Mountain National Park. I remember being surprised by the vitriol the debate generated, and the anger we encountered among the people we interviewed. I don't recall an immediate mass felling of trees in the months that followed, so I guess the pro-pine lobby won that battle. Of course, discussions like these are now shaped by the existential crisis presented by climate change. And while the vitriol has not diminished, I imagine the tolerance for it has. In 2022, it's about doing the right thing by our planet." – John Webb, Executive Producer
Also on Carte Blanche this Sunday 30 October
When businesswoman, Nozi Xamlashe , was pulled over by a police officer in Mthatha, in the Eastern Cape, she could not have known how the interaction that followed would one day change her life. The officer asked for her phone number and when she declined his advances, he made a chilling threat, one he would brutally fulfil months later while she was working at her hair salon. But Xamlashe's is just one of many terrifying encounters Mthatha residents say they've had with the police. In this community – one of the top three most violent in the country – residents say far from being enforcers of the law, the police are often part of the problem. Carte Blanche investigates missing dockets and dirty cops at Mthatha's two police stations, where cases of violent crime go uninvestigated. (Producer: Sipha Kema | Presenter: Claire Mawisa)
Watch the show overseas on Showmax International | Watch in SA on DStv Now
For years, residents of the Eastern Cape have complained about corruption and police incompetence in Mthatha. Now, we go undercover in two of SA's most notorious police stations. That's #CarteBlanche this Sunday at 7pm on @MNet channel 101. @clairemawisa #GBV pic.twitter.com/PwzXlJtMkR

— Carte Blanche (@carteblanchetv) October 26, 2022
COMING SOON
A man of miracles, the heart of his congregation and a firm believer in resurrection. For over twenty years Dr Siva Moodley was the star attraction at a ministry preaching the prosperity doctrine. But more than 400 days since his passing, the well-known Gauteng pastor has yet to be buried, some of his family apparently convinced that he'll rise from the dead. In the meantime, it's business as usual at the church, including offers of counselling sessions with the late pastor – for a large fee. All the while, his body lies undisturbed at a Johannesburg funeral home. Carte Blanche investigates. (Producer: Latashia Naidoo | Research: Sinethemba Nogude | Presenter: Claire Mawisa)
Watch the show overseas | Watch in SA on DStv Now
Coming soon to #CarteBlanche: he's been dead for more than 400 days… A matter of belief, or incomparable grief? What's preventing one family from simply letting go? Keep an eye on our socials for all the latest line-ups. @clairemawisa pic.twitter.com/76uzhuSJA4

— Carte Blanche (@carteblanchetv) October 27, 2022
PICK OF THE WEEK
An unexpected phone call from a stranger throws your life into disarray. An eerily calm voice on the other end of the line demands you hand over a significant amount of cash or risk arrest for a heinous crime you know you didn't commit. However, the voice doesn't belong to a police officer but rather an inmate in a maximum-security prison, one of the masterminds of an elaborate extortion scam. It manipulates sex workers into handing over the contact numbers of their less-favoured clients, transformed into unwitting victims by a single phone call.
Watch the show overseas | Watch in SA on DStv Now
#CarteBlanche. What irony! Scams being operated from within prison with cellphones! We live in a crazy country!

— Laurette Schoeman (@lauretteSchoema) October 23, 2022
PODCAST EXCLUSIVES
Your favourite episodes are now available on Carte Blanche: The Podcast
EXTRA! Steinhoff: The Latest with Rob Rose
Once proudly called "the Ikea of Africa", the gigantic Steinhoff came to a spectacular fall in 2017 when several accounting irregularities came to light. It soon became clear that this would be the biggest corporate fraud South Africa had ever seen. Now, almost five years later, authorities finally swooped down on ex Steinhoff CEO, Markus Jooste. But why only now? And what's next? We speak to Rob Rose about the latest developments.
If you're overseas – you can watch #CarteBlanche from Tuesdays, and thousands of other popular local South African shows & movies by subscribing to Showmax International now. You can try it FREE for 14 days. 
Carte Blanche is on M-Net & M-Net HD [101], 30th October at 19:00 & again on M-Net Plus 1 [901] at 20:00
***
Please note: Carte Blanche is only available to international Showmax subscribers in Andorra, Australia, Austria, Belgium, Denmark, Finland, France, Germany, Greece, Iceland, Indonesia, Ireland, Italy, Liechtenstein, Luxembourg, Malta, Monaco, Netherlands, New Zealand, Norway, Portugal, San Marino, Spain, Sweden, Switzerland, United Kingdom. Not all titles are available in all territories. Showmax brings you the best South African series and movies, from the classics to the latest releases, from complete box sets to kids' favourites.