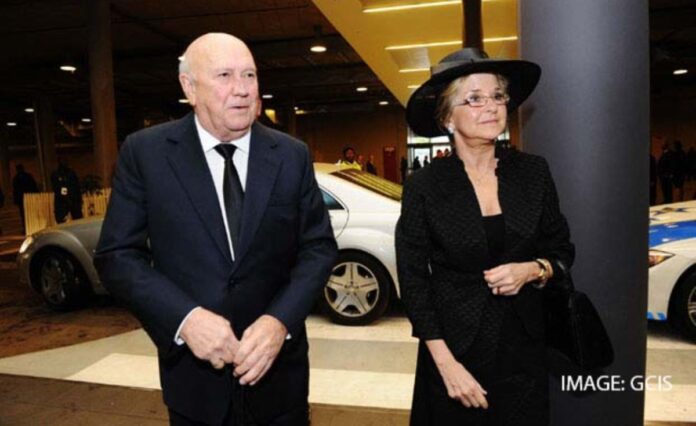 The Nobel Peace Prize former South African president FW de Klerk was awarded, alongside Nelson Mandela, has been stolen in a burglary at his home in Cape Town.
The cherished 18-carat gold 196 grams medallion was taken – along with a "substantial" collection of priceless jewellery belonging to his distraught widow Elita – from the family safe.
De Klerk, who died at 85 on 11 November last year, after a long battle with cancer, was honoured alongside Mandela with the prize at a ceremony in Oslo in December 1993.
Mandela and De Klerk were awarded the Nobel Peace Prize for "their work for the peaceful termination of the apartheid regime and for laying the foundations of a new democratic South Africa".
Elita de Klerk confirmed the robbery had taken place at their secure and guarded home, after she returned home from a holiday abroad and found the safe with their valuables was open.
She told News24: "I realised that we were robbed in April of this year.
"On 5 April, I went to the safe and the safe was open. I had returned from an overseas trip on the fourth, so I remember the dates. Unfortunately, the safe was nearly empty.
"A lot of my jewellery was taken and it is difficult to put a price to it. The pieces that were taken were given to me over the last 50 years for special occasions, plus I had pieces that I inherited from my mother.
"I was shocked after the robbery. But somebody close to me has just died in a motor car accident and somehow this death put these matters in perspective for me," she said.
De Klerk's widow confirmed that a case was registered with the South African Police Service at Sea Point near their Cape Town mansion but that since then none of the stolen items have yet been recovered.
Mrs De Klerk said the main suspect was a man who had worked for the family for seven years prior to the theft, but said that so far police had been unable to trace the man.
Elita said she was not hopeful that any of the items would be recovered, adding "they are no doubt very well organised" and that once they took the items they wanted, they dispersed of them.
The Press Officer for the Norwegian Nobel Institute Erik Aasheim said that the De Klerk family had been given a gold-plated exact replica medallion of the prize back in July.
The SAPS has not yet commented on the theft.
FW de Klerk was a political figure feted by some, reviled by many. He was President of South Africa between 1989 and 1994 and the last head of state with white minority rule, before he helped broker South Africa's transition from the apartheid system to democracy in 1994. (After his death, Carte Blanche reflected on De Klerk's place in history. If you live abroad, you can stream the show on Showmax in most countries.)
De Klerk oversaw the 1994 non-racial elections which saw the African National Congress, led by Mandela take power, and he served as Deputy President from 1994 to 1996.
To use any of the text or photos, please contact Jamie Pyatt News Ltd.