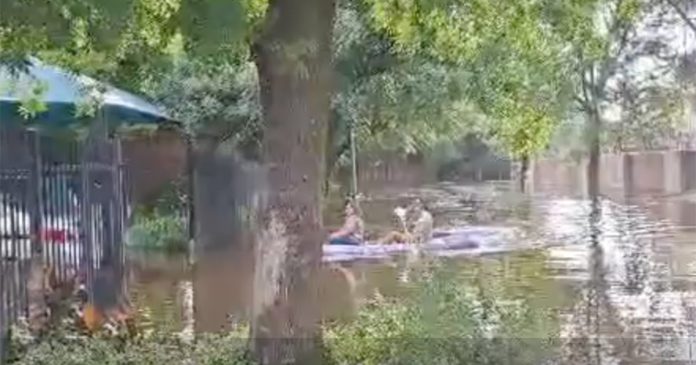 Torrents of rain flooded parts of South Africa this weekend, particularly in Potchefstroom in North West Province where roads were turned to rivers, and a sports field more closely resembled a swimming pool!
Inge Klopper Mulder told SAPeople: "We had a flood here and people went canoeing in the streets." Inge was on the scene and captured the following two incredible videos.
The weekend rain had led to local dams overflowing and the water level in Mooi River rose on Monday night, resulting in the flooded streets on Tuesday morning.
WATCH Residents Paddle Canoe Down Flooded Potchefstroom Roads, South Africa
Video supplied by Inge Klopper Mulder.
Whilst for many, paddling in canoes through waist-high water was good-natured fun, there were some residents who were truly stranded in their homes with the water rushing up to their doorsteps. Fortunately emergency services were on hand, and ER24 used boats to take some residents to safety. According to Maroela Media, one Grade 11 student was even ferried across the water by ER24 to her school to write an exam.
WATCH Potchefstroom Soccer Field Flooded, 15 November 2022
Mooirivier Mall was also flooded, and North-West University's sports ground (Fanie du Toit) looked like a swimming pool! Video supplied by Inge Klopper Mulder.
The heavy rains around the country had been predicted by the South African Weather Service (SAWS), with the government issuing safety tips in advance.
Several dams overflowed and sluice gates were opened. SAPeople contributor Angeline Maree captured stunning video footage at Hartbeespoort Dam on Saturday 12 November 2022 after five sluice gates were opened. Eight sluice gates were also opened at the Vaal Dam.
Potchefstroom Floods On Twitter:
Mooirivier en Looprivier in vloed by Potchefstroom.
Het vanmiddag gou die drone nader getrek aangesien dit lank gaan wees voor ons weer kan plant.?Ludwig Reinecke @peoples_weather @SAWeatherServic @JoelGuy_ @VoxWeatherZa @maroelamedia @rsglandbou @zarsg @landbou pic.twitter.com/L77qtVceTX

— ReenvalSA (@ReenvalSA) November 14, 2022
Potchefstroom ?️ pic.twitter.com/AZmEjBSquX

— Stuart ? (@StueyMax) November 14, 2022
Potchefstroom vanoggend. My Alma Mater is baie naby. Gimnasium. Die drone vlienier is 'n ou skoolvriend en sy broer wat langs hom staan. Die is die golfbaan. pic.twitter.com/3QEUa1rCFw

— BOER, like dit of LOS dit. (@Boer_Vir_EWIG) November 15, 2022
Caxton Netwerk-nuus | Foto's: Dis net water waar jy kyk in Parys en Potchefstroom
Kyk hier: https://t.co/nfIn9N90OS pic.twitter.com/1HLtWWAKQY

— Heidelberg/Nigel Heraut (@HerautNigel) November 14, 2022