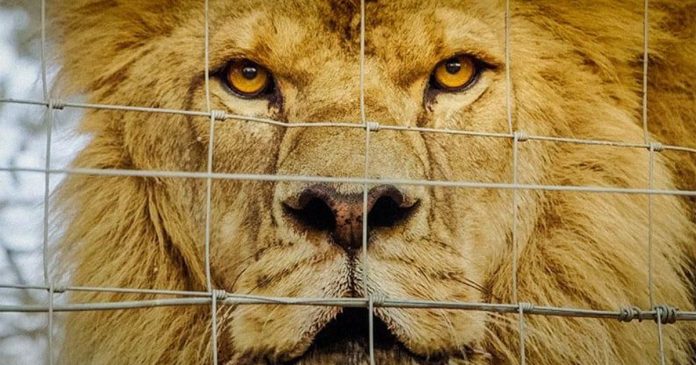 "Lions, Bones & Bullets" is a new documentary that sheds light onto South Africa's controversial commercial captive lion industry and follows the wildlife trafficking trail to Laos and Viet Nam.
British author Richard Peirce talks to lion farmers and hunters in South Africa who are exporting lion bones to Southeast Asia for the traditional medicine trade, supplementing the tiger bones trade. Peirce uncovers the elaborate wildlife fraud of processing lion bones into "food products", which could contain zoonotic diseases that can potentially lead to another pandemic.
The UK production company, Jagged Peak Films, is behind this new investigative film with producers Anton Leach, Jasmine Duthie and Richard Peirce. The film is narrated by British actor Peter Egan.
Exclusive screening in South Africa, 15 Dec '22
South African non-governmental organizations Panthera Africa big cat sanctuary, Humane Society International-Africa and Blood Lions have come together to offer an exclusive screening of Lions, Bones & Bullets in the Hermanus Auditorium on Thursday the 15th December 2022.
The screening starts at 9 a.m. with coffee, tea and delicious vegan pastries, and will be followed by an informative panel discussion moderated by independent investigative journalist Dr Don Pinnock.
Dr Audrey Delsink (Wildlife Director, Humane Society International-Africa) said: "Captive lion breeding and all of its associated industries from cub-petting to canned lion hunting has been allowed to fester unabated for nearly two decades. The result is an animal welfare crisis with serious risks and consequences for the people that both work with and interact with these animals. Urgent and decisive action is needed; this can no longer be swept under the proverbial lion's rug."
Dr Louise de Waal (Director, Blood Lions) said:
"Even though Minister Creecy of the Department of Forestry, Fisheries and the Environment announced in May 2021 that South Africa will no longer breed captive lions, keep lions in captivity, or use captive lions or their derivatives commercially, in other words the government intends to effectively end the commercial captive lion industry, no real changes have so far been implemented."
"It is with utmost urgency that all of us, the public, corporates, organizations and government, wake up to their responsibility to bring an end to the atrocities captive big cats in South Africa are subjected to. Lions, Bones and Bullets brilliantly portrays the truth about their current situation, which enables us all to make conscious and well-informed decisions, to free the Kings and Queens of Africa", adds Cathrine Cornwall-Nyquist (Co-founder of Panthera Africa).
Watch the Lions, Bones & Bullets trailer HERE:
Lions, Bones & Bullets invitation: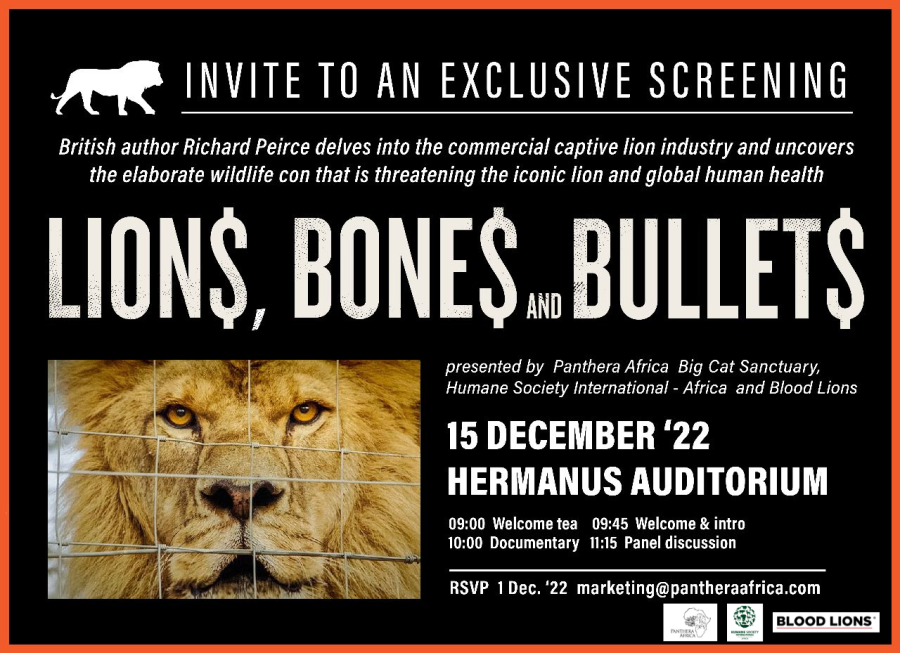 ALSO WATCH: award-winning South African documentary STROOP: Journey into the Rhino Horn War, currently available on Showmax in SA and overseas – in most countries.