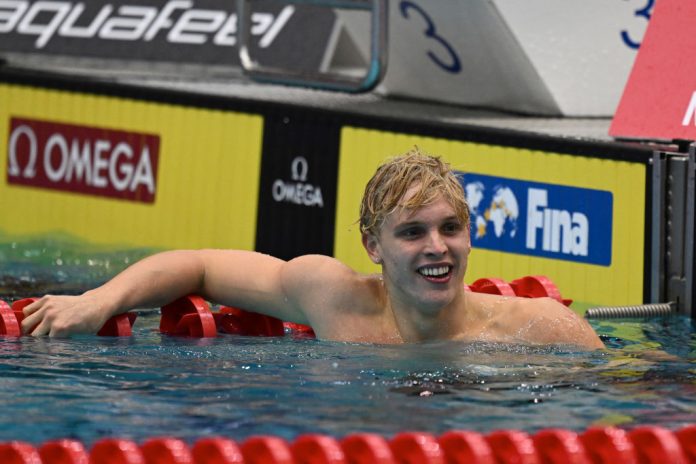 Matthew 'Matt' Sates has become World Champion, after his brilliant performance on Tuesday evening in the Men's 200m Individual Medley (IM) Final at the FINA World Swimming Championships in Melbourne, Australia. Matt won in 1:50.15. Watch below. It's a new African record, and puts Matt only second on the all-time list behind American legend Ryan Lochte (1:49.63) with experts saying it won't be long before the SA teen breaks that record too.
The medley win is a huge accomplishment for the 19-year-old – finally achieving the long-awaited gold medal he's been chasing on the international stage.
World Aquatics said Matt nailed his breaststroke 50 "before putting his legs into it on freestyle to pull away from the field." Talking to World Aquatics afterwards, Matt said:
"I genuinely don't know what to say. I'm so pleased with this swim and want to thank everyone for coming out to watch us race. I swam this race, especially for my Mom and I want to thank my friends and my family."
Matt's coach Wayne Riddin said: "There are no words to explain the last 18 months journey, but Matt Sates raced to his first World Championship title by winning the 200m Individual Medley in the third fastest time ever in 1:50,15. It always comes down to the program and strategy as it all came together tonight for Matt. The victory brings him within 0,52sec of the World Record. He broke his own Africa and South Africa record by 1,30sec!"
Matt first grabbed the world's attention last year, when he won heaps of world junior records (18 medals including 13 gold) at the Swimming World Cup, ultimately winning the overall title.
"A couple months later, he had a brief stint in the United States where he was the American collegiate champion in the short course yards venue.
"But a few months later, he had underperformed at the long course FINA World Championships in Budapest, only reaching one final across his program. The Commonwealth Games in July didn't yield better results," said World Aquatics, but the Pietermaritzburg teenager didn't give up – and finally he won his Gold today.
Fellow South African swimmer, Pieter Coetze also enjoyed a record-breaking swim in Australia today – breaking the South African and African record for men's 100m backstroke semi – becoming the first SA man to clock it in under 50 seconds (49,85 seconds exactly).
WATCH South African Matt Sates' Big Break Through
FINA says: "You gotta watch them all, but you really have got to watch this one."
FINA, which has become World Aquatics, consists of 6 Sports, 5 Continents, 209 National Federations, 1 Global Federation.