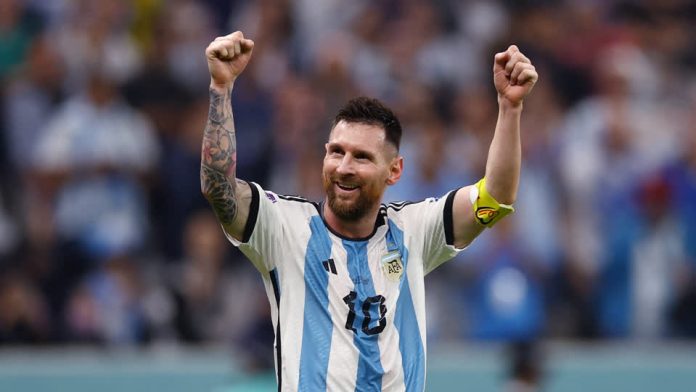 Lionel Messi just won his fourth Man of the Match Award at the 2022 World Cup in Qatar for a legendary performance that will be remembered for eons… cementing his reputation as the GOAT (Greatest Of All Time). Watch videos below.
Argentina's Julian Alvarez – once a young fan of Messi's – scored twice (including after an amazing 50-metre run) and earned a penalty converted by Lionel Messi as they swept past Croatia 3-0 on Tuesday (December 13) and into the World Cup final where they will face either holders France or Morocco at the weekend.
Messi is the oldest man to ever score 5 goals at a single World Cup. He said: "It's my last World Cup. It's impressive to end up playing a final. There's a long way to go for the next one, there are many years and surely because of age I will not reach it. I'm going to play my second World Cup final. Hopefully this time it ends in another way."
IF YOU'RE IN SOUTH AFRICA,

  WATCH THE WORLD CUP 2022 QATAR MATCHES ON SHOWMAX PRO: SUBSCRIBE NOW, SPECIAL R199 DEAL
This will be Messi's fifth bid to win the one major trophy eluding him.
Messi put away the spot kick in the 34th minute, after Alvarez was brought down by goalkeeper Dominik Livakovic, to become his country's all-time World Cup top scorer with 11 goals, before the 22-year-old Manchester City forward, Alvarez, took matters into his own hands to add a second five minutes later.
The pair combined perfectly in the 69th for Alvarez to tap in his second goal following a mesmerising Messi drive to the byline, tricking his way past defender Josko Gvardiol on the right to pick out his team mate in the box, and perfect cut-back to make sure of Argentina's sixth World Cup final appearance.
Finalists as recently as 2014, Argentina will look to land a third world crown after victories in 1978 and 1986.
Clinching the world title would also elevate seven-time Ballon D'Or winner Messi to the mythical status that the late Diego Maradona enjoys in Argentina.
On Sunday they will face either defending champions France or surprise package Morocco, the first Africa / Arab country in a World Cup semi-final, who play each other on Wednesday (December 14).
The South Americans, who have now won every World Cup semi-final they have contested, enjoyed fiery support from their fans who far outnumbered the Croats in the stands of Lusail stadium, also the site for Sunday's showcase.
They exploded with a load roar when Alvarez, who had their best chance in the 25th minute with a low shot, was brought down in the box for a penalty.
Messi drew level with Germany's Lothar Matthaeus as joint record holder for most World Cup appearances with his 25th game.
IF YOU'RE IN SOUTH AFRICA,

  WATCH THE WORLD CUP 2022 QATAR MATCHES ON SHOWMAX PRO: SUBSCRIBE NOW, SPECIAL R199 DEAL
WATCH Messy Crazy Solo vs Croatia
WATCH Lionel Messi's incredible assist
IF YOU'RE IN SOUTH AFRICA,

  WATCH THE WORLD CUP 2022 QATAR MATCHES ON SHOWMAX PRO: SUBSCRIBE NOW, SPECIAL R199 DEAL
LIONEL MESSI WINS HIS 4TH MAN OF THE MATCH AWARD AT THE 2022 WORLD CUP ??

No player has more. pic.twitter.com/5CIpjj45ik

— ESPN FC (@ESPNFC) December 13, 2022
10 years ago: asking Leo Messi for a pic as big fan, dreaming of World Cup one day…

Tonight: Julián Álvarez from Calchín scores in World Cup semifinal.

?️?? #Qatar2022 pic.twitter.com/DhwozBijJu

— Fabrizio Romano (@FabrizioRomano) December 13, 2022
Lionel Messi is one step closer to being the first Argentine to lift the World Cup trophy since Maradona in 1986 ?? pic.twitter.com/HQznQQ0uql

— ESPN FC (@ESPNFC) December 13, 2022
All in for Messi ??? pic.twitter.com/8MPUYJpNeG

— ESPN FC (@ESPNFC) December 13, 2022