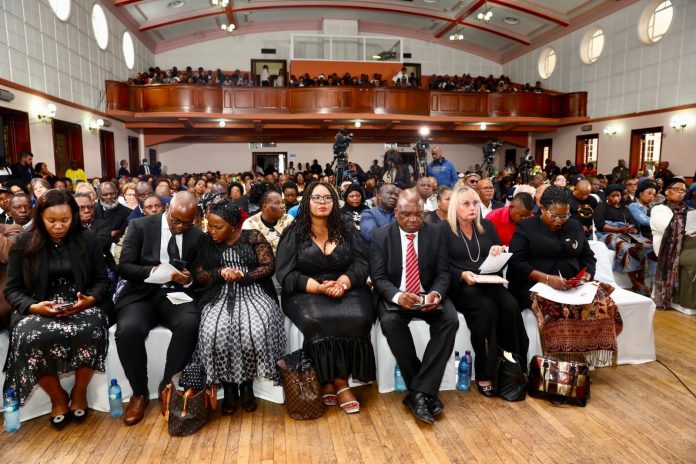 Mourners have today paid their respects to the tragic victims of the Boksburg explosion, in a memorial service hosted by the Gauteng provincial government at the Boksburg Civic Centre.
The death toll of the explosion incident, of a truck near the OR Tambo Memorial Hospital on Saturday, 24 December 2022, now reportedly stands at 34.
Minister of Health, Dr Joe Phaahla, together with Gauteng MEC for Health and Wellness, Nomantu Nkomo-Ralehoko, have been in attendance at the memorial service.
Department of Health Spokesperson, Foster Mohale, confirmed that "the death toll from Boksburg explosion incident has risen to 34 as of Friday, 30 December 2022. This number consists of 11 health workers (from Tambo Memorial Hospital) and 23 members of the public."
President Cyril Ramaphosa earlier this week expressed deep sadness at the continued loss of life following the explosion.
"The nation's hearts go out to everyone affected by this devastating incident. Such events take on greater sadness and tragedy when they occur at this time of year when all of us pray for safety and look forward to the togetherness and comfort of extended time with family and friends.
"In this instance, the loss of life is rendered more intense because some of the victims were hospital patients, hospital staff and children, while firefighters are counted among the injured.
"While we await the outcome of investigations into this tragedy, this incident does, like so many others, call on all of us to show due care and to avoid risk when we are out on our roads, which we share as a public amenity," the President said.
He has expressed his appreciation for the rescue and recovery efforts by government agencies and services, as well as organisations such as Gift of the Givers.
The truck driver has been released on a warning pending further investigation.
The 32-year-old suspect had been charged with multiple counts of culpable homicide, negligent causing of an explosion, resulting in death and malicious damage to property.
The driver had reportedly immediately taken steps to cordon off the area and warned people to stay away.
At least we know why the driver ended up in Boksburg. pic.twitter.com/fiIDnoEx6m

— Michaela, a wildflower. (@Me_Chaela) December 28, 2022
– SAnews.gov.za
Condolences to all the families who lost their loved ones in the tragic gas tank explosion in Boksburg #BoksburgMemorial pic.twitter.com/vqZTYMEIWL

— Gauteng Health (@GautengHealth) December 30, 2022
— Gauteng Health (@GautengHealth) December 30, 2022
Gift of the Givers responds to Boksburg gas tanker explosion #Boksburg #BoksburgExplosion #TamboMemorialHospital #EastRand #GiftoftheGivers @GiftoftheGivers https://t.co/wyoHHDLGdr pic.twitter.com/CUJtSmvbjC

— 𝙵𝚊𝚒𝚣𝚎𝚕 𝙿𝚊𝚝𝚎𝚕 (@FaizelPatel143) December 24, 2022
Unbelievable scenes: 8 people died & about 50 others were injured when a gas tanker truck scraped the top of its roof, got stuck under a bridge & exploded just outside the Tambo Memorial Hospital in Boksburg today. Driver's whereabouts unknown. VID: Supplied #BoksburgExplosion pic.twitter.com/stc0g4Y5LB

— Graeme Raubenheimer (@GraemeRauby) December 24, 2022