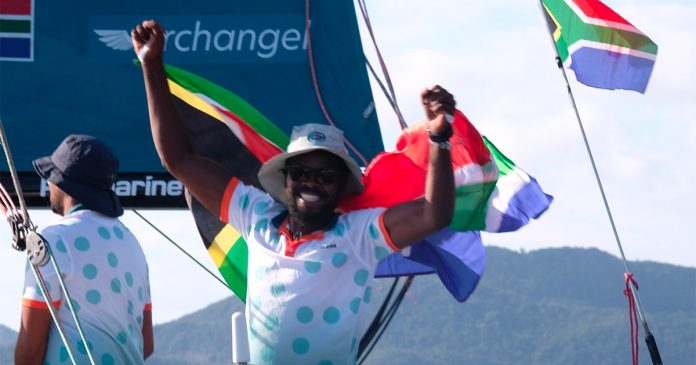 South African solo sailer Adrian Kuttel made history this week in the Cape 2 Rio race, along with SA skipper Sibusiso Sizatu. Kuttel is the first competitor to bravely complete the famous yacht race as a solo sailer (see more below), while Sizatu and his awesome ArchAngel teammates are the first complete crew to finish who grew up in townships – where sailing on the wild seas was something you could only dream about.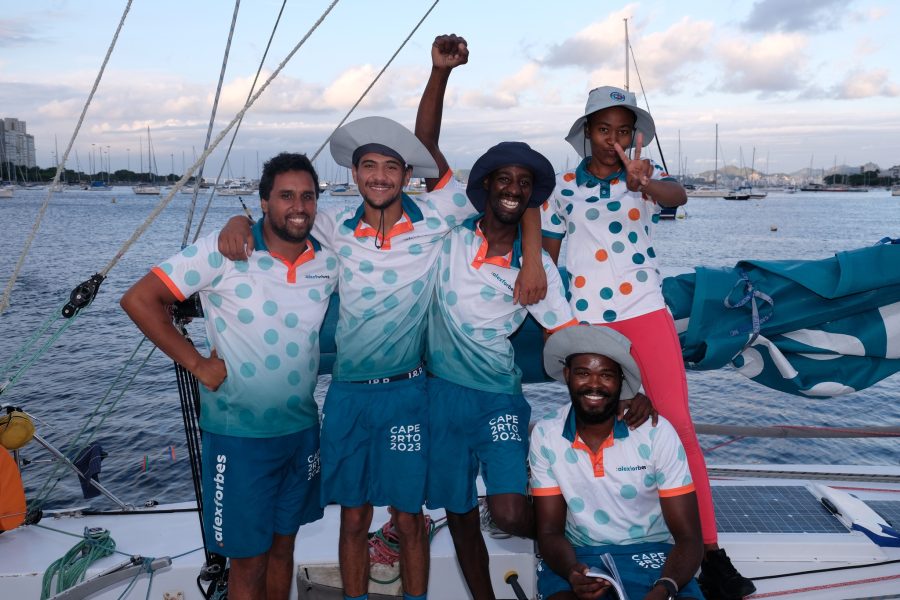 In fact Sizatu – who used to herd the family's livestock as a child – thought the ocean was a large lake the first time he saw it. Now he's a role model for many young black and white aspiring yachtsmen.
In making their dream come true, the brave, resilient and hardworking team has inspired a nation. Sponsor Alexforbes said: "A tremendous journey, a gruelling test – and yet the Alexforbes ArchAngel crew have accomplished the goal!" They did it in 24 days, 7 hours, 36 minutes and 48 seconds – arriving safely in Rio – after a challenging 3,675 nautical miles – on Thursday night. Their final positions were: Line Honours: 8th; IRC: 3rd; ORC: 2nd.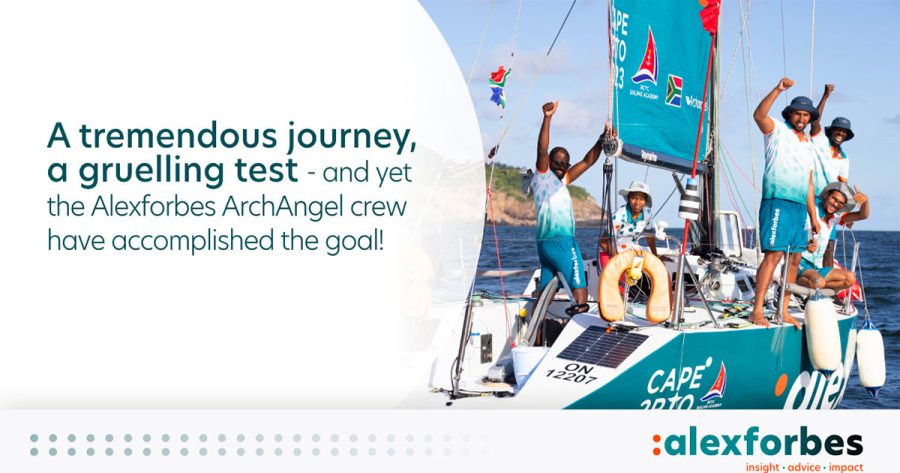 Led by skipper Sizatu, the team (aged 21 to 30) – who were trained by the Royal Cape Yacht Club (RCYC) – also includes First mate Daniel Agulhas, Justin Peters, Azile Arosi and Renaldo Mohale. They come from townships in Cape Town in the Western Cape: Masiphumele, Khayelitsha, Grassy Park and Athlone.
RCYC said:
"We are so proud of you Archangels. Congratulations on a very well sailed race, on your team spirit, on your personal achievements and representing the Royal Cape Yacht Club the RCYC Academy and Alexforbes so beautifully. Well Done!"
SA Sports Minister Nathi Mthethwa said (before they set off on the race): "All were born without privilege, but with the determination, tenacity, discipline, commitment and the professional training provided by the Royal Cape Yacht Club Academy, they are making more than waves – they are making an impact. They serve as an example to all of us (and especially our youth) that with the right support, anything is possible…"
The vessel Argonaut, skippered by Charles McDonald, came in just 23 minutes after ArchAngel.
SA solo sailer Adrian Kuttel makes history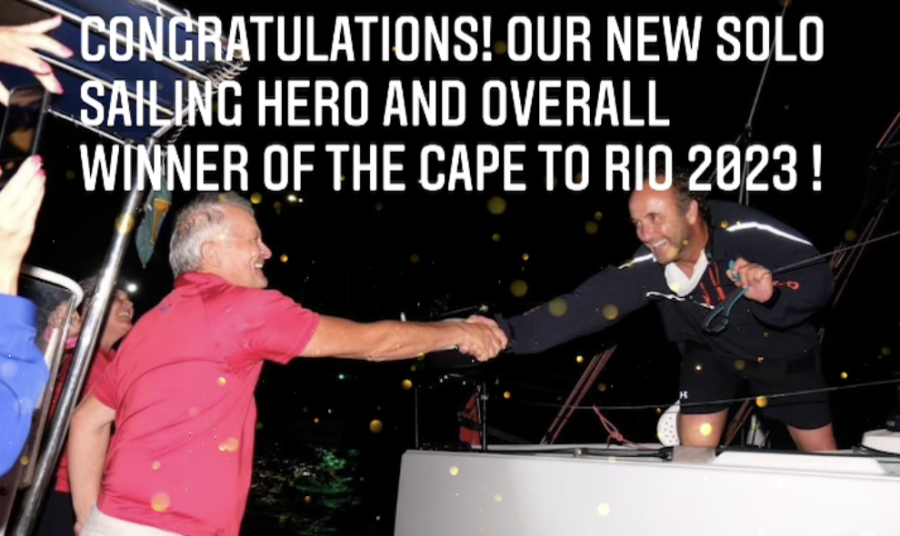 Another incredibly brave South African, Adrian Kuttel, also made sailing history with his excellent performance (on his own through stormy seas!) to provisionally win the monohull category. Kuttel sailed SOLO across the south Atlantic Ocean and in the smallest vessel in the entire fleet. Although his JPK 1030 – named Atalanta (Sentinel Ocean Explorer) – finished 61 minutes behind Michael Kavenagh's Ray of Light (which had a full crew), Kuttel received handicap honours since he sailed the Cape2Rio single-handedly, according to Sports Club. His was the first solo entry ever into the Cape2Rio.
The admin on Atalanta's page said: "A new World class solo winner and Crown Trophy of the Cape to Rio 2023. His three kids Isabella, Sienna and Luke Kuttel are so proud of their daddy!"
Kuttel's boat was named after the charity that he supports, Sentinel Ocean Alliance, in a mission to raise awareness for it. The charity creates ocean-based opportunities for the youth of SA's coastal community… helping them become aware of the ocean, fall in love with it, and strive to protect it.
This year is the 50th Cape 2 Rio race, with 16 boats from around the world. Also taking party in the famous 6,000km race is Just Jinjer's lead singer Ard Matthews. After a stop at St Helena, he said in a video post this weekend that their aim is to get to Brazil by the 8th or 9th of February.