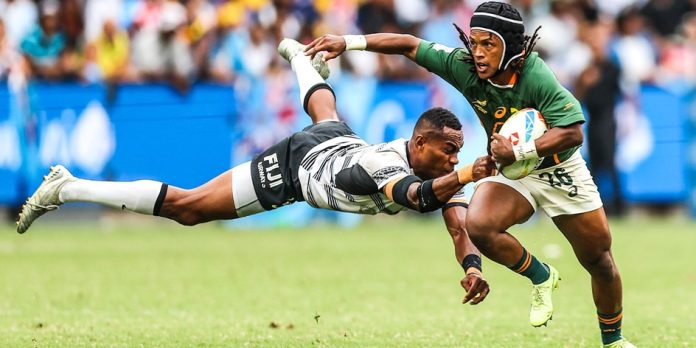 The Blitzboks kept their unbeaten run intact with a very good 31-12 victory over Fiji in their HSBC Sydney Sevens semi-final on Sunday morning, to book their place in the Final against New Zealand.
The rematch against the Kiwis, who beat France by 36-5 in the first semi-final, will start at 11h26, with the Springbok Sevens team hoping to repeat their 17-14 pool victory from Saturday.
They were in impressive form against Fiji, scoring five tries against two, with Shilton van Wyk grabbing a brace, while the Blitzboks defended very well.
Although they made a hash of the kick-off, the Blitzboks turned over possession at the resulting scrum and worked their way upfield. When the Fijians were penalised, Van Wyk made them pay with a superb line to go over under the sticks in the third minute. Ricardo Duarttee added the extras.
With a minute to go in the half, the Blitzboks launched a great attack to the right from a scrum, and Dalvon Blood just managed to get the ball down before he put a hand into touch.
At 12-0 with no time left in the half, the Blitzboks had one more chance and they took it as Jaiden Baron went over after yet another strong run by Impi Visser forced a penalty against Fiji, to put the South Africans in the lead by 17-0 at the break.
Fiji came out with intent in the second half, but they ran into some superb defence as the Blitzboks made one desperate tackle after another inside their own 22 before winning a penalty at the breakdown with the tryline begging for the Fijians.
A minute or so later, Iowane Teba went over for a try, but by this time, the Fijians knew it wasn't going to be easy to score against the Blitzboks.
The strong defence forced mistakes and with two minutes to go, Darren Adonis hacked through a dropped ball and just managed to beat the Fijian defence to all but seal the deal for the Blitzboks.
Van Wyk then rubbed salt into the Fijian wounds with his second try, an easy intercept of a loose pass inside the 22 to canter over.
Shaun Williams converted both of the last two tries to push South Africa past 30 points and into the final, although Viwa Naduvalo scored a consolation try for the Fijians.
Scorers:
Blitzboks 31 (17) – Tries: Shilton van Wyk (2), Dalvon Blood, Jaiden Baron, Darren Adonis. Conversions: Ricardo Duarttee, Shaun Williams (2).
Fiji 12 (0) – Tries: Iowane Teba, Viwa Naduvalo. Conversion: Naduvalo.
Source: SARugby