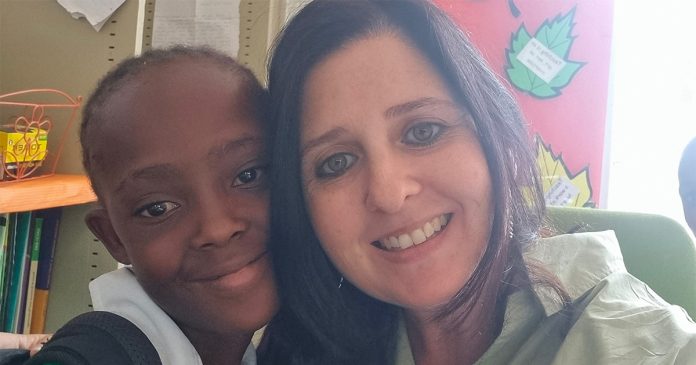 Well known South African teacher Pamela Kantor has reached out on social media for help in assisting a young girl who is in her class this year. Beautiful little Livhu has crept right into Pamela's heart…
Livhu was born at just 28 weeks old, and subsequently suffers chronic lung disease. She's also asthmatic, amongst other things. Despite that "she is the most feisty little girl, and has an aura that lights up a room. I have totally fallen in love with this little angel," says Pamela.
But Livhu's health condition is not her only challenge. Last year, her father was murdered, leaving a family heartbroken.
"I would love to try and make her and her mom's life a little bit easier…" says Pam. "This poor family has been through so much."
Pam teaches at a government school attended by many kids from Alex (Alexandra township). The Gauteng teacher is famous for her kindness and caring for the children in her care. She was in the spotlight a couple of years ago when her Read for Hope initiative took off worldwide, encouraging people to read and record books on WhatsApp so that kids at her school who were unable to learn online during the pandemic – because of their financial circumstances – didn't miss out.
This time around, Pam is hoping to help just one child, "the most special little girl in the world".
"Please if anyone can help with anything. We would all be so grateful. Mom is looking for a small study table and chair for her to do homework, and a rechargeable lamp. Or anything that can just make this family a little bit lighter 🙏❤️" says Pam. "She is such a special little girl and needs all the help."
Livhu asked Pam to take the above picture with her to say "thank you 😊"…
If you'd like to help, please contact Pam (via WhatsApp) on: + 27 83 271 1587 if you're overseas, or 0832711587 if you're in SA.
WATCH Livhu and her mom (posted with Mom's permission)
A kind #Teacher in #SouthAfrica has reached out for assistance in helping this little girl and her mom #kindness #KindnessMatters #SouthAfricans FULL STORY: https://t.co/s4PU7PCkFd pic.twitter.com/ctQ0ea8dEv

— South Africa People – SAPeople.com (@sapeople) February 2, 2023