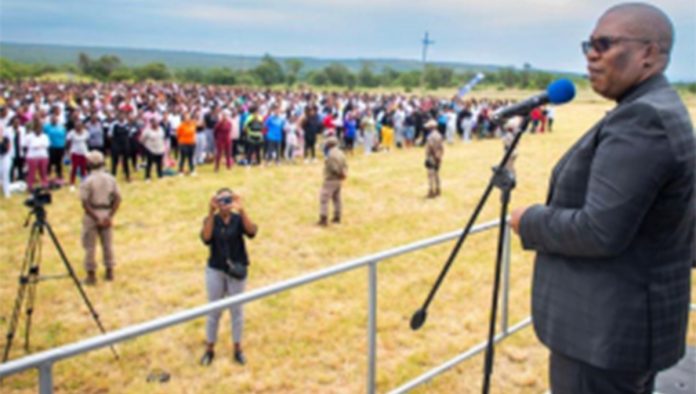 The Gauteng Provincial Government (GPG) has welcomed about 6,000 crime prevention wardens in an effort to augment crime-fighting efforts made by SAPS and Metropolitan Police Departments.
The 6000 recruits – who are all young – will undergo at least three months of training before being deployed to 361 wards in the province including townships, informal settlements and hostels.
Addressing the young recruits, Gauteng Premier Panyaza Lesufi reminded them of their task:
"We can't live in a country of lawlessness. We can't live in a country where people do crime easily. We can't live in a country where people kidnap anyone they want to at any time. We can't live in a country where people will put a shack or informal settlement anywhere and at any time. We can't live in a country where people will just steal pipes and all the valuables of society and we can't live in a society where women will be afraid to be women during the day and during the night.

"We have to stop it and you have the capability to go and stop it. You have that talent to go and stop it. You have the resources we are going to give you to go and stop it," he said.
Once trained, the recruits will be responsible for, amongst others:
Ensuring police visibility and timeous response to incidents at ward level.
Gathering community intelligence for early warning by working with community structures.
Tackling lawlessness through heightened enforcement.
Working with government to prevent land invasion and illegal land occupation.
Prevent incidents of damage to public infrastructure.
Work with schools to provide necessary support and response.
The premier told the 6,000 young people that the GPG is placing its trust in them.
"People didn't believe that we have these young men and women that will be ready to respond to the call to fight crime. As you enter this space, young people, you must know that we risked…the finances of government for you to be here. It must not be in vain.

"We had many choices. The first choice was to go to traffic police in all local municipalities and say please add this number. We also had a choice to go to the SAPS [South African Police Service]. But we had this vision that we need a force, we need a unit of young men and women who will have strict orders to fight crime in the wards," he said.
SAnews.gov.za