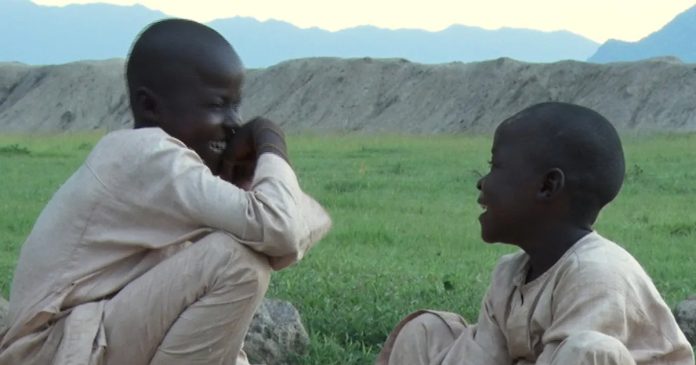 A film from Africa has scooped the top prize at the International Film Festival Rotterdam (IFFR). Cameroonian filmmaker Cyrielle Raingou won the festival's Tiger Competition Award 2023 on Friday night, with her profound documentary 'Le Spectre de Boko Haram', beating out 15 other finalists from around the world. Raingou sat down to speak with SAPeople earlier in the week…
Raingou's award-winning film follows a group of children as they carve out their own worlds amidst the daily dangers of terrorist strikes from Boko Haram, who have terrorised the far north region of Cameroon since 2014. Watch the trailer below.
This interview has been edited for length and clarity.  
What was the process and history behind making 'Le Spectre de Boko Haram'?
My plan was never to make a film about Boko Haram, but to make a film about people living in that zone and how it's impacting their life. So I started designing the project with a scientist, an autodidact, a scientist whose family was killed by Boko Haram at the time. He was working on an invention/weapon. He wanted it to give it to the government and to the army to fight against Boko Haram.
So for me, it was like these adventurers, like a Jules Vernes adventurer in that zone with this scientist who was in a grieving process while at the same time other people were still living their life.
So I started in that zone. I started with that project and I worked on it for three years. But as I was moving forward, there was some point that was raising ethical questions and there was just a moment where it became very difficult to work with my character and I had to say goodbye to him. So I fired him from the film and I told the producers that there was no film. I could not be happy with that film knowing what was going on.
So after a certain time I asked them to give me space so that I could go there because even when I was already working on his invention, I had spent a lot of time in that space and I was already in contact with the two brothers, Ibrahim and Mohammed, and I just felt like they were very pure. They had this energy. There was something about them that you could feel and you can feel it on screen. So I asked the producers to give me time to go back there and explore. Maybe there would be nothing. And in that case, there would be nothing and we would have zero film. But I would be fine with that decision.
So that's how I went back and spent more time there and I started designing 'Le Spectre de Boko Haram'. So the idea was always to work in that zone. But from the population's perspective, I never wanted to chase Boko Haram or to make that like the hit. I know that people will be more excited about it, but it wasn't that nice stuff.
Is the song the children sing about soldiers something passed on from their parents, the community or the teachers?
I didn't really ask where they learnt that song, but it's really interesting to observe the children's behavior. When you observe them without even asking them if they are tormented or traumatized by what is going on, you feel it in every single thing they are doing, even though they want to escape, they want to put it far away from their memory. It still comes back in sound or drawings or modeling. I took time to realize how traumatized and tormented they were about the situation. Because you were seeing them laughing, being happy. Because, I mean, this is how any children are. No matter where you were born, no matter how you grew up, you are kids. But there is this thing with them that makes them very particular because it's like their childhood innocence was taken away violently by all the horror. But at the same time, they still have it.
How long did you end up observing the children and filming this community?
I was already present in that community, just getting to know people since 2016. It was not only one village, but the whole zone, I kind of spent a lot of time in more than five villages where I was just going there to to pass time with people.
I started more orienting the project from the children's perspective from 2018 and from then we properly shot. Before was scouting and then I came here to complete my master's degree Doc Nomads, it's an Erasmus program done in three main universities in Lisbon, Budapest and Brussels. Even while I was there I kept writing and when I was on break, I would go to keep scouting. So we properly shot from 2021 to last August 2022. It's quite new.
We also used images and footage from 2017 and 2018 because when we started shooting with the production, the two brothers were not there anymore. The magic of the editing makes you not really feel it.
Yes, so you are still trying to locate them?
Exactly. So we had to do with what we had with them before and keep looking. The thing is, I learned about their death as I was shooting. Chronologically. Like people are going to see in the film. The whole time you are expecting, not knowing or being sure that they were dead is what I witnessed. It's not a kind of twist that I did just to make people wait. No, I really went a long time praying. I was so desperate because I was sure that they were dead. We looked, we sent people to Nigeria. We called and we looked until we had a sign that they were still alive.
Why was it important not to portray Boko Haram explicitly in the film?
You know, most of the time they weigh on the narrative. Coming from Africa, no matter who is portraying stories of Africa, people love to go to the sensational and the stereotype of sensational. When you study film, even if you don't study film, if you are talented enough, if you understand our society we have certain codes.You can talk about things without pointing your finger at them. Boko Haram is in every shot of the film, but they're invisible, it becomes (like a noose) that is softly and surely strangling you. So since the beginning, this is how I wanted to portray Boko Haram, because it's like from time to time they will arrest them and you see them. Most of the time they hide. You are even afraid of your shadow because they are there waiting, lurking in the dark, in every corner, in the bush. This is what I wanted people watching to feel. It was more interesting for me that way than to make a sort of reportage to showing directly this is the monster.
Did you need to attend therapy after filming?
To be honest, because I was working on it until August 2022 I will definitely need to go to a therapist, but I haven't yet. When we finished and we were editing, we started editing in March 2022. So it was just like shooting and editing until we finished. We had our final cut by January 10. Like weeks ago. After this, it would be so cool if the production can pay for some therapy sessions or just a relaxing massage session.
Where are you based now?
Let's say I'm living between Cameroon, and I spend a lot of time lately in Paris because the post-production was made there. But… I already have two next projects I'm working on. So it's going to be between Cameroon and somewhere else because I'm also curious about all that culture, all that life. I really love going to encounter new people and new life, new style, new culture to dive into it and see the world is so beautiful. It's just such a shame to stay in one place. But Cameroon will be my anchor always. I cannot spend one year without going there three or four times to spend good time there. My whole family is in Cameroon. I'm the only one who lives abroad, who moves around.
Is there anything else you would like to add for readers?
Well, all I can say is that if they have the opportunity (we are just releasing it and it's pretty much we hope going to travel from festival to festival and maybe end up on TV), if it's in one of the cities close to them and they have time please, go and watch it. You won't be disappointed.
WATCH Spectre de Boko Haram trailer