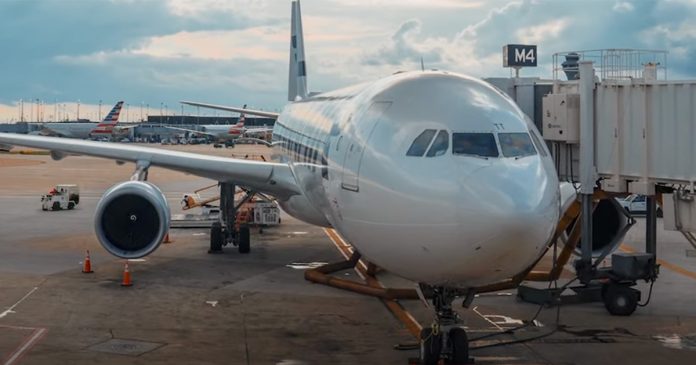 Here's what's coming up on Carte Blanche this week. You can watch the show today, Sunday 5 February in South Africa on DStv Now OR stream it overseas in most countries on Showmax from Tuesday 7 February if you're abroad.
When a South African Airways Airbus A340-600 landed in Johannesburg from Accra, Ghana on 15 April last year, all was not as it seemed. During the flight, the plane's engines started surging – an unusual occurrence for any aircraft as it may suggest contaminated fuel and demands urgent action from the flight crew. Alarmingly, though, the flight's commander chose to continue flying back to O.R. Tambo International Airport… It was the third in a series of four recent incidents involving SAA. But, while other airlines have been grounded over safety concerns, the Civil Aviation Authority (CAA) – mandated with regulating our airspace – has taken no action against the national carrier. Carte Blanche's probe uncovers evidence that all is not well at the CAA, undermining South Africa's reputation for sterling air safety.
Thousands of flights take to SA's skies every day, and passenger lives depend on a safety-first regime. In what is supposed to be a tightly regulated industry, Carte Blanche asks: is the Civil Aviation Authority on top of their game? "The skies are meant to be safe and highly regulated by the CAA. But are corruption and politics investigations swept under the rug, posing a danger to air travel?" says Carte Blanche. "An international flight stalling mid-air, contaminated fuel and aircraft slamming into each other on the ground at OR Tambo International airport… why is the Civil Aviation Authority mum on these critical investigations?" (Producer: Hein Kaiser | Presenter: Derek Watts)
"For all its financial troubles, SAA maintained an impeccable reputation for its safety and – despite what some detractors might argue – its service. But recent incidents have raised questions about the national carrier's commitment to the former. It's the Civil Aviation Authority's job to ensure the safety of our skies, including thoroughly investigating accidents and other emergencies. Question is: can it be trusted to carry out its mandate?" – John Webb, Executive Producer 
Watch the show overseas | Watch in SA on DStv Now
Also on Carte Blanche this Sunday 6 February
Too astute to be scammed? Think again. Few things adapt and evolve as quickly as the criminal mind. Scams are becoming increasingly sophisticated, keeping the miscreants one step ahead of the police, banks, and unsuspecting victims. Not even the housing rental market is immune to criminal ingenuity, as crooks impersonate legitimate rental agents and property companies to scam tens of thousands of rands from people desperate for accommodation. Increasingly frustrated estate agents are tearing their hair out while the police and other enforcement agencies appear powerless to intervene. Carte Blanche shows you how easy it is to be duped and what you can do to protect yourself. Producer: Joy Summers: | Presenter: Derek Watts
Watch the show overseas | Watch in SA on DStv Now
Real estate companies, stolen identities, and frustrated clients left out of pocket. It's the rental scam you need to know about… That's #CarteBlanche this Sunday at 7pm on @MNet, @DStv channel 101. pic.twitter.com/gBoJU5lbQL

— Carte Blanche (@carteblanchetv) February 3, 2023
In Diretsaneng village in Limpopo, Thapelo Molomo is a hero to many. Last year, he won Idols SA, pocketing a million rands, a recording contract, and numerous other prizes. But in this community, he's known for much more than that. Despite his fame, Thapelo's industrious spirit continues to shine as he continues looking for new ways to extend his good fortune and pass on the secrets of his success to anyone prepared to listen. It's the reason that he's often to be found selling eggs and atchar from the boot of a car in his home township, Tembisa. Carte Blanche meets the cop who's traded his service weapon for a microphone and the chance to inspire. Producer: Floris Kotze | Presenter: Xola Ntshinga
Watch the show overseas | Watch in SA on DStv Now
Policeman, counsellor and South Africa's favourite idol! Thapelo Molomo has a lot to sing for. But it's his new side hustle that's winning him renewed attention.
That's #CarteBlanche this Sunday at 7pm on @MNet, @DStv channel 101. pic.twitter.com/G5QZtl5729

— Carte Blanche (@carteblanchetv) February 2, 2023
If you're overseas – you can watch #CarteBlanche from Tuesdays, and thousands of other popular local South African shows & movies by subscribing to Showmax International now. You can try it FREE for 14 days. 
Find full episodes of Carte Blanche on DStv Catch Up.
Carte Blanche is on M-Net & M-Net HD [101],  5 February 2023 at 19:00 & again on M-Net Plus 1 [901] at 20:00
***
Please note: Carte Blanche is only available to international Showmax subscribers in Andorra, Australia, Austria, Belgium, Denmark, Finland, France, Germany, Greece, Iceland, Indonesia, Ireland, Italy, Liechtenstein, Luxembourg, Malta, Monaco, Netherlands, New Zealand, Norway, Portugal, San Marino, Spain, Sweden, Switzerland, United Kingdom. Not all titles are available in all territories. Showmax brings you the best South African series and movies, from the classics to the latest releases, from complete box sets to kids' favourites.