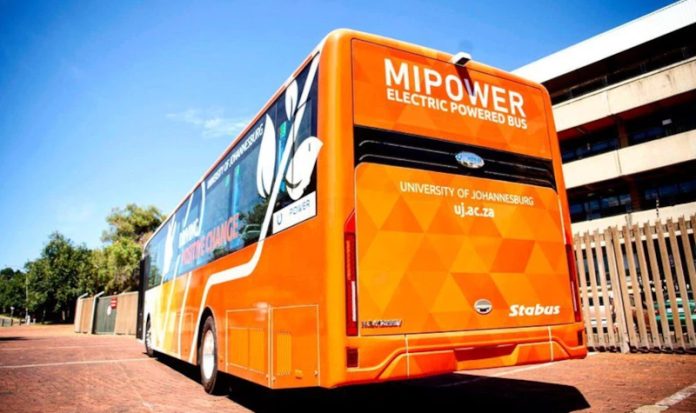 The University of Johannesburg (UJ) has unveiled its new electric buses in what is a first for a South African university.
UJ HITS THE GROUND RUNNING WITH NEW ELECTRIC BUSES
The EV buses, which will be added to the existing fleet, have already begun ferrying students between campuses.
The buses are the latest innovation in UJ's ongoing efforts at going green, as part of the University's plans to reduce carbon emissions, in line with the United Nations Sustainable Development Goals (SDGs).
JOVIAL DAY AT THE LAUNCH OF THE FLEET
There was excitement all around as one of the two brightly painted EV buses, branded in UJ's signature orange and white, pulled out of Auckland Park Kingsway (APK) Campus into Joburg's morning traffic.
Aboard the bus were members of the University's Executive Leadership Group (ELG), who were travelling to a meeting at one of the University's off-campus venues in the city. And true to its nature, and unlike its diesel counterparts, the electric bus did not belch any toxic fumes. Not only do the EV buses produce much lower carbon emissions, but they also perform well, offering a smooth ride even on steep routes.
ALSO READ: Audi Centre Centurion powered by progressive solar innovation
Special Projects advisor Professor Andre Nel explained the process that led to this project coming to fruition.
"It started more than 18 months ago, as part of our drive to reduce our carbon footprint at UJ. We've always had a strong focus on sustainability issues. After implementing large numbers of solar panels, one of the next questions was how can we further make UJ sustainable? After some research, the obvious answer was how we were going to cut our carbon emissions in one area, and that area was transport. Transport makes up about four-and-a-half percent of UJ's footprint and reducing that in any way is something we desired," Nel said.
So what will happen when load shedding strikes and the buses can't be charged?
And what about their environmental friendliness, given that they are charged using coal-generated electricity?
Dr Mpoti Ralephata, UJ's Chief Operations Officer, was quick to allay such concerns.
He said 15% of their energy at UJ comes from solar, which is enough to power the buses.
"We will have to have load shedding for more than five hours a night to affect overnight charging," he confirmed.
ALSO READ: SAB R500 million expansion project to create over 10 000 jobs