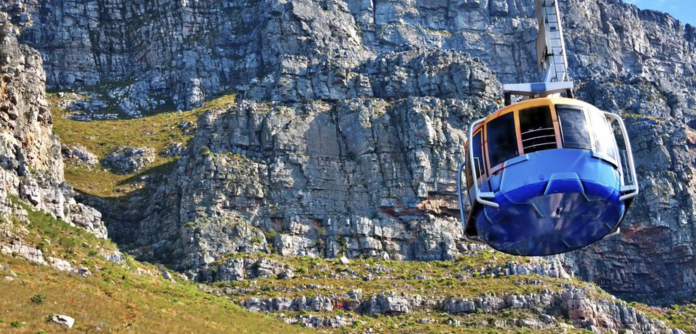 Earlier this week, members of the England squad who are currently playing in the ICC Women's T20 World Cup made a trip to the top of Table Mountain as part of a team excursion.
ALSO READ | Kyle Verreynne needs to bin the wicketkeeping gloves ASAP
However, it's since been reported that upon their descent, the cable car carrying the cricketers and many other tourists apparently dropped suddenly for a short distance and briefly stopped working as power seemed to be cut off.
England cricketer Danni Wyatt has since spoken out about the experience as the Table Mountain cable car left her and others hovering helplessly above the ground after the players' descent had coincided with a scheduled load shedding outage from 16:00 to 20:30.
MUST READ | Proteas name former New Zealand wicket-keeper as fielding coach
"There were a few technical issues that made me very nervous before we boarded the cable car and then it decided to drop a little bit and swung," said the 31-year-old.
"It was a very terrifying experience. I don't think I'll be going up that mountain again anytime soon. I'm not going on that cable car ever again. It's the load shedding, once the electricity goes, that's it. Next time, I'll take the stairs."
ALSO READ | Women's T20 World Cup: Record crowds turn up
THE TABLE MOUNTAIN AERIAL CABLEWAY, AS IT IS OFFICIALLY KNOWN, OPENED IN 1929
So how exactly did this "terrifying" experience occur considering that there are back-up plans for the Table Mountain cable car when there is load shedding?
Although the cableway is more than 90 years old, there is also strict maintenance and upkeep.
ALSO READ | Proteas say goodbye to Charl Langeveldt
"Table Mountain Aerial Cableway Company (TMACC) uses a hydraulic back-up motor during load shedding that replaces the electric motor that operates our cars and their movement," Wahida Parker, the managing director of the TMACC, was quoted as saying in a statement.
"This [back-up] motor experienced a technical problem on Wednesday, which caused our cars to get stuck on the line. We adopted two approaches simultaneously to resolve the problem. Our technicians worked to find the fault so that we could get moving as soon as possible, while at the same time we contacted the City of Cape Town to ask that the power to our area be restored so that we could bring our passengers down safely and quickly.
"We pride ourselves on providing visitors with a positive and enjoyable experience, and what happened on Wednesday is not what we aim for. We sincerely regret the experience that passengers had, who were stuck in our cars. We are happy to confirm that all the passengers safely reached the upper and lower stations."
HAPPY HAPPY | Herschelle Gibbs turns 49 not out: Our TWO favourite memories of the Proteas legend
Earlier in the day, Wyatt's team-mate Sophia Dunkley had shared stunning images at the top of Table Mountain, which were taken before the cable car scare.