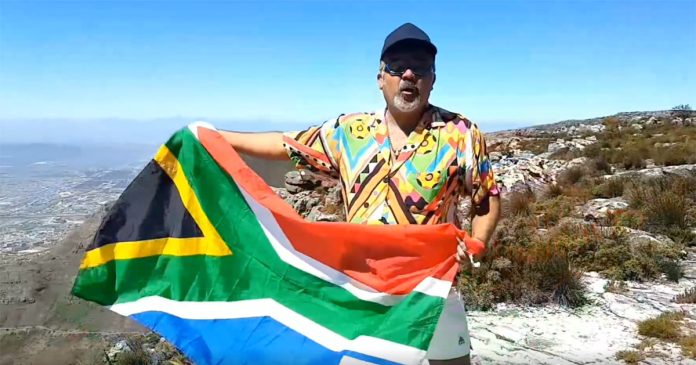 Well known Cape Town resident Faried Swartz, who has been involved in show business for over 25 years, celebrated his birthday this week with a wonderful version of classic Burt Bacharach hit 'What the world needs now'… but with a South African twist.
Faried, who has entertained South Africans with humorous videos bringing light and laughter in the darkest of times, has a special message for the world and South Africa. "Boy do we need it," he says. So what does the world need now? Of course it's "love, sweet love"… BUT in a special verse for South Africa, it's also "electricity"!!!
Faried sticks to the script for the first few verses, filmed on Table Mountain with spectacular views. Running across the top of the iconic landmark, Faried sings "Lord we don't need another mountain, There are mountains and hillsides enough to climb…"
In the final verse, he sings:
What South Africa needs now / Is electricity
It's one of the things that there's just too little of
What South Africa needs now / Is true democracy
No, not just for some, but for everyone…
You can sing along with him below.
WATCH Faried Swartz on Table Mountain: What the world needs now…
P.S. Faried says: "Thank you for all my birthday wishes.🙏 Sending love and good thoughts… no, not just for some… but for everyone… everyone.🤗💖😍"
Follow Faried Swartz on Facebook:
https://www.facebook.com/faried.swartz.3