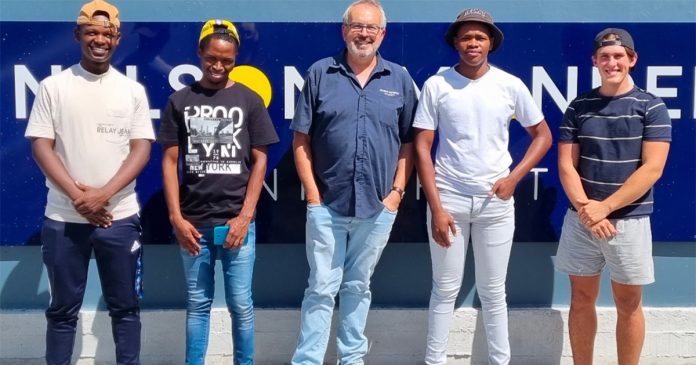 Five students from different walks of life are starting out their tertiary studies in Computing Sciences this year, following their introduction to coding by Tangible Africa… writes CINDY PRELLER.
The award-winning offline coding movement, an engagement project of the Nelson Mandela University Computing Sciences Department and the Leva Foundation, has for the past two years been gaining momentum at schools across the country.
Hosting coding tournaments, facilitating coding clubs, presenting at career days, and sharing the offline coding games (BOATS, TANKS and RANGERS) with as many people as possible by Tangible Africa have paid off – especially for these five young, bright minds who are now pursuing study paths in computer disciplines.
Vela had almost given up on his dream
One man, Vela Njisane, 28, from Flagstaff had almost given up on his dream of further education ten years ago when he did not get the matric results he wanted. However, last year he went back to school to improve his matric results, and as fate would have it, this is where he got introduced to coding.
His school attended a Mandela Day coding tournament, which was hosted in Mqhekezweni last year. Tangible Africa's interns assisted and guided Njisane to register for a BCom in Computer Science and Information Systems at Nelson Mandela University, and he got accepted to pursue the qualification this year. Njisane said:
"I am very motivated to do what I love – coding is my passion, and I would love to become an IT specialist. I was volunteering at a school before I decided to go back and start something new."
Liyema won 2 tournaments, but it was never about the winning…
Liyema Luzi, 19, from Mdantsane was introduced to coding through virtual tournaments hosted by Tangible Africa, and was announced the winner at two tournaments, but for him, it was never really about winning.
"I used to play those games for a whole day, regardless of the prizes a winner could get. I played them because I was enjoying it at my high school and as a result, I decided to introduce the coding games to some of my matric classmates. That's how I decided to study Computers," said Luzi, who is registered to study towards a BSc in Computer Science at Nelson Mandela University this year.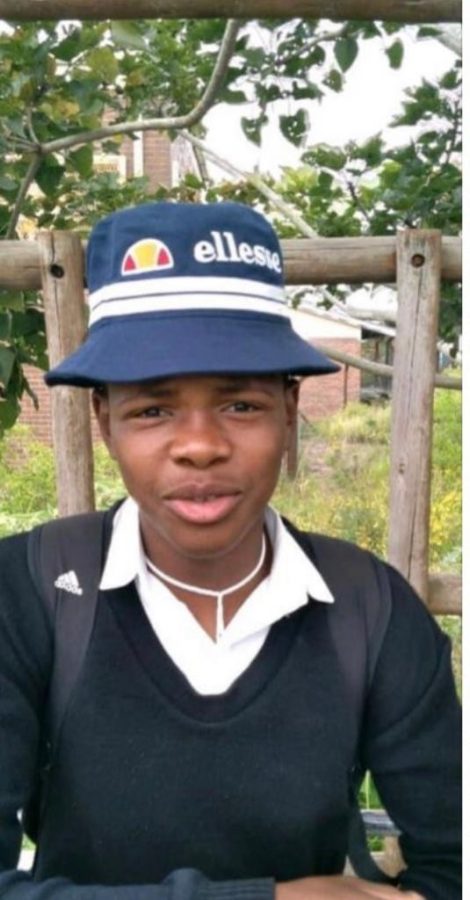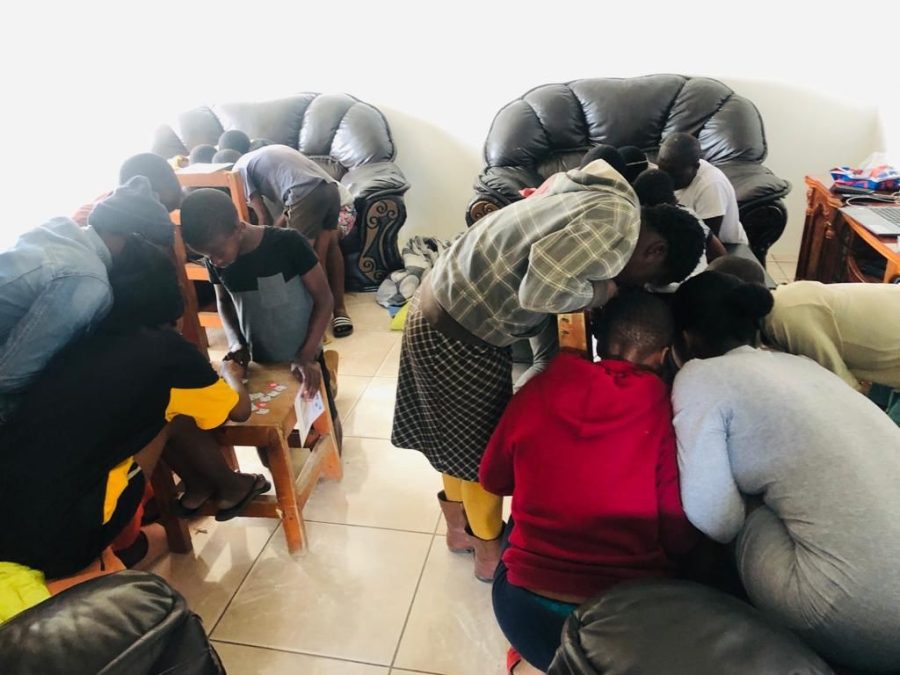 Lundi says the intro to coding changed his life
Similarly, Lundi Buswana, 22, from Tsolo who is officially a first-year BSc student in Computer Science at Nelson Mandela University, said being introduced to coding changed his life:
"As someone who grew up in a rural area with limited access to technology, I struggled with even basic computer skills and the embarrassment of failing a computer literacy module in my first year of university stayed with me because it was the easiest module of my course… But when I learned about TANKS and its potential to empower young people, especially those from underprivileged communities like my own, I was filled with a newfound sense of hope and inspiration."
Buswana. who completed a BSc in Mathematics and Statistical Science at the University of the Western Cape, considers the TANKS and RANGERS applications' developer, Byron Batteson, as his hero and a source of motivation.
"His intelligence, creativity, and dedication to making a positive impact in the world is truly remarkable. The thought of being able to follow in his footsteps and work with Professor Greyling, who played such a crucial role in his success, is a dream come true for me."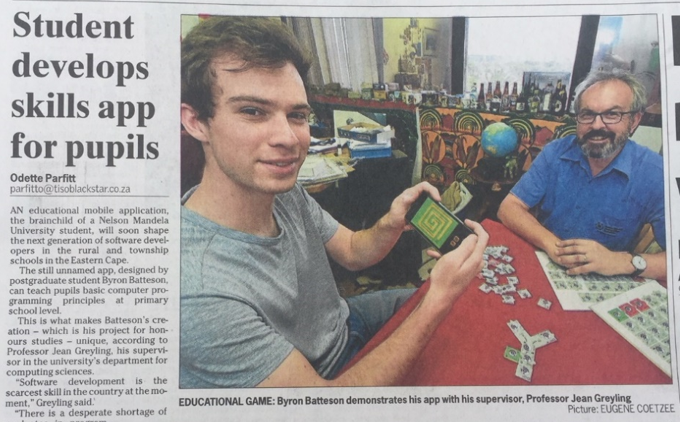 The coding project started in 2017 with Batteson's Honours project at the Nelson Mandela University's Computing Sciences Department, where Tangible Africa Founder Prof Jean Greyling still works as an Associate Professor and Head of the Department.
Nico says the game TANKS instantly sparked his interest
Nico Bezuidenhout, 18, another first-year BSc Computer Science student who will be studying at Nelson Mandela University this year, said after attending a career expo on the Kirkwood High School rugby field in April last year, he knew coding was the study field for him:
"This is where I was introduced to the game TANKS, and it instantly sparked an interest. I was introduced to the basics of programming in an interactive game-like environment. TANKS taught me problem-solving, out-of-the-box thinking and basic programming fundamentals."
Once the programming bug bit, he learnt how to program in C by making use of online resources. He says:
"I would recommend coding games like TANKS or RANGERS to all learners especially those who find mathematics challenging."
"After the initial spark of interest that the TANKS game gave me, I applied for Computer Science at Nelson Mandela University, and I was accepted on 20 January. Thanks to TANKS for providing me with the opportunity to find my passion. I would recommend coding games like TANKS or RANGERS to all learners especially those who find mathematics challenging."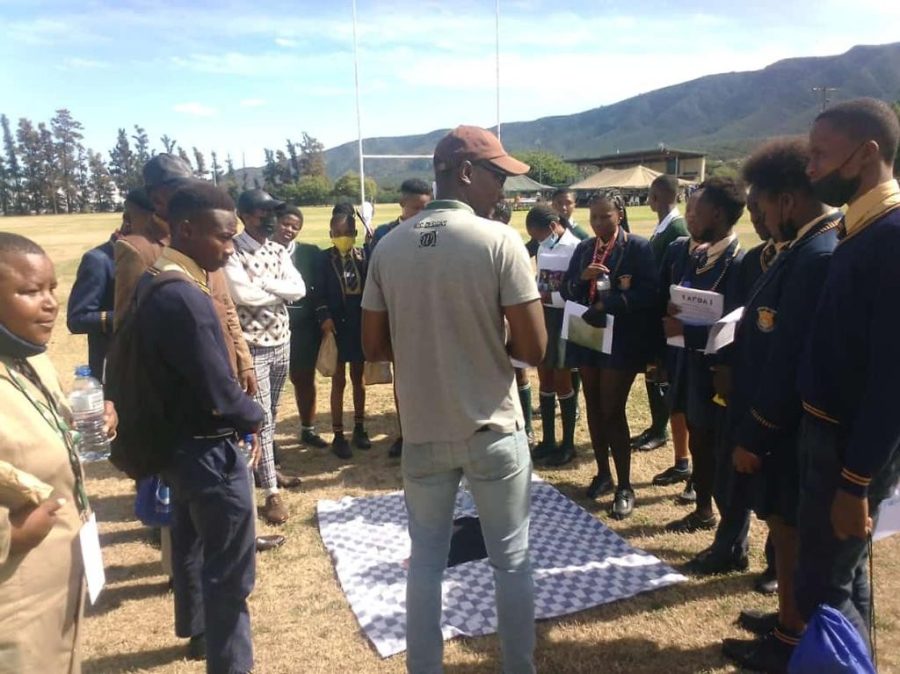 Zuhayr says the games made problem-solving fun
And in Cape Town Zuhayr Khot, 18, is a now a first-year BSc Computer Science student at the University of Cape Town. Khot was introduced to coding by George Chirume, Tangible Africa's Regional Coordinator and Trainer in Cape Town, who assisted him with Maths lessons. Chirume makes use of TANKS and RANGERS in his lessons.
"The games made practising my problem-solving skills fun and entertaining and the fact that it was all done by the use of today's technology made me want to pursue a career in Computer Science," said Khot.
To find out more about Tangible Africa, contact:
If you're a South African abroad, wanting to make a difference back home – this project is invaluable.