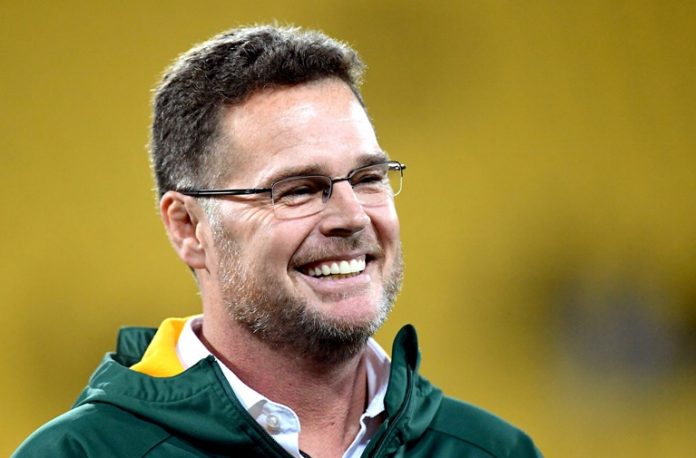 In a story that took South African rugby by storm last month, Rassie Erasmus said he couldn't sleep after hearing critical comments from Nick Mallett on a punditry talk show.
After an extended absence from social media, Rassie took to Twitter in the early hours to blast Mallett for comments made in an episode of
SuperSport's panel show
, 
Final Whistle.
Sunday newspaper 
Rapport
further revealed that Mallett had in fact woken up that morning to see that the director of rugby had sent him a WhatsApp at 03:32.
However, the message was deleted before it was seen by Mallett.
The former Springbok coach confirmed to Rapport that he had received a deleted message from Erasmus, but refused to comment any further on the story at the time.
WATCH: MALLETT GETS EMOTIONAL REFLECTING ON ICONIC KOLISI COMMENTARY
In the final parts of his voice message, Rassie had said to Mallett "I will send you some stats to get this [the truth] out there because you can't talk this shit to the people."
When writing in his latest column for Sport24, Mallett briefly touches on his perspective, while revealing that Erasmus did recently send him a report of sorts.
"As a pundit and a writer, it is my job to give my opinion, and while it has been clear in recent weeks that I disagree with Springbok Director of Rugby Rassie Erasmus over his use of social media, I must also give him credit where it is due.
"As much as I criticise players and referees when I'm analysing games on television, it is also important to take the opportunity to congratulate them when they do well. Reports over the weekend suggested that the Springboks are looking to appoint Welsh legend Nigel Owens as their refereeing coach for the 2023 World Cup in France, where they will look to defend their title, and pulling this off would be nothing short of a masterstroke from Rassie.
"Even if they don't land Owens and have to go with somebody else, the position in itself is another example of Erasmus' incredible out-of-the-box thinking and his meticulous planning, and he deserves a lot of praise for that."
ALSO READ | WHAT NICK MALLETT SAID TO SPARK RASSIE RANT
RASSIE AND MALLETT SEEM TO HAVE MADE AMENDS
Mallett hailed the decision as a bit of clever thinking from Erasmus.
"Getting Owens on board really would be a win-win situation for the Boks, who have been on the wrong end of big refereeing decisions consistently for some time now," Mallett wrote.
"Rassie shared a report with me recently that showed that, last year, Australia should have been penalised 12 more times in their 25-17 win over the Boks in Adelaide. That is an awful lot of penalties, and it has happened a lot to South Africa. Refereeing also hurt the Boks on their end-of-year tour in losses against Ireland and France, so introducing somebody like Owens to help the players in that department is just really clever."
ALSO READ | WHAT NICK MALLETT SAID TO SPARK RASSIE RANT
HERE IS WHAT WAS SAID IN THE ORIGINAL SOCIAL MEDIA VOICE NOTE:
"I struggled to sleep because I was really upset about your comments last week on the Final Whistle. It is actually just some things you said without any substance behind it," Erasmus said.
"So Nick, I'm just gonna tell you straight, you don't know that a rugby director is and what his job is. Obviously, I'm not appointing coaches, I have no authority in appointing coaches.
"The second thing is, I do have a programme running called "The fast tracking of elite black players", for those who hasn't had the opportunity in Super Rugby and the United Rugby Championship (URC). We've got a sponsor for them and we are proud of that program.
"The thing you guys talk about for 20 minutes of players running sideways, we have EPD systems from U15 where players learn it [running lines]. Some learn it great, some not so great. But I would urge you to go and sit with all the EPD managers, who are running those programmes without any budget," Rassie added in his rant to Mallett.
"Then when you start saying things like I must get the referees right and I must stop tweeting about the Springboks. Firstly, the Springboks are the most important thing and that is my first priority and I will do anything to make sure the Springboks win. So please don't [try to] stop me there.
"You say I must bring referees through [the development ranks]. We are bringing referees through the ranks, but it has to be accepted by World Rugby. If you can help in any way there, it would be really, really great of you.
"Nick, I'm not gonna fight with you in any way, I'm just saying between what's happening on the ground and what you guys are showing and saying on SuperSport, somewhere in-between there's the truth. I would suggest you hang close to that truth because currently you are far away from that truth and you're missing the ball by quite a distance.
"You know me well. I love you and I thought you were a guy with big inbors [quality]. But unfortunately my man, I will have to rectify you and send you some stats to get this [the truth] out there because you can't talk this shit to the people."
ALSO READ | LEICESTER LINKS TO RASSIE: BOK BOSS ISN'T GOING ANYWHERE!
Wish they will just ask for the truth first before they give 'expert opinions' pic.twitter.com/32dcX6m6Ng

— Rassie Erasmus (@RassieRugby) February 11, 2023