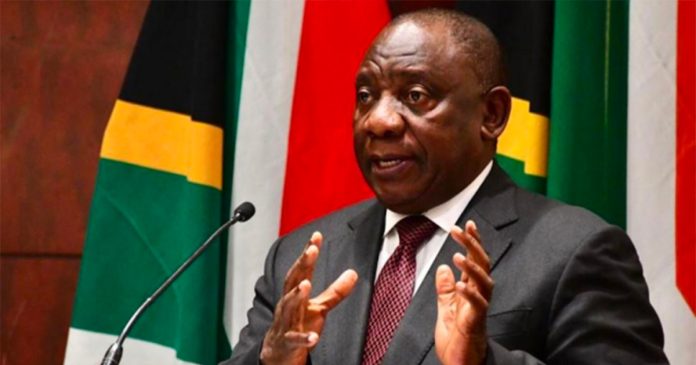 President Cyril Ramaphosa will make several changes to his cabinet on Monday evening as public anger mounts over record power outages, shoddy government services and rampant poverty.
CABINET RESHUFFLE: RAMAPHOSA IS EXPECTED TO MAKE DRASTIC CHANGES
It is also expected that he will announce the new electricity minister, including the position of Deputy President.
This comes after Deputy President David Mabuza resigned as a Member of Parliament (MP) earlier this month.
ALSO READ: Ramaphosa too SICK for a crucial cabinet reshuffle – but NOT for an Ankole auction
Meanwhile, Minister of Trade and Industry, Ebrahim Patel, was sworn in as a member of parliament (MP) on Monday morning.
WILL THE NEW MINISTER OF ELECTRICITY BE ANNOUNCED?
Ramaphosa needs to replace Transport Minister Fikile Mbalula, who is taking up a full-time post as secretary-general of the governing African National Congress, and Public Service and Administration Minister Ayanda Dlodlo, who joined the World Bank last year.
WATCH LIVE: President Ramaphosa announces long-awaited Cabinet Reshuffle
He has also faced calls to fire Mineral Resources and Energy Minister Gwede Mantashe and Public Enterprises Minister Pravin Gordhan for failing to address the rolling blackouts that can last for as long as 10 hours a day.
ALSO READ: Ramaphosa's Cabinet is costing SA more than Zuma's Cabinet
WHAT WILL HAPPEN TO THOSE MINISTERS WHO PUBLICLY CRITISED RAMAPHOSA LAST YEAR?
Ramaphosa may also consider replacing Tourism Minister Lindiwe Sisulu, who publicly criticised the president last year, and Cooperative Governance and Traditional Affairs Minister Nkosazana Dlamini-Zuma, who called for his resignation over a scandal surrounding the theft of cash from his game farm.
ALSO READ: Here are South Africa's top TEN 'weakest' ministers NOW
Confirmed positions that need to be filled:
Deputy president – David Mabuza (resigning)
Transport minister – Fikile Mbalula (resigning)
Public service minister – Vacant
Possible changes
Energy minister – Gwede Mantashe
Public enterprises minister – Pravin Gordhan
Cooperative governance minister – Nkosazana Dlamini-Zuma
Tourism minister – Lindiwe Sisulu
ALSO READ: Ramaphosa and Cabinet knew about Eskom corruption – and did nothing