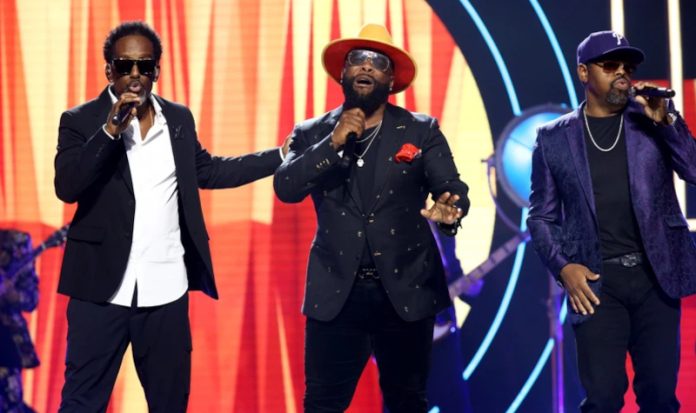 If you love Boyz II Men and want to see them live, you're going to need to start hustling ticket money because the R&B group will be performing in South Africa later this year.
The Boyz ll Men group's upcoming shows have been announced by event organisers G21 Entertainment and Vertex Events.
Leading event organiser G21 Entertainment together with Vertex Events today announced South African show dates for the legendary super group Boyz II Men happening later this year.

Unfold Here :https://t.co/QbAs1OYvEu#UnfoldGSA#GaloreSAEntertainment#BoyzIIMenSATour pic.twitter.com/VVS0zQyBlI

— Galore SA Media – #UnfoldGSA (@GaloreSA) March 8, 2023
The Covid-19 pandemic prevented South African fans from seeing the band live.
However, if you still have your tickets from the canceled gigs in 2020 and 2021, the good news is that they are still valid.
ALSO READ: Jann Klose is coming back to SA for his 'Surrender' album tour
Who could resist such classic songs as "Motownphilly," "I'll Make Love to You," and "End of the Road"?
With an amazing 64 million albums sold globally, the trio hold the title of best-selling R&B group of all time.
Four Grammy Awards, nine American Music Awards, nine Soul Train Awards, three Billboard Awards, and a MOBO Award for Outstanding Contribution to Music are among their accomplishments.
ALSO READ: Beyoncé is going on a world tour: Why she should include Africa
The tour will begin on Tuesday, 31 October at the Grand Arena at GrandWest, in Cape Town, then move on to Pretoria on Thursday, 2 November at the SunBet Arena, Time Square, and finish on Saturday, 4 November at the Sun City Superbowl.
BOYZ II MEN'S NEW MUSIC?
Boyz II Men have not put out a lot of new music lately because they've been so busy touring, but they did find time to record "A Cooleyhigh Christmas" in 2020, which has a festive theme.
On the six-track album, which features a show-stopping, exquisite rendition of "Silent Night," the iconic R&B pioneers give life to Christmas classics with vocal assistance from vocalist Brian McKnight on "Let It Snow."
ALSO READ: Beyoncé skips Africa on 'Renaissance World Tour'
Tickets already purchased for the canceled performances in 2020 or 2021 will be automatically valid for the new dates. To swap outdated tickets, ticket holders must contact Ticketpro.