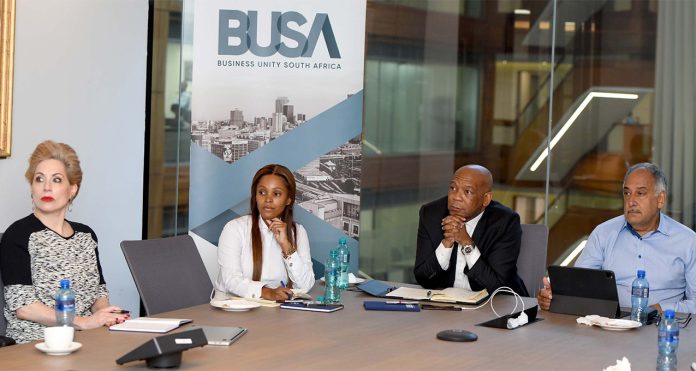 Minister in the Presidency for Electricity, Dr Kgosientsho Ramokgopa, says collaboration between government, business and society is imperative if South Africa is to overcome the current electricity crisis gripping the nation.
The Minister was speaking during the launch of the Resource Mobilisation Fund (RMF) on Thursday afternoon.
The RMF is a collaborative effort between government and Business Unity South Africa (BUSA) to provide resources and expertise that will assist government to fully implement the Energy Action Plan.
"The establishment of the Resource Mobilisation Fund is a significant step in this regard. It is only through a collective national effort that we will be able to end load shedding and enable our economy to grow.

"The RMF is an example of the collaborative approach between government and social partners which the President has always prioritised. Most importantly, it shows what we can achieve if we roll up our sleeves and go beyond debate and discussion to engage in real, practical action on the issues that confront our society," he said.
Ramokgopa explained that the fund is expected to play a critical role in assisting government to implement government's Energy Action Plan (EAP) with more drive.
"The RMF will provide crucial expertise and resources to turbocharge the work of NECOM [National Energy Crisis Committee] and ensure that we put the best minds in our country and indeed across the world to work on this problem.

"The tremendous support which this initiative has already received from businesses and philanthropies alike is evidence that we can work together as Team South Africa to get our country back on track. We look forward to a strong partnership with the RMF as we move to ensure swift and full implementation of the President's plan," he said.
Minister Ramokgopa said although the RMF comes as a boon for turning around the current energy crisis, government has already been hard at work to bring more urgently needed megawatts onto the power grid.
Some of the work done includes:
Eskom is implementing a detailed Generation Recovery Plan to improve its performance, focusing on six power stations that contribute the most to load shedding.
The licensing threshold for embedded generation projects has been removed which has opened the way for private investment in electricity generation.
A new determination for close to 15000 MW of new generation capacity from wind, solar, and battery storage has been published and project agreements for 2800 MW from bid windows 5 and 6 have been signed.
A Request For Proposals for 513 MW of battery storage has been released which will be followed shortly by the release of Bid Window 7.
The Minister of Finance has announced significant debt relief for Eskom totalling R254 billion, as well as a substantial fiscal support package, which includes tax incentives for businesses and households to invest in rooftop solar.
Red tape has been cut and the regulatory requirements for energy projects has been streamlined to reduce the time that it takes for new generation capacity to the grid – SAnews.gov.za