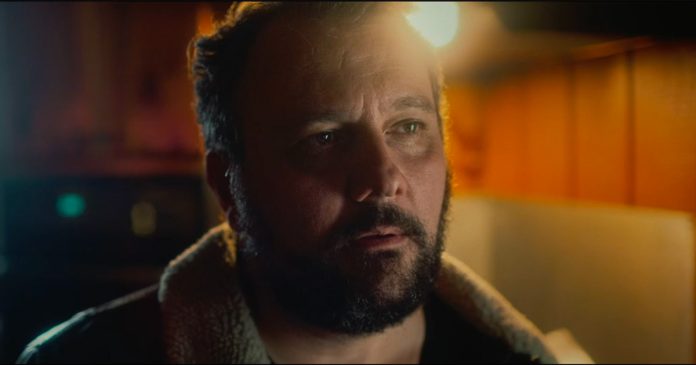 South African actor and producer, Stelio Savante, has been enjoying a thriving career in Los Angeles for years. At this year's European Film Market (EFM), during the Berlinale, he was represented in not just one, but three films. Here, the South African born and US-based multilingual American Movie award winner (plus SAG and the Berlinale's Teddy award nominee) shares some of his secrets with SAPeople to not only making it in Hollywood, but enjoying it…
You first went to the US on a sports scholarship. So how did the transition to movies happen? And what was it like starting out as an actor in the US?
The head of the theatre department I was at had already recommended I move to New York and pursue acting, when one Christmas I was visiting Cape Town, and met this woman who I've now been married to for 30 years, the love of my life, and she lived in New York… so it was just a natural progression.
The first 15 years was a crazy struggle in terms of getting an education into story-telling. I was blessed to work with the greatest teachers. Financially it was horrible.
The very first role I went for was an Italian-American from Brooklyn, and I had no idea what I was doing. I showed up for the audition, and the casting director says: 'Yo, what are you here to read for?'. I answer – in a thick South African accent – 'I'm here to read for the Italian oke from Brooklyn' and she goes 'No, I don't think that you are'. And I go, 'Yes I am'. And she goes, 'Yes but I don't think you are'.
I thanked that casting director years later. What it allowed me to do was disappear into a world of not thinking in a South African voice and accent anymore. After years of discipline and living in New York, my natural 'thinking voice' became a neutral American accent. (If you're playing a role with a different accent), you want to disappear into thinking in the other accent, leading up to playing that role.
Was there a turning point?
Once I played the guest lead in an episode of 'Law & Order: SVU' everything opened up. I was green in my career but I lucked out because that episode had Bradley Cooper, Alfred Molina and Angela Lansbury. It became their highest rated episode.
Is there an SA community in LA? 
There absolutely is. There's a lot of South Africans here. Of the ones that are active and working, that circle is smaller. We look out for each other. I always try to bring South Africans into projects. I'm very friendly with Hugh Masekela's son, Sal (Selema) Masekela. I brought him into my plays. I brought Gideon Emery, Neil Sandilands into my films. I'm constantly looking to work with Mike and Cokey Falkow, and with several South African directors. Many of us are on each other's radars. I will be working with at least one of them in the coming months.
What drives you? 
I'm driven by the challenges of being able to deconstruct a role and hear a character's voice, music and colour; and then being able to do justice to the character by honouring the writer, director and role.
While it is show business in the US with the emphasis on business, in the rest of the world (where I prefer to work) it's more of an art. It's a craft. I love foreign filmmakers. Films about people. Films that I can relate to. Having a true love for the craft, you never stop learning and you never stop wanting to grow and work with people that you love that are great at what they do; and being part of content that hopefully gets people to escape from their daily routine for 90 minutes, or more if it's a TV series.
Three of your recent films – 'Angry Neighbors', 'Find Her' and 'What Remains' -were among those at the European Film Market. When can we expect them in South Africa?
There's tremendous interest in 'Find Her' with talks being held with several distributors and a release likely in the South African winter, around June. 'What Remains' will be released in South Africa very, very soon. 'What Remains' was the beautiful and wonderful Anne Heche's last performance on film.
WATCH What Remains Trailer
What was it like working with the late Anne Heche in 'What Remains'?
Working with Anne was a wonderful, rich experience. I love Anne dearly. We all do. We miss her. We got to show her a lot of love on that film set. She was one of the richest souls I've had the privilege of working with. She was an extremely gifted artist.
She had a highly tumultuous childhood. You wonder in amazement at how she made it to her age. If she trusted you, she opened up. We got on extremely well. She was a combination of a playful child, this little girl that was innocent, unharmed, ready to take chances, and was full of energy.
But there was this other side to her that was tormented, tired from all the demons that were chasing her, struggling with her past and also the perception of her in the business.
There's the theme of faith in the film. Anne had heard that they'd been singing hymns in a church. So on the final day on set, she asked the director Nathan – who she had become very close with – if he'd sing a song to her. They break into 'Amazing Grace':
You've worked with Tom Sizemore who sadly passed away this month. What will you remember from him? 
I worked with Tom many years ago, another incredibly talented artist – you look at 'Saving Private Ryan'. The man had a gift and I worked with him (when) he was struggling, nobody would take a chance on him (due to drugs and other issues). I introduced him to my agent. Tom was sadly a creature of pattern. He's somebody else that unfortunately had his struggles.
You play a South African in 'Find Her', was that always the plan?
Originally the character was not written as South African, and it plays heavily into the third act. I told the director, "I actually grew up around a character like this, and I'd love to personalise it as much as possible, could we go South African with him?" Because I feel like we've seen these Southern red neck characters played so many times. We shot in Louisiana and Florida. Every time I film in Louisiana I meet South Africans whose character and colloquial back story resemble my character in 'Find Her'.
WATCH Find Her Trailer
Do you ever look to South Africa for roles? 
I come back to South Africa fairly often. There are three or four South Africans that I'm very tight with, that actively we're looking to work together.
(SA filmmaker) Wayne Kramer and I are going to be working together very soon. He's absolutely brilliant. South Africans will know him from the 'The Cooler' – it got Alec Baldwin his Academy Award nomination.
What was your experience of COVID and its impact on the film world? 
Movie sets are very intimate places, so the pandemic challenged and stretched us.
I, myself, almost passed three years ago. I had gone from doing a role on a new Netflix series, 'Captain Fall', to doing three films on the road (of which one was 'Find Her'). I got sick and my first 32 tests were negative, the next two were positive. We went to Urgent Care, which is almost a fast food version of a restaurant in terms of health care. I was told that the positive tests were negative. Flying back to LA I felt like I was going to die. My wife took me to hospital. Immediately they admitted me to the ER when they saw the tests. They said, "You have covid, pneumonia". It was exactly what the Delta virus looked like. "It's in your lungs. Your heart levels are off the charts." So I was in there for five days.
I feel blessed to be here now because the 35-year old who was in the room next to mine passed the same day I left the hospital. The staff joked about keeping me there as a souvenir because so many people had passed away. The department manager shook my hand saying, "The only reason that we didn't have to put you on a ventilator is that your oxygen levels were above 90%. Everybody who went on the ventilator on our floor has unfortunately succumbed".
So that was just mind boggling. I feel like every day is a gift.
I had worked a lot through the pandemic, but once I got sick and had to wait to be well enough, I realised there was nothing wrong with the power of saying, "No". I'm also a father and a husband. I'm trying to be as active in my daughter's life as possible.
View this post on Instagram
The greatest thing that came out of the pandemic was that people were at home and they were finally able to do amazing films from different countries, including South Africa, that audiences had never had an interest in before.
In light of the new conditions and realities of the film industry, what advice can you offer young South Africans? 
From an artist's perspective, especially if you're trying to break in, there's an added pressure to have as many followers as possible, as soon as possible, because some in the business believe there's a scientific formula that shows return on investment from influencers.
You have to have a marathon mentality. Learn your craft, study the great eras of film and television. Take the pressure off of yourself. Understand how you fit in and know who you are when you look in the mirror – a lead or a character actor; and embrace it because it's what makes you interesting.
Bring yourself when you audition for someone. People don't want to see how you think a character should be played, they want to see you bring yourself into it. So live your life as actively as possible and bring yourself to that because that's what makes you unique. Half the time, as producers, we don't know who or what we're looking for but we do know it when it walks through the door.
What can South Africans see you in?
There's 'Running From Grace', in which I'm starring with Matt Dillon. It's a beautiful period piece about the turn of the age on coffee plantations in Hawaii. Then there's the action thriller 'Infidel' that I did with Jim Caviezel that's also available.
I believe there are six films I'm in that will be in South Africa very soon; and I'm in the new series 'Captain Fall' which starts on Netflix this year.
What would you still like to accomplish in the film industry? 
I seek out certain filmmakers, story tellers and friends that I want to work with (hence I've been producing more in the last few years).
One of the divinely gifted filmmakers I want to work with is Annemarie Jacir, the Jordan-based Palestinian filmmaker, who was actually a juror in Berlin last year. When I was in Jordan shooting the action thriller 'Infidel' in 2018, I got to know her. Her films really dig deep into the soul.
This interview has been edited for length and clarity. 
WATCH Angry Neighbors Trailer