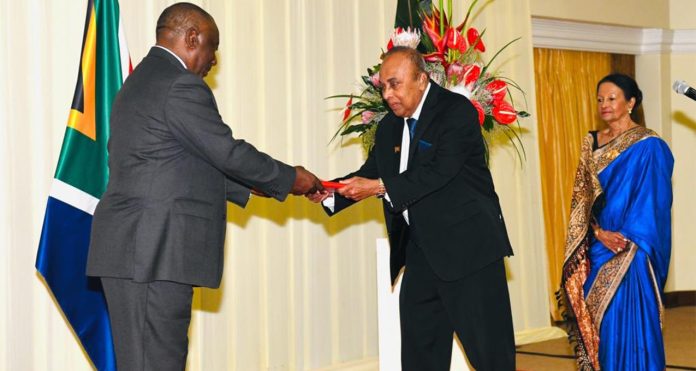 President Cyril Ramaphosa has told new ambassadors from across the world that South Africa's most immediate and pressing task is to stabilise the supply of electricity and to ensure energy security into the future.
The President said this while welcoming 18 new Heads of Mission-Designate.
The Heads of Mission-Designate presented their Letters of Credence to the President during a Credentials Ceremony at the Sefako Makgatho Presidential Guesthouse in Tshwane on Tuesday.
The Heads of Mission-Designate will serve at various missions in South Africa with the aim of advancing diplomatic relations.
The President received letters of credence from the following countries:
Republic of the Philippines; Democratic Socialist Republic of Sri Lanka; Federal Democratic Republic of Nepal; Kingdom of Norway; Republic of Austria; Kingdom of Belgium; Republic of The Gambia; Republic of South Sudan; Democratic Republic of East Timor; Republic of Slovenia; Japan; Republic of Botswana; Commonwealth of Australia; Republic of Mozambique; Islamic Republic of Pakistan; Republic of Kazakhstan; Syrian Arab Republic and St Kitts and Nevis.
The President told the ambassadors that they begin their appointments in South Africa at an important time of rebuilding, following the COVID-19 pandemic.
"These efforts to rebuild are being held back by a severe energy crisis that has affected every aspect of life in this country. Therefore, our most immediate and pressing task is to stabilise the supply of electricity and to ensure energy security into the future.
"We are therefore focused on several measures to substantially improve the performance of our existing power stations and bring additional generating capacity online as speedily as possible."
In addition, he said South Africa is willing to acknowledge its shortcomings and is prepared to take the necessary measures to correct these. The country is determined to grow the economy, increase investment and create jobs, especially for young people.
South Africa has embarked on an ambitious investment drive informed by an understanding that, under the current conditions, far greater investment is a prerequisite for faster economic growth.
"It is an understanding that jobs will not be created, and poverty will not be reduced unless we grow our economy. It is our wish that we will use the good relations between our countries as the basis for greater levels of investment and bilateral trade, which will promote economic activity and development in our respective countries.
Deepening relations
The President also spoke of the importance of cooperation and collaboration.
"We are seeking mutually beneficial cooperation and collaboration to ensure that our societies make progress and that our people benefit from the relationships we build," the President said.
As the new Heads of Mission begin their tenure as representatives of their respective countries, the President said: "Your presence here is a firm indication of the commitment of your respective governments to maintain and deepen relations with South Africa."
"We look forward to working with you to strengthen relations between our peoples and to contribute to building a better world for the benefit of all," he said.
The President said that it was significant that all continents of the world were represented at the ceremony since South Africa has always endeavoured to maintain friendly relations with all countries.
He emphasised that South Africa believes in the indivisible unity of humanity and that we share a responsibility to continuously strive to settle differences between countries peacefully and permanently.
"Global solidarity is required if we are to meet pressing international challenges such as energy and food insecurity, climate change, conflict and the existential threat of nuclear weapons. We need to be united in our efforts to advance sustainable peace and development.
"South Africa works to actively promote the centrality of multilateral institutions in managing global affairs and respect for international law and agreements."
The President reiterated that South Africa seeks to work with its partners across the world to build a more democratic, just and equitable world order, one that prioritises the needs and interests of the poor and vulnerable.
"As the peoples of the world, we have a shared interest in ending poverty and closing the disparities in wealth, skills, resources and access to education, health and social support. South Africa stands ready to work with all governments and people in achieving these objectives.
"We trust that your presence in South Africa as the representatives of your respective peoples will enable us not only to build bilateral relations but to cooperate in building a better world.
"In conclusion, allow me to thank each of you, on behalf of your countries, for continuing to honour us with your friendship and cooperation," the President said. –SAnews.gov.za