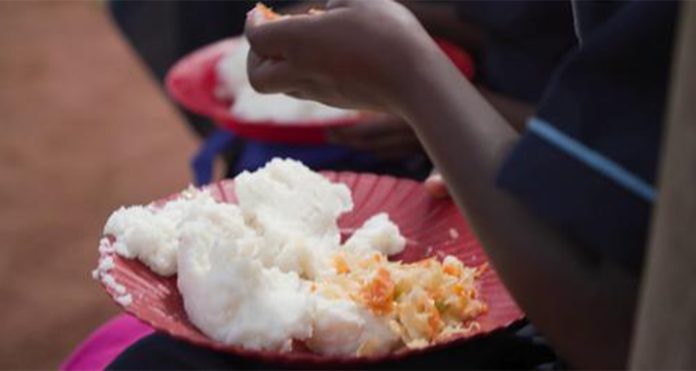 It was meant to be an orphanage for vulnerable children in an impoverished community. So, why are more than one hundred children now being fed from a shack next to the multi-million rand property in Limpopo? Here's what's coming up on Carte Blanche this week. You can watch the show on Sunday 19 March in South Africa on DStv Now OR stream it overseas in most countries on Showmax from Tuesday 21 March if you're abroad.
It's a registered NPO with the Limpopo Department of Social Development, and for years, the volunteers have been serving the vulnerable children of Alldays. They provide food and a safe place for the youngsters to go after school. For many of them, this is their only meal for that day. Then came a wealthy Swedish national who promised to build an orphanage, on municipal land, to accommodate the children. Donations poured in from around the world, and a building was erected. Ten years later, the NPO is still feeding children in Alldays, from a corrugated iron shack, in the dust, and next to the building that was intended for them. Their cries for help to the local Municipality have gone unanswered. Carte Blanche investigates. (Producer: Stenette Grosskopf | Research: Tebadi Mmotla| Presenter: Masa Kekana)
Watch the show overseas | Watch in SA on DStv Now
Also on Carte Blanche this Sunday 19 March
"I'm a sucker for small-town Karoo. I haven't been ever since driving a student friend's grandmother from Kakamas to Cape Town in her battered Nissan Skyline. Lamb's tails, pumpkin with apricot jam, concrete farm pools, outdoor showers and nights spent under impossibly bright stars: it's easy to see why so many are trading city life for that dry, dusty, glorious place." – John Webb, Executive Producer
It's a beautifully restored hotel overlooking the sleepy Karoo town of Steytlerville. The Karroo Theatrical Hotel is an oasis in the desert with a naughty attraction – a one-of-a-kind-drag show – that has all the locals talking. By day, Mark Hinds and his partner Jacques Rabie run their hotel. By night, they transform into Dame Layla Lamborghini and Freddie Ferrari, with spectacular costumes designed and made by Jacques himself. Together they take their audiences on an emotional rollercoaster ride with an eclectic mix of classical piano and outlandish drag numbers. Carte Blanche peaks behind the curtain.(Producer: Stenette Grosskopf | Presenter: Derek Watts)
Watch the show overseas | Watch in SA on DStv Now
It started as a rash, persistent fever and some joint pain for nine-year-old Skylar Stewart. After multiple visits to the doctor, the diagnosis was shocking – Juvenile Idiopathic Arthritis (JIA). Arthritis is an autoimmune disease often only associated with the elderly. It's painful and so debilitating that some patients struggle to walk without assistance. This is the harsh reality for children suffering from JIA. Expensive though it may be, JIA is treatable. So much so that it's considered a Prescribed Minimum Benefit (PMB) – a disease that medical aids are obliged to cover. So why are so many of them refusing to pay for treatment for these children? Carte Blanche investigates.(Producer: Tarryn Crossman | Presenter: Bongani Bingwa)
Watch the show overseas | Watch in SA on DStv Now
It's been two years since we started challenging medical schemes to take the Regulations to the Medical Schemes Act into account when assessing applications. Thank you Carte Blanche for giving this story some much-needed sunlight! https://t.co/9Skz0vqKyo

— Arthritis Kids South Africa (@ArthritisKidsSA) March 15, 2023
CARTE BLANCHE: THE PODCAST
A Deadly Strike, Public Protector Probe, & A Win for Women's Health
The NEHAWU strike may have come to an end, but the impact of the week-long disruption at various public hospitals will be felt by some for many years to come. Daily Maverick Managing Editor, Janet Heard, and Masa Kekana reflect on the strike that's believed to have led to patient deaths. It's also the inquiry that's had many glued to their screens – suspended Public Protector Busisiwe Mkhwebane finally states her case.
The Elephant's Revenge
At least six elephants – dead. But the culprits aren't necessarily poachers. We investigate these horrific killings in Northern KZN.
PICKS OF THE WEEK
Prophets for Profit
He says God told him to train up an army of prophetic end-time generals at a multicampus online private university. But why have no earthly education authorities accredited his degrees?
Wait? The "prof" really called himself the Moses for black people??? We're saved, I guess… #CarteBlanche pic.twitter.com/xgYIoj1j1r

— Milani (@AuntyMillz) March 12, 2023
Heaven is a franchise.
Moses hold my beer😂

— Chasing Chi (@Chasingchi) March 12, 2023
Catch Up with Cameron Saaiman
We sit down with bantamweight UFC fighter Cameron Saaiman following his big win at UFC 285 in Las Vegas earlier this month.
Fort Hare Hit List
Earlier this week, the University of Fort Hare formally reported newly sworn-in Minister of Public Service and Administration, Noxolo Kiviet, to the Special Investigation Unit (SIU). This follows an internal report that found Kiviet managed to obtain an honours degree in administration and a master's degree in public administration at the university without the necessary qualifications. Revisit our initial January investigation into these allegations and more now.
In our @carteblanchetv exposé, we received documents and a list of ALL the politicians and some government officials who had allegedly benefitted in the qualifications scam at the University of Fort Hare.
The section below on Kiviet is found in the investigation report. https://t.co/0V8V7DzZbp pic.twitter.com/y1dBUoD3Ge

— uMaBhayi (@Sipha_Kema) March 14, 2023
@carteblanchetv doing the lord's work 👏🏽👏🏽👏🏽👏🏽 https://t.co/et0HgHOgzF

— Papa Kenny Ahee! (@UncleKennyBw) March 13, 2023
Tammy Taylor Franchise Fracas
Last year, we told the story of how Tammy Taylor Nails South Africa had lost their Master Licence and Distribution rights. We showed how local franchisors Mel & Peet Viljoen had sold a store in Gauteng to Happy Simelane for R2.8 million, only to reclaim it months later while keeping the money. Happy Simelane sued and, in a default judgment this past week, a judge ordered Tammy Taylor Nails SA to repay the R2.8 million plus costs.
If you're overseas – you can watch #CarteBlanche from Tuesdays, and thousands of other popular local South African shows & movies by subscribing to Showmax International now. You can try it FREE for 14 days. 
Find full episodes of Carte Blanche on DStv Catch Up.
Carte Blanche is on M-Net & M-Net HD [101], 19 March 2023 at 19:00 & again on M-Net Plus 1 [901] at 20:00
***
Please note: Carte Blanche is only available to international Showmax subscribers in Andorra, Australia, Austria, Belgium, Denmark, Finland, France, Germany, Greece, Iceland, Indonesia, Ireland, Italy, Liechtenstein, Luxembourg, Malta, Monaco, Netherlands, New Zealand, Norway, Portugal, San Marino, Spain, Sweden, Switzerland, United Kingdom. Not all titles are available in all territories. Showmax brings you the best South African series and movies, from the classics to the latest releases, from complete box sets to kids' favourites.