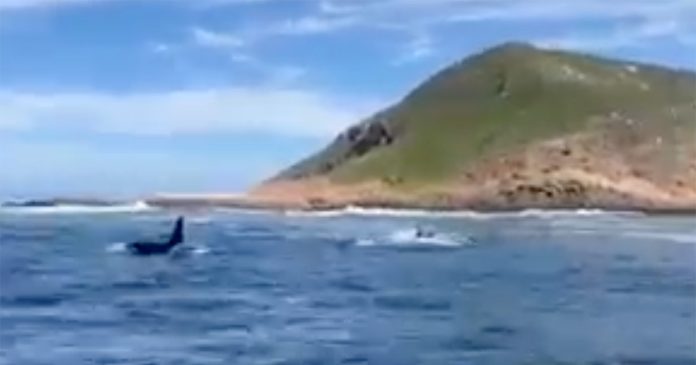 A pod of 16 killer whales has been captured on film cruising into popular seaside resort, Plett, on the Garden Route in South Africa's Western Cape province. Watch below.
Ocean Blue Adventures, a local boat tour agency, posted a video on Wednesday, captioned: "Plettenberg bay welcomes 14 killer whales." According to Ocean Safaris, it was actually a group of 16! They said they were blown away by the "amazing sighting as it is one of the biggest pods roaming our beautiful coastline. We've seen the Orcas on 4 occasions for 2023 so far , which is the most for us so far."
Seeing several killer whales – or Orcas – together is not unusual. They are highly social and most live in pods, according to the US Government's Fisheries department. (And of course technically, as the largest member of the dolphin family, they are 'killer dolphins'.)
WATCH Plettenberg Bay welcomes 16 Killer Whales
While many social media users commented how "awesome" the sighting was, some expressed concern following the attacks by a pair of "rogue" Killer Whales on Great White Sharks further up the coast in  Mossel Bay (about 137km away). Last year the pair claimed their ninth victim (at least), and it's believed they had been preying on Great Whites for seven years, attacking them to feast on their livers.
Sharks have been sighted several times in Plettenberg Bay, with at least two people tragically killed in Plett shark attacks last year. ("You have 47 time more chance of being killed by lightning or 11 times more chance of being killed by fireworks than being killed by a shark" says a shark expert who asked to remain anonymous.)
Killer Whales are able to swim at speeds of up to 45 km per hour for a few seconds at a time, being amongst the fastest swimming marine mammals, but they usually swim at less than 13 km / hour.
MORE ORCA VIDEOS from Plettenberg Bay – by Ocean Safaris