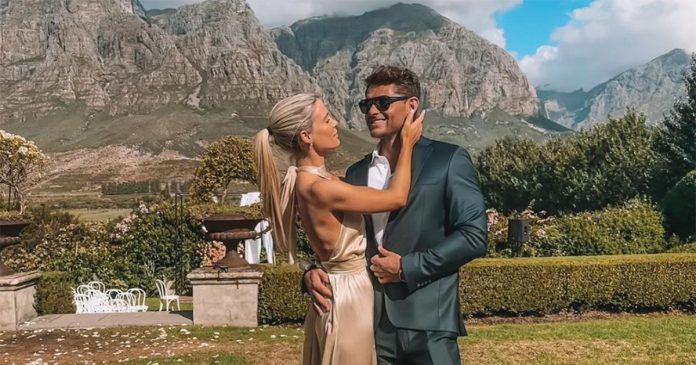 Princess Diana's niece, Lady Amelia Spencer (30), has married former Springbok Nick Mallett's nephew Greg Mallett (33), in a secret wedding in South Africa.
The UK-based couple, who met at UCT 14 years ago, flew out to South Africa earlier this month for their nuptials. They kept the date secret and most media outlets were expecting the wedding to take place later this month.
Last night, HELLO! magazine announced in a world exclusive that the couple had got married in a "spectacular mountain-top ceremony near Cape Town", and the magazine will have the wedding photos in its next issue.
Greg and Amelia (whose first name is really Katya), were engaged in July 2020. In November Greg mentioned their wedding would be in four months' time. Both are 30-years-old.
Amelia, whose mother is former model Victoria Lockwood, told HELLO!: "It means so much to get married here. Growing up here together for the last 14 years, all of mine and Greg's happiest times as a couple are here. It's even more special now."
Fitness and nutrition coach Greg added: "I've been dreaming of watching Amelia walk down the aisle for 14 years."
Amelia's older sister Lady Kitty, her twin sister Lady Eliza and her younger brother Samuel were all at the wedding. According to the Daily Mail, her father – Diana's brother, Earl Charles Spencer – was not in South Africa this week, and instead posted a video on Twitter of some lambs at his Althorp Estate home. He didn't attend Lady Kitty's wedding last July either.
In an interview last year Amelia had told the magazine that "everything about Greg makes me feel like the luckiest person in the world"; and he revealed: "I've always known I wanted to marry Amelia. As young as I was when we got together, I knew she was the girl of my dreams."
Last weekend Amelia, Greg and Eliza posted photos of the pre-wedding celebrations in Cape Town. In one, Greg said: "You'll never not make me laugh. And I will never stop looking at you in awe."
One friend said: "Wishing you all the best you deserve. Beautiful souls inside beautiful people! Genes with no mistakes😍👏🔥❤️❤️❤️❤️"
View this post on Instagram