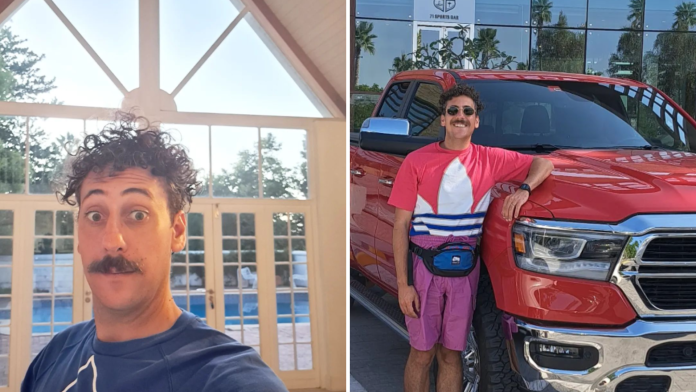 He might be best known for making audiences laugh with his comedy shows, but Schalk Bezuidenhout has a deep love for lawn bowling. Yes, bowls. And he's pretty good; he even received an award recently.
ALSO READ: Music Moguls: The top five wealthiest music stars in SA
INSIDE SCHALK BEZUIDENHOUT'S LOVE OF BOWLS
Schalk Bezuidenhout is one of SA's best-known comedians. But while he's not on the road traveling to shows, performing, or hanging out with his pups or wife, Mica McKechnie, you'll find him practicing his lawn bowling skills.
In fact, although he is currently on tour in Australia, the comedian and actor was awarded a trophy for the Men's Novice Champion at his bowls club at the Allan Park Retirement Village in Kempton Park.
His mom accepted the award on his behalf, and he proudly shared the moment on Instagram.
The club members are clearly very fond of their young member and even sang "Schalkie" happy birthday for his birthday over the past weekend.
"Been wanting to share this news for ages… Say hello to the Men's Novice Champion of my Bowls Club @ Allan Park Retirement Village," he wrote.
"Here is my mom accepting my trophy on my behalf because I'm in Australia at the moment, and the club members are singing me a happy birthday (which was yesterday). Bowls are life ✌🏼," he added.
ALSO READ: Paul Burrell gets 'bitten' by snake on I'm a Celebrity South Africa
IT'S ABOUT SPORTMANSHIP, SKILL AND COOKIES
Although some might feel that bowls are more suitable for an older generation, Schalk is a proud bowler.
He even goes to the dentist in his bowling outfit.
"Came straight from bowls to the oral hygienist. Now it looks like I dressed up like a tooth for the occasion," he captioned the images shared on social media.
In another video posted to Facebook, Schalk can be seen participating in a bowls tournament at his club.
"Global is about the sportsmanship, the skill, and cookies," he captioned the video.
In the video, he was on a team with his father, Schalk Bezuidenhout senior. He even held himself a commentator, commentating on his dad's skills.
ALSO READ: Skinny-dipping? Amelia Spencer's hunky SA hubby bares all
This article was originally published by Mariette van Niekerk.