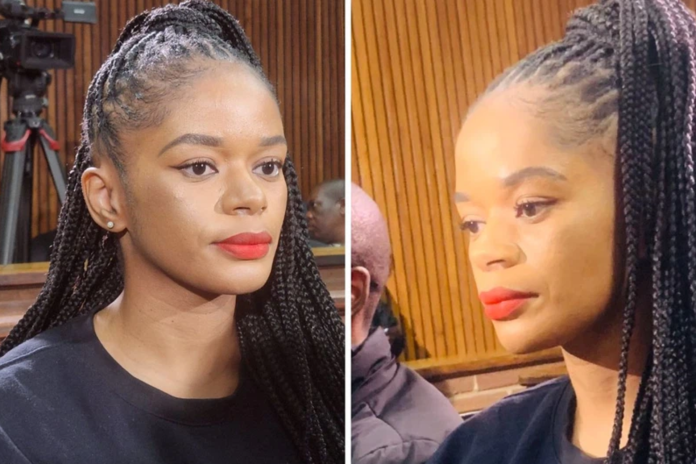 For the second consecutive time, Nandipha Magudumana has made a glamorous court appearance – but who is responsible for her prison glow-up?
The woman linked to convicted criminal Thabo Bester arrived at the Bloemfontein Magistrates Court with a full face beat, neatly-styled braids, and even a set of fresh acrylic nails!
ALSO READ: Dr Nandipha decides not to apply for bail after crucial evidence emerges
The celebrity aesthetics doctor – who sported a bold red lip – even wore her now trademark tracksuit look, courtesy of sports brand Nike.
According to TimesLive, Dr Nandipha paused her bail application in light of new evidence. She will make her next court appearance on 16 May.
FULL GLAM FOR COURT APPEARANCE
Unlike her previous court appearance, Nandipha Magudumana took her glam look up a level. The skin doctor swapped a tinted moisturiser for full-cover foundation. She also ditched a natural lip colour for bold red lipstick.
She also opted for eye makeup and bold brows – and even worked in some highlighter for a bronzed beauty look!
Nandipha styled her box braids into a chic half-up, half-down, complete with laid edges.
Take a look…
DID NANDIPHA VISIT A PRISON SALON?
It was no surprise that the skin specialist has naturally beautiful skin and nails. But clearly, the mom of two had some help in the beauty department, particularly whilst in police custody.
According to one Twitter user, Nandipha frequents a hair and beauty salon at the Kroonstad female prison, where she is held.
ALSO READ: Thabo Bester was engaged to another rich woman before Nandipha
Another added: "Women who can do make-up get the coins by offering these services."
Other Twitter users claimed that make-up was permitted in prison, provided it is not contraband.
Seems like South Africa is the only country where prisoners get a glam session before heading to court.

Where does she get the makeup when incarcerated? Is it a standard thing in prisons? pic.twitter.com/OtPTrHzbYe

— Kgopolo (@PhilMphela) May 11, 2023
According to an official report on prison conditions, a hair and beauty salon is located at the Kroonstad female prison. Human Rights Watch claims that inmates are also offered vocational training in hairdressing and beauty.
IS ROSEMARY NDLOVU THE OG OF PRISON GLOW-UPS?
Meanwhile, social media users are comparing Nandipha's glam appearance to that of Rosemary Ndlovu, who has seemingly undergone a "makeover" while behind bars.
The convicted murderer – imprisoned at Kgosi Mampuru – has shown off false lashes, a full face of make-up and new hairstyles in recent appearances.
Rosemary – a former police officer – is currently serving six life sentences for the murder of six people in an insurance fraud scheme. According to News24, she is accused of plotting the murders of three more people.
South African Prisons must be nice. The level of glow that Rosemary Ndlovu is getting from prison is out of this world. Rosemary Ndlovu is Glowing more than Ever. pic.twitter.com/5JW07kjeGR

— Man's NOT Barry Roux  (@AdvoBarryRoux) April 22, 2023
This article was originally published by Megan van den Heever.