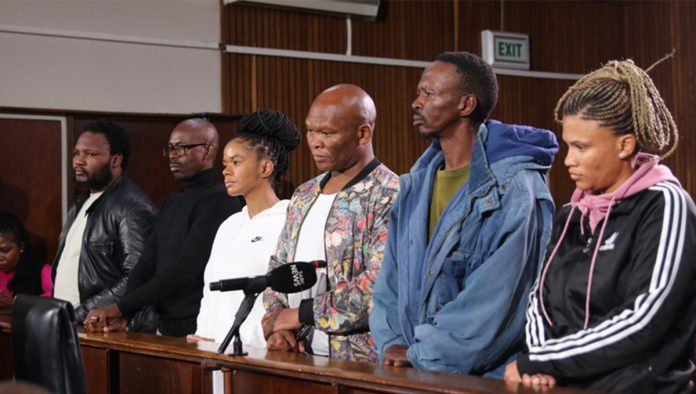 Five individuals accused of helping serial rapist Thabo Bester escape prison continue with their bail applications in the Bloemfontein Magistrate's Court on Tuesday, 23 May.
READ: Suspect nabbed for sharing porn images with Ramaphosa and Cele's face
BAIL APPLICATION IN BESTER ESCAPE REACHING ITS CONCLUSION
The applicants are former G4S employees Senohe Matsoara, Buti Masemola, Tieho Frans Makhotsa and Nastassja Jansen, as well as former Intergritron camera technician, Teboho Lipholo.
READ: Fuel price update: Diesel, petrol picture gets bleaker as rand struggles
Closing arguments are expected to be heard on Tuesday. During the last court appearance on Friday, the defence lawyers wrapped up cross-examination of a State witness.
The accused in this matter face charges of fraud, arson and helping a prisoner escape.
READ: Government's R93m spending spree: Lavish upgrades for 'Ministerial Mansions'
MAGUDUMANA FILES URGENT APPLICATION
Bester's girlfriend, Dr Nandipha Magudumana, opted not to exercise her right to apply for bail. On Saturday, 20 May, it emerged that she had filed an urgent court application to declare her arrest and detention unlawful.
In the court papers, she alleged she'd been abducted in Tanzania before she was brought back to South Africa.
The matter was preliminarily set down for Thursday, 25 May, in the Bloemfontein High Court. However, it needs to be clarified whether the NPA has filed its answering papers yet, and a concrete date for the application is likely to be set after they respond.
READ: Burkina Faso attack: local sources say at least 15 dead
This article was originally published by STORM SIMPSON.